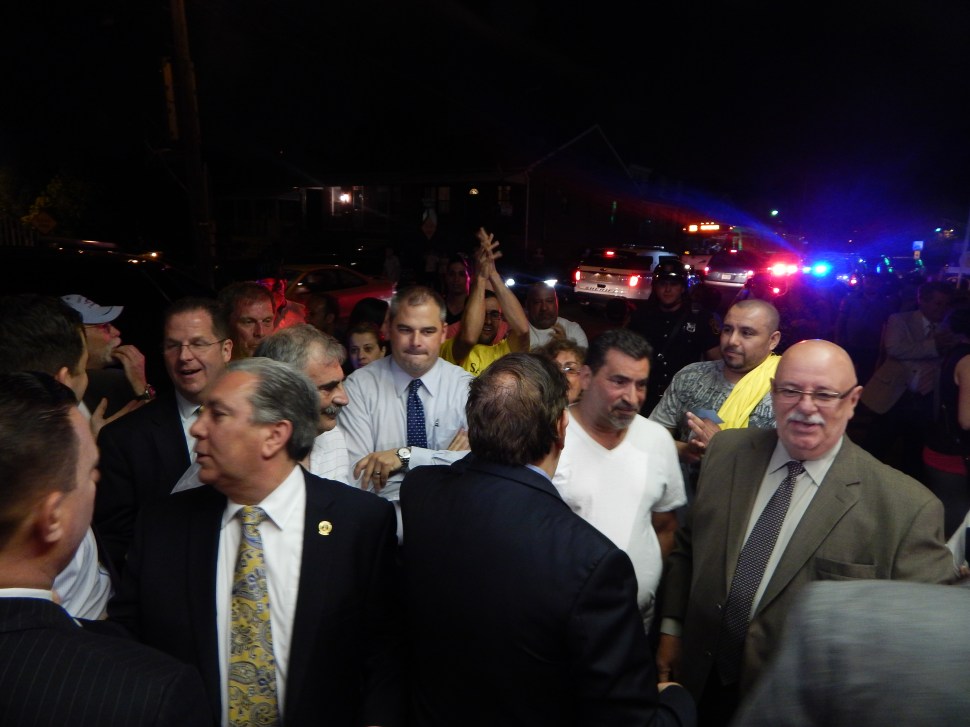 NORTH BERGEN — Amid shouts of "four more years" and "we crushed them again" inside 90 Park Restaurant where a victory party for the incumbent raged, North Bergen Mayor Nick Sacco — who secured another four year term here tonight — heralded what he called a "remarkable win" under "trying conditions."
"Money coming from all different directions, and I saw people rise to the occasion. My hope was that we could win every district in town. And you know what? We won every district in town," Sacco told supporters. "And we didn't do it be relaxing — we worked. Every one of you worked. I saw people go above and beyond — women climbing up on cars to hang up signs. I saw all this. And I knew how tied in each and every one of you were, and how you had the fervent hope to continue this government as opposed to giving it to an out of town group of criminals."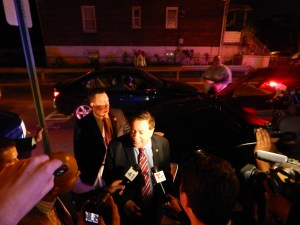 Bringing to a close a contentious race that he's called one of the "most vicious" of his 25 years in office, Sacco defeated local businessman Larry Wainstein in today's nonpartisan mayoral election. In unofficial counts that do not include vote by mail or provisional ballots, Sacco received approximately 66% of the vote or 8,237 votes to Wainstein's 4,287. Independent candidate Henry Marrero received 580 votes.
Supporters from both teams came out in droves today, posting up on street corners with signage and campaign literature under a sweltering heat. But it was the Sacco mercenaries who were vindicated in the end, as the nearly 2-1 win confirmed a narrative they had argued all along — that Sacco love in this North Hudson borough runs deep.
As if to double-down on the point, pols from up and down Hudson County — and beyond –descended on Sacco's party tonight to pay tribute to the grandfather-like power broker.
"Well, listen, it just proves what a great job he and his team are doing here in North Bergen. He's a friend and we support him. But he's gotten reelection, and now the hard work continues," said John Currie, chairman of the state Democratic committee.
A partial list of those figures who floated around the room as speakers toasted to Sacco's success included Essex County Executive Joe Divencenzo, Hunterdon County Democratic Party Chairwoman Arlene Quiñones Perez, Bayonne Mayor Jimmy Davis, Jersey City Mayor Steve Fulop, Fulop Chief of Staff Mark Albiez, Union City Mayor Brian Stack, Assemblyman Raj Mukherji (D-33), Assembly Speaker Vinnie Prieto, Chief of Staff to U.S. Senator Cory Booker Mo Butler, Sacco town spokesman Phil Swibinski, Hudson County Executive Tom DeGise, Hudson County Freeholder Anthony Vainieri, and the full slate of North Bergen Commissioners carried to victory along with Sacco tonight.
Davis — who unseated incumbent mayor Mark Smith in Bayonne's 2014 election — called Sacco's win the result of "a lot of hard work."
"This is what happens when you're the mayor for a long time, people believe in what you're doing. It's a good thing for the city of North Bergen," he said.
Sacco, of course, wasn't the only mayor in North Hudson who fended off a challenge tonight. Mayor Felix Roque in neighboring West New York also defeated town commissioner Count Wiley in his own hard-fought election. With 17 voting districts counted out of 23 total voting districts, Roque had an unofficial lead of 700 votes over Wiley earlier tonight.
DeGise, who along with Stack and Fulop sent last-minute recruits to aide Sacco's get out the vote effort, said the win underlines the growing strength of the county organization after years of fracture.
"It never ceases to amaze me what is capable in North Hudson, especially in North Bergen and Union City," DeGise told PolitickerNJ. "This was the first time Nick was really challenged by a well-financed, somewhat organized candidate, and all that made him do is work harder. And his following here is fanatically, and they put up an incredible number. So we're real proud. And West New York is a little relieved. We expected that one to win but it's been a really volatile town ever since Albio Sires left. But it turned out well."
Likewise, Prieto said Sacco's win showed "the character of his administration," even in the face of at-times vitriolic campaign attacks from Wainsten's camp.
"Listen, I always play everything low key. As the chairman of the party, I'm ecstatic that we had wins in both towns, but I think it's about the job that we do," Prieto said. "You know, we won in West New York in the freeholder race which was a contested primary. But it's about working together, and doing it for the betterment of the people here. I grew up on these streets. I am a product of this environment. So I know it first hand. I take much pride and pleasure in being able to say I am sort of the quarterback of this, but it's really about the mayors here."
Others were more blunt in their articulation of excitement following the victory.
"Dirty, low, lying blank-bags — I would love to say it but I can't," Vainieri bellowed at the mic, letting the raucous crowd fill in the blank. "They're all a bunch of low lifes in my eyes."
The race — both in West New York and North Bergen — also attracted gubernatorial politics this year. As Fulop, a potential 2017 candidate, exited the venue after Vainieri and other gave speeches on stage, another prospective gubernatorial hopeful was on his way in.
The two must have passed briefly in the crowd of Sacco supporters nursing drinks and noshing on finger food.
"The folks who are elected and have a mayoral or a council responsibility have their hand on the pulse," said former Germany Ambassador Phil Murphy. "Mayor Sacco is as good an example of that in the state as anybody I've met, and he has the added gravitas of education. So if you're speaking to him as a mayor, as a superintendent, or as a senator, you're learning a lot."
Both Fulop and Murphy — as well as Senate President Steve Sweeney, another leading Democrat eyeing a run for the nomination — donated to Sacco's campaign, as the middle class advocacy org founder confirmed.
"I supported him, yes, but that was an easy thing to do. I'm a fan of his," Murphy told PolitickerNJ.
Tomorrow, Sacco will begin his 24th year as mayor, landing him a top spot among the long-serving mayors in the state. At one point, a reporter ask if Sacco had aspirations to overtake the current record-holder — thought to be Gerry Calabrese, the former mayor of neighboring Cliffside Park who served for some 50 years in town hall there.
Sacco demurred, saying he's concerned only with what he can accomplish over the next four years.
"I have no desire to be there," Sacco said. "Mayor Calabrese stands on his own. God bless him, he's a beautiful man."