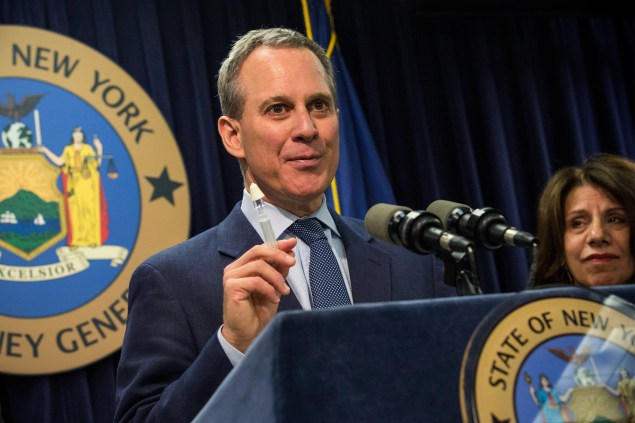 Attorney General Eric Schneiderman announced his office would use $1.2 million in money from its myriad settlements with large financial institutions to stem the city's ballooning homelessness crisis.
The joint venture with the anti-poverty Robin Hood Foundation and affordable housing developer Enterprise Community Partners, called "Come Home NYC," would help connect 300 of the 60,000 families using the city's shelter system each night with permanent below-market rate apartments. Mr. Schneiderman has blamed large lenders for creating the 2008 financial crisis, and wrung some $60 billion in settlement money from them—and used the cash to fund a slew of counseling and relief programs.
"This is really an extension of what we've been doing," he said, asserting that the market crash seven years ago helped create the current homelessness situation. "This is just a common sense program that requires the ability to make connections that don't exist right now."
Come Home NYC will coordinate with the city's Department of Homeless Services to identify shelter families earning an average of $35,000 a year or more, help locate an affordable apartment for them and use the funds from the attorney general's office and $300,000 from the Robin Hood Foundation provide the landlord with a $3,000 deposit to off-set potential rent shortfalls. The attorney general's office estimated that 2,000 qualified families use the shelter system each year.
Mayor Bill de Blasio, who has tangled with Gov. Andrew Cuomo and the Republican State Senate to get more state funding for anti-homelessness initiatives, applauded the Schneiderman plan though no one from his office attended the event.
"New York City needs all hands on deck in combating our homelessness problem," Mr. de Blasio said in a quote accompanying the press release. "I thank Attorney General Schneiderman, Enterprise, the Robin Hood Foundation and participating landlords for their vision and commitment to help homeless families access affordable housing."