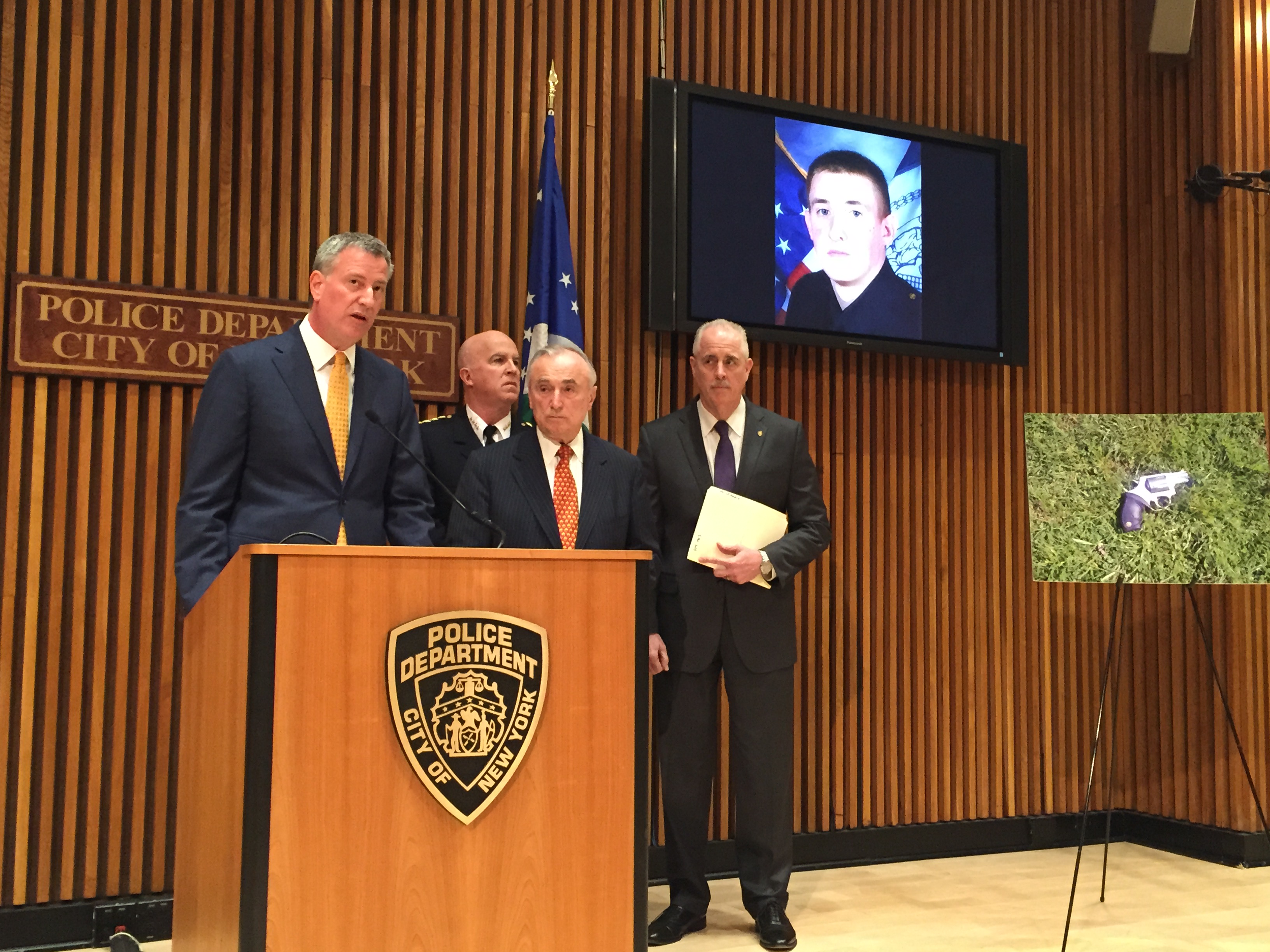 Authorities will seek a charge of first-degree murder of a police officer against the man they believed gunned down NYPD Officer Brian Moore—and said today they recovered a stolen handgun they believe was used in the shooting.
Moore, 25, was pronounced dead today, after police say he was shot while confronting Demetrius Blackwell, 35, in Queens. Moore, who was with his partner in plain clothes in a black Crown Victoria, approached Mr. Blackwell after he fidgeted with his waistband, police have said, leading Mr. Blackwell to open fire.
"Officer Brian Moore made the ultimate sacrifice," Mayor Bill de Blasio said today at a One Police Plaza press conference. "Just 25 years of age, a courageous young man—and his service record proves it. He did everything a good police officer was supposed to do, and he was awarded many times for both his valor and his professionalism. He risked his life for a very simple notion: to keep everyone else safe, to keep society safe, to keep order. This is what he wanted to do."
Mr. Blackwell had previously been arraigned on charges of attempted murder. Police Commissioner Bill Bratton said he spoken with Queens District Attorney Richard Brown following Moore's death, and was told he'd seek to upgrade those charges.
"He called to inform me that this matter will be put into the grand jury tomorrow, and he will seek an indictment for first degree murder of a police officer," Mr. Bratton said.
Chief of Detectives Robert Boyce said two witnesses have identified Mr. Blackwell as a man they saw running with a firearm directly after the shooting.
"They hear three shots, and they see him running on 104th Avenue, the next block over. He then retreats back into the backyards," Mr. Boyce said, where he was apprehended around 7:30 p.m. Saturday night.
This morning, Mr. Boyce said, police found a gun—a Taurus Model 85 revolver.
"It has three spent rounds, and two live rounds in its chamber. It's a five-shot gun," Mr. Boyce said.
It was stolen from a bait and tackle shop in Perry, Georgia, on October 3, 2011—one of 23 guns stolen from the shop. "Ten of which have been recovered, 9 of which have been recovered in New York City," Mr. Boyce said.
The slaying comes just months after two police officers, Wenjian Liu and Rafael Ramos, were gunned down as they sat in their squad cars by a man who said he was seeking revenge for the deaths of unarmed black men in police custody. Moore's death also comes just days after protests against police brutality gripped the city's streets—protests that, unlike December's demonstrations, led to many arrests—though there appears to be no connection between the protests and Saturday's shooting.
In a time when morale is already low, what Mr. Bratton said he'd say to his officers was: "thank you."
"Policing is never easy. At this time in America, it's even more difficult, and their sacrifices and their hard work and dedication—we should all be thankful that we have so many men and women who are willing to, in the midst of the adversity that they face every day the dangers that they face… go forth onto the streets and highways of this city and around the country and do great work," Mr. Bratton said.
Asked whether he believed the "difficult" climate for police had contributed to a spike in shootings of officers of late, Mr. Bratton said that would only be "speculative."
"Next year it'll be 50 years I've been associated with law enforcement, and you'd have to almost go back, I think, to the late 60s or early 70s, when there was so much anti-police sentiment in the country," Mr. Bratton said. "And it is ironic that there is so much of that at this juncture, because over the last 20 years the city serves as the shining example for the men and women of law enforcement that have made this country so much safer than it was after the chaos of the 70s and 80s."
In the wake of the murders of Liu and Ramos, police unions fumed at Mr. de Blasio, with Patrolman's Benevolent Association President Patrick Lynch among the officers who turned their backs to the mayor at the hospital the night they died—a scene that played out again at their funerals, though Mr. Lynch did not participate then. There has been no such open hostility from Mr. Lynch or other police leaders since Saturday's shooting, and it would seem Mr. de Blasio's relationship with the police union leaders has improved.
Still, a television reporter at today's press conference sharply asked Mr. de Blasio on why he had not gone to the hospital this afternoon, where Mr. Bratton made public comments but took no questions after he announced the death. The mayor was delivering a speech about technology in midtown shortly before.
"As people who know the extended family of the NYPD will say, today was a day for members of the NYPD to be together at that hospital," Mr. de Blasio said. "It was not a place, in my view, for elected officials."
The reporter, Fox 5's Linda Schmidt, pressed Mr. de Blasio—saying, "I've been working here for 22 years, and I can't remember a time" when a mayor hadn't been at the hospital when it was announced an officer died.
"I was at the hospital Saturday, and I've been at many such situations. I don't necessarily agree with your interpretation. I want to say this: this is about our commitment to our police officers, and in my view it has been clear and consistent. This is something Commissioner Bratton and I talk about all the time, the things we need to do to support the men and women in this department," Mr. de Blasio said. "I have been honored to stand by them in good times and bad. I have done it many way times. I have done it in a way that was appropriate and in constant consultation with the leadership of this department."
As Ms. Schmidt sought once again to press the mayor, Mr. Bratton cut in—saying it was his idea for Mr. de Blasio not to be on hand at Jamaica Hospital.
"I can speak to this. It was on my advice that the mayor did not come to the hospital, because of the uncertainty of the circumstances at the hospital during the morning. It was uncertain if the officer was going to pass or when he was going to pass," Mr. Bratton said, noting the intention to move the officer's body to Bellevue Hospital as soon as possible, rather than delay the move to await the mayor. "It was my suggestion that in fact we would deal with the officers' departure from the hospital—which we did with great honor."