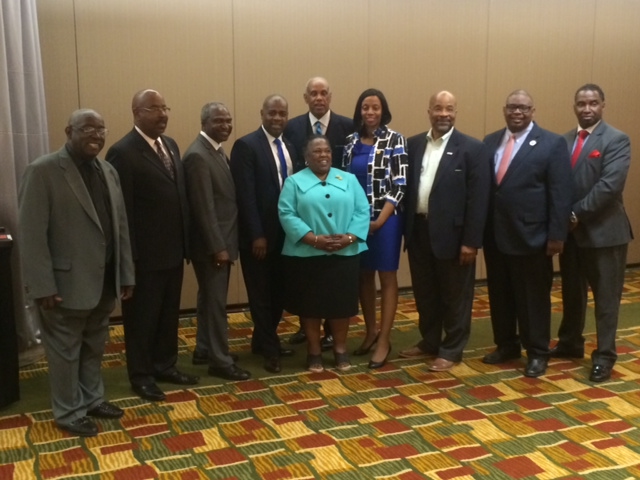 ATLANTIC CITY – Newark Mayor Ras Baraka, joined by an array of African-American mayors from around New Jersey, announced the creation of a new organization meant to advocate for the state's disenfranchised and minority communities, a social movement that will also be backed by money.
"We need to leverage the power that we have individually and bring it together collectively," said Baraka, noting that 16 New Jersey African-American mayors have so far joined the new group, called the New Jersey Black Mayors Alliance for Social Justice. "We decided that we needed to come together and begin talking about the [2016] presidential race and how it affects out communities, our neighborhoods, our cities in order to get a bigger voice. And that voice will also heard after the election not just around the country, but more importantly in the state of New Jersey where we live.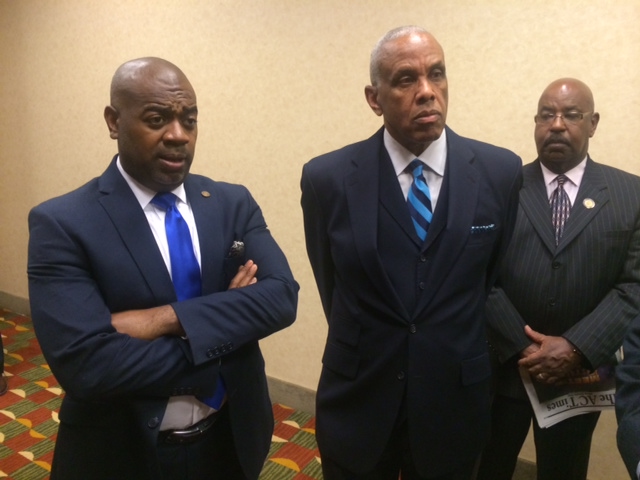 "African-Americans, Latinos and poor folks have been left behind, period," added Baraka. "Anybody who runs for office should speak to the issues that affect our communities. And this organization will give us a little bit of muscle to raise a little bit of money."
Paperwork filed with the federal Internal Revenue Service on Friday set up the new black mayors alliance as a 501(c)(4) organization designed to raise funds for candidates and issues the organization supports.
These nonprofit groups are allowed to to participate in politics, so long as politics do not become their primary focus, which practically means that they must spend less than 50 percent of their money on politics.
The initial financial goal of the organization is to raise $1 million for candidates and issues that it supports, according to organization representatives.
For several African-American elected officials at the press conference on Friday held to announce the creation of the organization during the annual New Jersey Democratic State Committee (NJDSC) conference, the new group marked a new day in New Jersey politics.
"We view this as a paradigm shift," said Plainfield Mayor Adrian Mapp. "It's a shift that will move black mayors from a position of being passive to a position of being actively engaged in the political, social and economic justice movement and that will bring to the table resources to make sure that we have access to greater political empowerment."
"From the north to the south to the central parts of New Jersey, we black mayors are truly coming together," said Hillside Mayor Angela Garretson. "We want to have a collective voice about what's happening in our community. We don't want to wait for something to happen. We want to be out front."
"The issues that the north have are the same issues that the south have," said Mayor Frank Minor of Logan Township in Gloucester County. "This is about trying to connect with the people who do not feel that they are part of the process. This is a way to come up with some solutions to bring these people back into the fold and help them to achieve the American Dream that some of them feel is not reachable for them."
One man who is considering an attempt to become an elected official stopped in at the announcement of the new organization.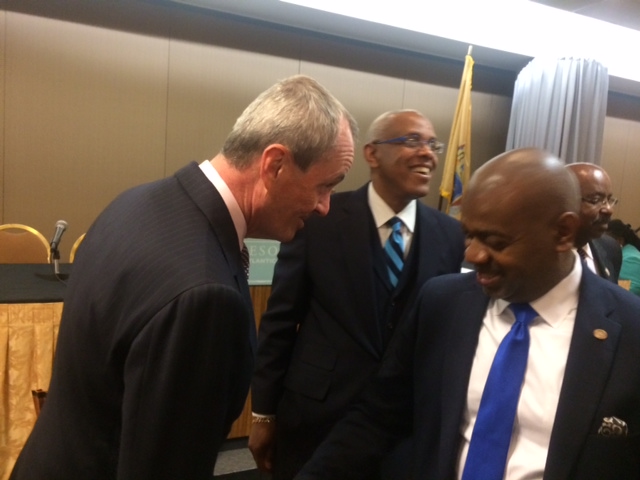 "I have a lot of friends on the dais up there," said potential 2017 Democratic gubernatorial candidate Phil Murphy, who greeted the mayors present before listening to speeches in the back of the crowd. "In this day and age, and considering what we've seen in places like Baltimore, the notion of this group makes a lot of sense to me. This group could have a lot of influence and a positive impact."
Baraka was direct is assessing what impact the new group could have in the both the 2016 presidential election and the 2017 New Jersey gubernatorial election.
"We will be able to contribute at a national level and at any other level that we think is appropriate," Baraka said. "It's not raising the money. It's registering more people to vote and producing new leadership. We are going to be a formidable organization in this state. This is the beginning of something historical."