Barbra Streisand has given LACMA one heck of a 50th birthday gift. The Los Angeles Times reports that the actor and singer has bequeathed a rare John Singer Sargent triple portrait from her private collection, painted between 1900 and 1901, to the museum.
"Barbra's gift is sure to become an icon for LACMA, a real 'postcard' picture. This is a boon for the museum in its anniversary year," Lynda Resnick, chair of LACMA's acquisitions committee and co-chair of the museum's 50th anniversary gifts of art campaign, said in a statement.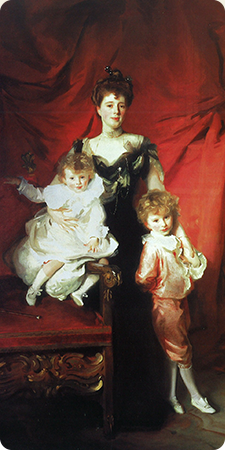 News of the donation was revealed in a series of leaked emails between the museum and Sony executives, made public by hackers who mounted a cyber-attack on the Hollywood studios last fall. According to the Art Newspaper, that same leak also revealed LACMA director Michael Govan has had ongoing negotiations with philanthropist Ann Ziff over display of her collection in the museum, that Sony exec and LACMA trustee Michael Lynton had lobbied on behalf of the museum for funding for its expansion, and that artist Andreas Gursky and Gagosian Gallery have been haggling over the image rights for comic superheroes.
"Before even beginning our campaign [to secure anniversary gifts of art]… Barbra Streisand leapt forward with a major promised gift," Mr. Govan wrote in a trustee newsletter to Mr. Lynton in February 2014.
Mrs. Cazalet and Her Children Edward and Victor is society portrait commissioned by the family to compliment an existing portrait of Mrs. Cazalet's husband. The painting was displayed at the Cazalet home in Fairlawne in Kent and was purchased by Ms. Streisand in 2002. The painting is over 8-feet-tall, and will be officially donated to the museum after her death.
Ms. Streisand served on LACMA's board from 2007 to 2014, and is an avid collector of American art, which she began collecting after a visit to the White House following the 1992 Presidential Inauguration of Bill Clinton.
"It was a time of special optimism and I wanted to grace my walls with those painters America had given to the world," she told the L.A. Times.
The Sargent painting is one of the highest profile donations to date that the museum has received, and it plans to display it with another painting by the American artist, Portrait of Mrs. Edward L. Davis and Her Son, Livingston Davis (1890). The artist is best known for his dramatic Edwardian-era portraits of aristocracy. Though he was born in America, he spent a large part of his life living and working in Europe.
Dr. Ilene Susan Fort, senior curator and the Gail and John Liebes Curator of American Art at LACMA described the artist's painting's significance in a statement from the museum by saying, "Sargent was extremely popular with the British ruling class as he captured in his Grand Manner portraits the opulence of British upper-class life. His use of large-scale canvases, bravura brushwork, dramatic drapery, and dazzling colors, can all be seen in his depiction of Maud Lucia Cazalet and her two sons."
From June 30 through October 4, the Metropolitan Museum of Art will open "Sargent: Portraits of Artists and Friends," an exhibition of about 90 portraits by the artist of fellow artists, writers, actors, and close acquaintances. Figures captured by Sargent include Claude Monet, Auguste Rodin, Robert Louis Stevenson, Henry James, and more.