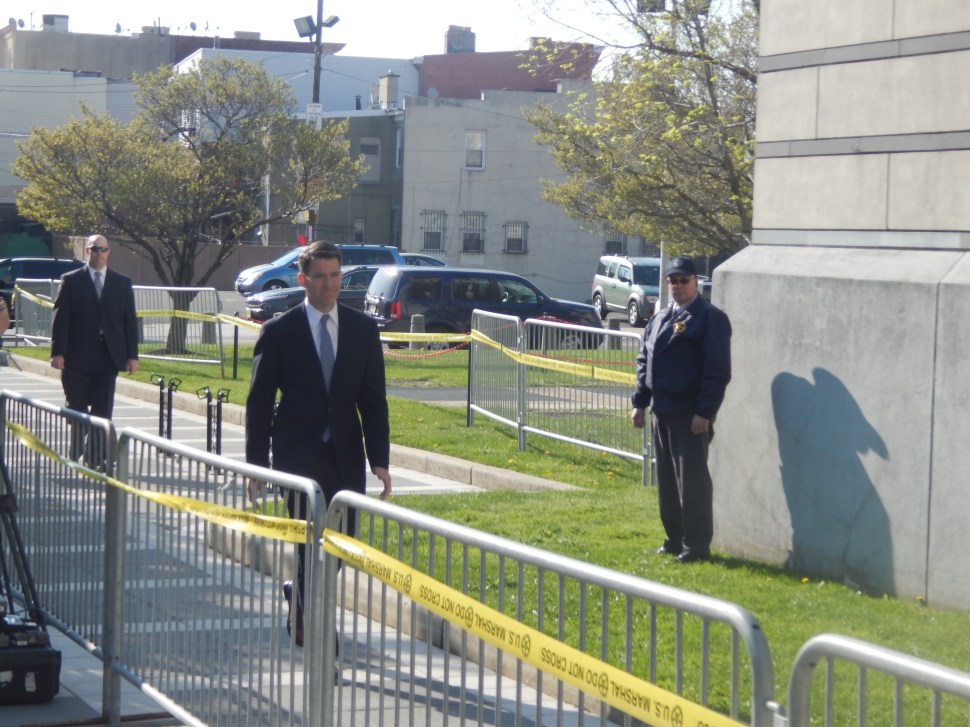 NEWARK — Speaking for the first time publicly since being hit with a nine-count indictment last week for his alleged role in the closing of lanes at the George Washington Bridge two years ago, former Port Authority depute executive director Bill Baroni declared himself an "innocent man" outside a federal courthouse here this afternoon.
"For more than a year I have been silenced, and today I finally get to tell my story," Baroni, who plead not guilty alongside former Gov. Chris Christie deputy chief of staff Bridget Kelly in court here today, told reporters after emerging from the hearing.
Baroni, who is facing charges, among others, of misusing property of an organization receiving federal benefits and committing wire fraud as part of his alleged involvement in the bridge scandal, quickly summarized his career as a trailblazing former state legislature to suggest he was above "risking it all" over a political scheme to punish a local mayor for his failure to endorse a governor for reelection. He noted his affirmative votes on paid family leave, medical marijuana, and — "against enormous pressure from my party," he said — gay marriage equality.
"I have spent my career trying to do the right thing," he said.
Baroni was the only Republican to vote in favor of the state's controversial measure to legalize gay marriage back in 2010, when he was a senator in Trenton.
"Those are the things you risk your career over," Baroni said. "You don't risk your career over something like this."
A former Assemblyman from the 14th legislative district who once worked on former Congressman Bob Franks' U.S. Senate campaign, Baroni said he will "testify on my own behalf" and spend "everyday working to clear my reputation."
"I am an innocent man," he added.
He did not take questions from the press.
Notably, Baroni did not mention the man at the center of the whole controversy: former Port Authority official David Wildstein, who plead guilty here Friday to his own two count information in connection with the scandal. That job was taken care of by Baroni's legal team, who called Wildstein a "criminal" and "habitual liar."
For some observers, the aggressive criticisms were surprising: Wildstein joined Baroni at the bi-state agency in 2013 and the two are said to have maintained a longtime friendship.
This was also the first time Baroni has spoken publicly about his involvement in the closures since resigning from his post at the PA back in 2013.