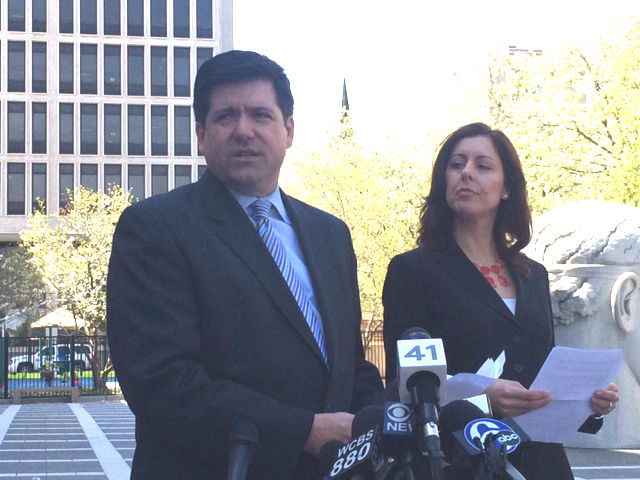 NEWARK – Attorneys for Bill Baroni, the former deputy executive director of the Port Authority of New York and New Jersey appointed by New Jersey Governor Chris Christie who had the spotlight cast harshly upon him after admissions made in federal court on Friday by David Wildstein, fought back with fervor against the allegations, calling Baroni innocent and Wildstein a "criminal" and a "habitual liar."
"If David Wildstein was willing to repeatedly lie to settle a petty political grudge, no one should be surprised at his eagerness to concoct any story he thinks will help him stay out of federal prison," said Michael Baldassare, lead counsel for Baroni, flanked by law partner Jennifer Mara. "We are confident that people will see this desperate ploy for exactly what it is."
Baroni was named in court by Wildstein when he claimed that he and Bridget Kelly, then the deputy chief of staff to Governor Chris Christie, and Baroni came up with a scheme to retaliate against Democratic Fort Lee Mayor Mark Sokolich, who did not endorse Christie, a Republican, in the 2013 gubernatorial race. The access lanes to the George Washington Bridge were closed in September 2013, leading to a three-day traffic boondoggle. Christie has denied that any retribution took place.
Baldassare named a litany of people that he claimed Wildstein lied to, including Baroni, when he claimed the lane closures, also known as Bridgegate, were the impetus for a traffic study at the time of the incident. Those names included Peter Zipf, Port Authority chief engineer; Bob Durando, George Washington Bridge general manager; Michael Drewniak, chief spokesman for Christie; Mike DuHaime, chief political strategist for Christie; and Nicole Crifo, senior counsel for the Christie administration Authorities Unit.
"Bill Baroni is innocent of the charges brought against him today by federal prosecutors. The accusations are false. When all the facts come to light, Bill will be fully exonerated," Baldassare said about Baroni, a former Republican state legislator from New Jersey's 14th Legislative District. "Today, habitual liar David Wildstein lied under oath to a federal judge about Bill Baroni. No one disputes that David Wildstein is a criminal and a liar. Today, he said under oath that he is a criminal. The record in this case is equally clear that David Wildstein is a liar."
Mara added that according to documents her client gave to public authorities, Baroni was provided with reams of data and documents that "would have convinced anyone a legitimate traffic study had been conducted."
"By the same token, the U.S. Attorney's Office should take all necessary steps to release its supposed evidence to Mr. Baroni immediately," Mara added. "That office should not hide all the grand jury transcripts, witness statements and documents from Mr. Baroni until the eve of trial. This case is far too important for trial by ambush.
"As for the public's right to see that alleged evidence, the U.S. Attorney's Office should release as much information as possible," Mara continued. "The taxpayers who footed the bill for this multi-million dollar investigation have a right to know what the U.S. Attorney's Office has discovered during its year-plus investigation."