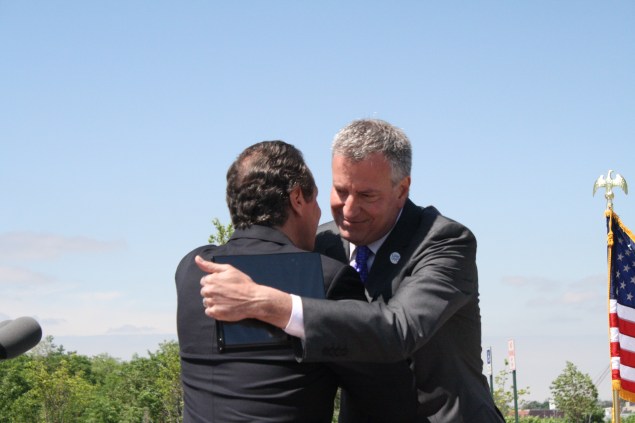 The debate over the renewal of a controversial real estate tax break has opened up yet another rift between Gov. Andrew Cuomo and Mayor Bill de Blasio, allowing Mr. Cuomo, in a twist, to side with organized labor over the real estate industry.
Mr. Cuomo, a moderate who has had a strained relationship with some public sector unions, appeared more open to a labor-backed proposal today that would require developers receiving the 421a tax breaks to pay laborers a prevailing wage. Mr. de Blasio, a proud progressive, is against the plan, arguing that it would be too expensive and impede the rapid building of affordable housing—and he has the support of the Real Estate Board of New York, the industry's chief lobby.
Ironically, REBNY has traditionally sided with Mr. Cuomo, a beneficiary of their lavish campaign spending.
"A lot of people think the deal that has been negotiated by the city is too rich for developers and doesn't do enough for workers," Mr. Cuomo told reporters after an event in Greene County. "And I want to make sure that workers are protected and the developers get a fair deal. I am not interested in passing a program that is a give away to developers"
Mr. Cuomo was echoing comments from Richard Trumka, the president of the national AFL-CIO, who called Mr. de Blasio's 421a proposal "disappointing." Mr. de Blasio, as a compromise, recently announced that he would back a renewal of 421a, a subsidy program for developers to build affordable housing that many liberals see as a giveaway to the wealthy, if every developer receiving the subsidy was forced to build affordable housing anywhere in New York City. He also wants to require a so-called mansion tax on sales of condominiums, co-ops and homes that cost more than $1.75 million.
In return, Mr. de Blasio is proposing projects to receive the tax benefits for 35 years instead of 25.
Despite REBNY's approval, it's far from clear that the Republican-controlled State Senate will do anything to tinker with 421a. Just a few weeks ago, Mr. Cuomo himself said it seemed the most likely scenario was a renewal of the tax break with no changes. By tweaking the de Blasio proposal, Mr. Cuomo, an occasional antagonist of the mayor, angered an already exasperated City Hall.
Mr. de Blasio's deputy mayor for housing and economic development, Alicia Glen, pleaded the city's case in a meeting with the governor's office two weeks ago. The mayor traveled to Albany yesterday, met with Mr. Cuomo himself and then, in a fit of frustration, cast doubt on his leadership skills.
"This mayor and administration have proven themselves ardent supporters of working people and of the labor movement—nobody can argue that isn't the case with a straight face," said Wiley Norvell, a spokesman for Mr. de Blasio.
"If 421a is simply extended as-is, as some are seeking up in Albany, there will be no prevailing wage construction jobs, far fewer building service workers making prevailing wage and no progress on affordable housing for tens of thousands in desperate need," he added. "That's an indefensible outcome."
Mr. Cuomo was not so sure: "The Senate fundamentally disagrees with the mayor on a number of issues. And it's also a little late in the day to be starting a theoretical debate because there is only, like, nine days left," he said today.
The governor, who has enjoyed a better relationship with building trades unions than public employee unions, also reiterated the AFL-CIO's position, seemingly pitting them against the traditionally pro-labor mayor.
"I mean the AFL-CIO says, 'We represent workers and we think this is a give-away to rich real estate guys and we don't think the workers are getting paid a fair wage,' and there's something to that," Mr. Cuomo said. "On the other hand, the real estate developers say, 'We need more tax incentives and we want more benefits to build affordable housing.' What's right, what's wrong?"
Mr. Cuomo has a tendency to be cryptic and it's not apparent yet what exactly he prefers to happen to 421a. Democrats in the past have accused Mr. Cuomo of bolstering Republicans and undercutting liberals and tenant activists. A spokeswoman for Mr. Cuomo did not say what proposal for 421a—a straight extender, Mr. de Blasio's or the AFL-CIO's—he would eventually back.
Instead, Mr. Cuomo said it was a problem that needed "to be figured out."
"The city has a package that is criticized as being too rich to the developers and a giveaway to the developers and you're not paying the workers a fair wage," the governor said. "That is a very bonafide discussion and that has to be figured out or not."