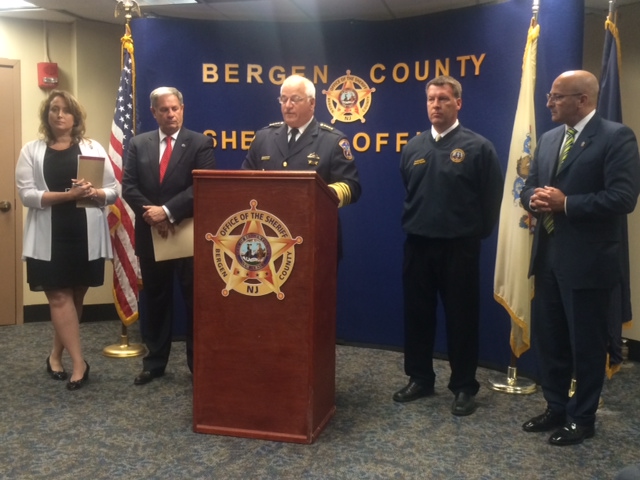 HACKENSACK – Bergen County Sheriff Michael Saudino and Bergen County Executive Jim Tedesco jointly announced a new pilot program to provide county law enforcement officers with body cameras in an attempt to stave off the civil disturbances that have shocked other parts of the country.
"You'd have to have your head in the sand to not recognize the challenges and events that have taken place over the last year in our society and the effects they have had on law enforcement," said Saudino, a Republican, flanked by Democrat Tedesco and other Bergen officials on Wednesday at the Bergen County Justice Center in Hackensack. "It is apparent to me and to the leadership of this county that twenty-first century law enforcement cannot sit by and only be reactive to events as they occur. We have an opportunity to improve law enforcement right here in Bergen County, as well as strengthen community relations and officer safety."
The pilot program to be introduced in upcoming weeks will provide 47 body cameras to personnel of the Bergen County Sheriff's Office and the Bureau of Police Services at a cost of approximately $70,000, according to county officials. Saudino emphasized in his remarks to the press that the pilot program will be funded through forfeiture funds with the assistance of the Bergen County Prosecutor's Office and federal grants at no cost to Bergen County taxpayers.
"Around the country, law enforcement organizations are looking to implement the use of body cameras as a tool to improve relations between officers and members of the public. While the decision to implement body cameras in other communities has often been in response to tragedy or a dispute, Bergen County has the opportunity to be proactive," Tedesco said. "We believe these cameras are a tool that will be effective in protecting law enforcement and members of the public in a manner that best serves the people of Bergen County."
Saudino, the former police chief of the Bergen County borough of Emerson, spoke from personal experience when asked by PolitickerNJ how body cameras will help his officers avoid the type of interactions with the public that led to civil disturbances seen during the past year in Ferguson, Missouri and Baltimore.
"I didn't want [my officers] to feel that Big Brother was watching, but I remember thinking that [installing police car dashboard cameras] was one of the best decisions that I ever made," said Saudino, minutes after reading a letter out loud from New Jersey National Association for the Advancement of Colored People (NAACP) President Richard Smith in support of the program. "Officers could resist this, but the policy will be set by the bosses. I assured my guys in Emerson, and I can say the same thing here, that we will never just look at a video just for the sake of trying to find an officer doing something wrong. Most of the time, they are a help to officers. I expect full cooperation from the PBA [police officers' union]. [The body cameras] are a good tool."