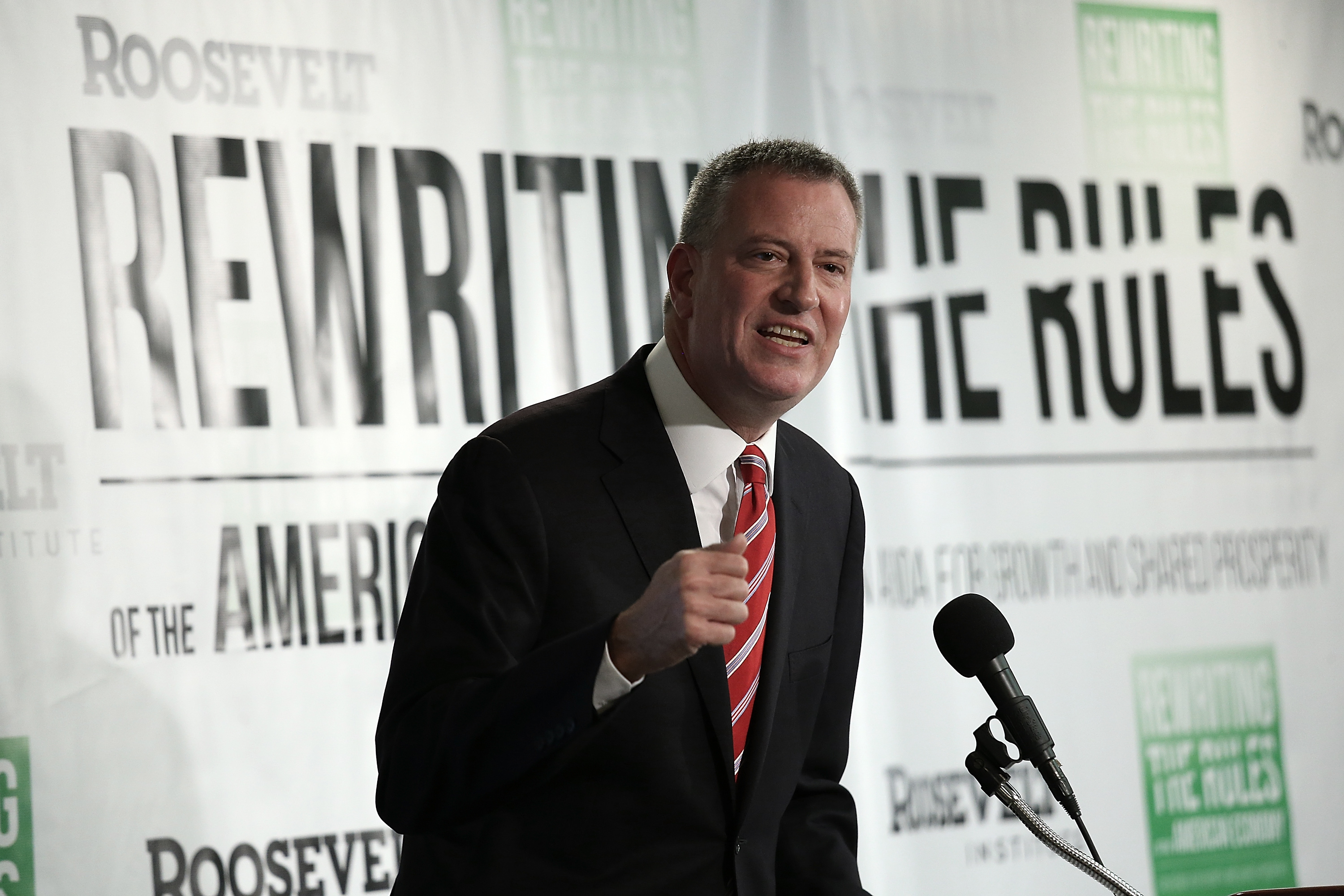 WASHINGTON, D.C.—Who said it about income inequality, Mayor Bill de Blasio or Senator Elizabeth Warren?
"This doesn't just come from Republicans. A lot of Democrats seem to have floated along with the idea that the economic growth is in direct opposition to strengthening the well-being of America's families, and that we have to choose economic growth or our families. That claim is flatly wrong."
The answer is Ms. Warren, the progressive senator from Massachusetts who some are hoping will decide to run for president as an alternative to a Hillary Clinton bid likely to be funded by donors from the banks Ms. Warren often rails against.
But it could just as well been Mr. de Blasio, who spoke just moments after Ms. Warren at the National Press Club this morning during an event called Rewriting the Rules of the American Economy, which carried with it the tagline "An agenda for growth and shared prosperity." In recent months, as he's traveled to the midwest and now Washington in an effort to urge a focus on income inequality in the 2016 presidential race, Mr. de Blasio too has expressed the idea that even some within his party have not given the issue the attention it deserves.
"When it comes to tackling this crisis, we've seen a lack of political will on both sides of the aisle," Mr. de Blasio said in Nebraska last month. "In 2014, Democrats across the country talked about helping the middle class, but relatively few supported bold policies to actually stop the middle class from eroding. Very few did more than pay lip service to those struggling to get by. And almost nobody talked about poverty."
If Mr. de Blasio wants to become the national spokesman on progressive economic policy, but Ms. Warren is already something of its spokeswoman. She caught the public's attention on financial matters even before she held office, as an academic and chair of the oversight panel for the government's bailout of the financial industry. She managed to turn her influence on those wonky issues into a U.S. Senate seat. Now, left-wing Democrats and the New York Working Families Party are among those hoping she runs for president, which she has said she will not do. Mr. de Blasio ran Ms. Clinton's 2000 Senate bid, but has declined to endorse her presidential run.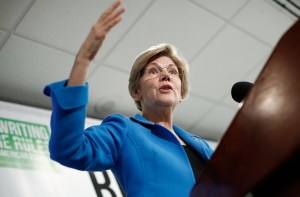 Today, Ms. Warren excoriated trickle-down economics and blasted the Trans-Pacific Partnership trade deal pushed by President Barack Obama, a fellow Democrat ("Over and over, American workers have taken the brunt of bad trade deals," she said, and knocked the secrecy around it). And, like Mr. de Blasio has, she sounded an alarm bill for acting fast.
"This country is in real trouble. The game is rigged and we are running out of time," Ms. Warren said. "We cannot continue to run his country for the top ten percent."
She referred to solutions, some of them listed in the report written by Nobel-prize winning economist Joseph Sitglitz that the event was highlighting. Among them were universal pre-kindergarten and after-school programs—some of Mr. de Blasio's signature policies, though Ms. Warren did not mention Mr. de Blasio's name or New York City.
"We can rebuild America's once invincible middle class, and I believe this is the fight worth having," she said.
Mr. de Blasio, meanwhile, struck a note he's hit before—if the national government won't act, local governments will. In addition to universal pre-K and after-school, New York City has enacted paid sick time for all workers, and Mr. de Blasio is pushing Albany to increase the minimum wage.
"We in New York are doing all we can, but we cannot complete the mission without fundamental change in federal policy," Mr. de Blasio said. "There needs to be not only new debate in this country, but there needs to be a movement that will carry these ideas forward."
He said it's already happening in some cities—but Mr. de Blasio's trip to the nation's capital and other recent trips to the midwest are designed to spur that movement.
Today he'll roll out a plan he's dubbed "The Progressive Agenda to Combat Income Inequality," which he has presented as a liberal version of former House Speaker Newt Gingrich's Contract for America. At the 3 p.m. press conference, Mr. de Blasio will be joined by "dozens" of progressive lawmakers and advocates. He's also promised to host a presidential candidate forum on the issue of income inequality.
But while Mr. de Blasio has sought national attention, at home his efforts have garnered a bit of the negative variety. Just days before Mr. de Blasio set off for Washington, a Wall Street Journal/NBC 4/Marist University Poll found that Mr. de Blasio's approval rating continues to hover around 50 percent. Nearly half the city—49 percent—thinks New York is going in the wrong direction, according to the poll. As many political experts have pointed out, Mr. de Blasio's electorate is thoroughly different from the electorates of many other Democrats who he has scolded for not going far enough to the progressive left. Mr. de Blasio's mediocre poll numbers are racially split—he's unpopular with white voters but highly popular with black and Hispanic voters, a growing population in the city that is expected to cushion Mr. de Blasio at the polls come time for reelection.
In addition to the question of whether Mr. de Blasio—who won a primary with middling turnout and a general with dismal turnout—has earned his stripes to set an agenda for the Democratic Party nationwide, back at home there is the familiar drumbeat that perhaps the mayor ought to pay attention to his own city, a theme that has spread beyond the territorial tabloids and into stories in the city's higher-minded broadsheets.
Mr. de Blasio doesn't hold town halls at home, Newsday noted, or take calls on the radio. He's been the to the Midwest more than he's bothered to visit Staten Island, the Staten Island Advance noted (in a statistic that was picked up by the Associated Press).
At 3 p.m., when Mr. de Blasio takes the stage near the Capitol building, Quinnipiac University will release another poll on his approval ratings at home.