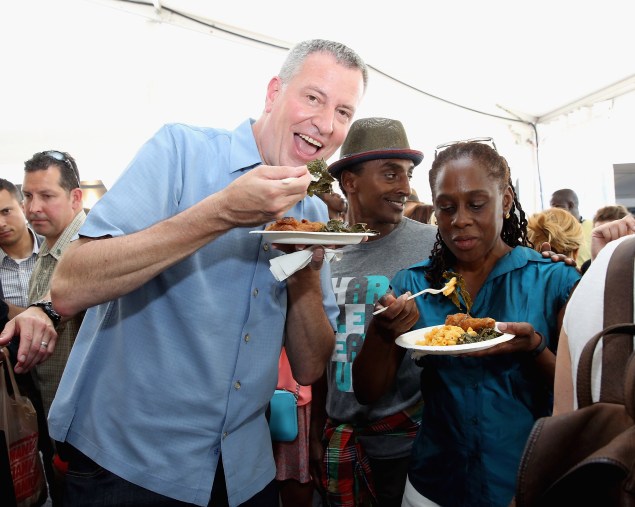 Mayor Bill de Blasio said today he isn't planning on holding any town halls with New Yorkers because he talks to plenty of people when he leaves Gracie Mansion.
"I don't have a specific plan but what I do all the time is go out around different communities and different settings," Mr. de Blasio told reporters at City Hall, noting he popped in at a Harlem food festival and a South Bronx restaurant yesterday.
"I go around all over the place and the subways, and walking down the street and talk[ing] to every day New Yorkers but there's also lots of formal settings where I get to hear from people and we'll be doing any number of things going forward," he added.
Mr. de Blasio, as Newsday noted, has avoided the town halls and call-in radio shows that his predecessors used to connect with average citizens. Michael Bloomberg, Mr. de Blasio's immediate predecessor, took phone calls on a radio show on a weekly basis. Former Mayor Rudolph Giuliani held frequent town halls throughout the five boroughs, in addition to appearing on call-in shows. While in California last week, Mr. de Blasio took several questions from callers on a radio show–the first time he had done so, and not with New Yorkers.
Beyond spontaneous public appearances and press conferences, Mr. de Blasio's interactions with the public are fairly limited. The mayor, a former political operative, is image-conscious and prefers scripted events.