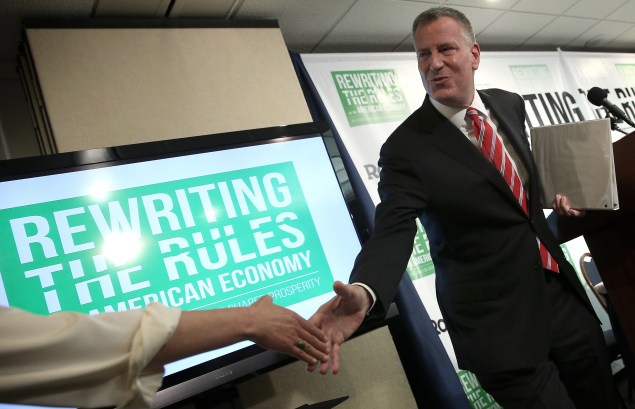 Mayor Bill de Blasio's approval ratings are the lowest they've been since he was elected mayor, according to a new Quinnipiac University poll.
Just 44 percent of voters give Mr. de Blasio's job performance a thumbs up, down from 49 percent in January. 40 percent disapprove of him.
Voters were also split on whether Mr. de Blasio's involvement in national affairs, including his trips this week to Washington, D.C. and California, are distracting from his duties at City Hall. 46 percent say they are distracting, while 42 percent disagree–just outside the poll's margin of error.
Mr. de Blasio has taken some criticism for venturing beyond the five boroughs so frequently.
"Is Mayor Bill de Blasio distracted from his day job his role as national liberal spokesman? New Yorkers lean yes," said Quinnipiac University Poll Assistant Maurice Carroll.
"The mayor's job approval hits a new low and he's lost a lot of ground on his handling of crime and the schools, two key areas of any mayor," he added.
Mr. de Blasio has a negative 41-42 split rating on his handling of public schools, down from 48-33 in January. Similarly, he has a negative split of 42-49 percent on crime, down from 50-41 in January.
Support for Mr. de Blasio, as always, is racially polarized. Black voters approve of Mr. de Blasio 68-19 percent, while Latino approve 56-34 percent. White voters give the liberal Democrat disastrous scores: 56 percent disapprove of Mr. de Blasio's performance, while only 34 percent approve.
"The big division is whether New Yorkers think de Blasio understands them. Black voters give him an enthusiastic yes; white voters don't think so," Mr. Carroll said.
Mr. de Blasio is most popular in the Bronx, where 48 percent approve of his job performance, and least popular in conservative Staten Island, where 30 percent approve and a whopping 64 percent disapprove. He also has a negative 37-46 percent approval rating in Queens.
Mr. de Blasio isn't the only big-name Democrat reeling from bad poll numbers. Gov. Andrew Cuomo hit a new low today: his job-performance rating in a Marist College poll fell to 37 percent, the lowest of his tenure.