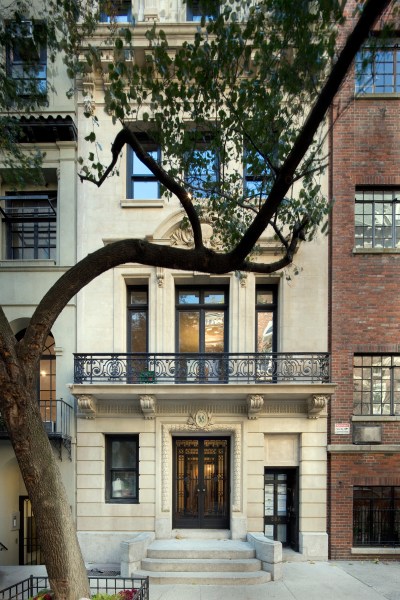 Last July, the stately limestone townhouse at 58 E. 66th traded hands for $17.5 million—a sum that bought a very lovely exterior and a thoroughly gutted interior (one can't, after all, expect to get a fully renovated townhouse on a premier block for less than $20 million these days). But the new owner, who promptly relisted the home with Brown Harris Stevens' Paula Del Nuznio for $35 million, has worked fast to remedy its unfinished state—a renovation process that has, of late, benefited from the best efforts of many a top interior designer. The townhouse, which was selected as this year's Kips Bay Showhouse, opens to the public today and will be available for ogling for the next month.
We toured the 9,600-square-foot space on Tuesday with Ms. Del Nunzio, as designers were busy making their finishing touches. The rooms were as different as the smells that drifted through them—wood smoke, a thickly floral perfume—and as we made our way up through the house's six floors, which are connected by an elegant oval stair, we were greeted by a profusion of styles. A few spaces remained not-quite finished (the 27-foot lap pool) in the Henry Jessup-renovation, which is slated to be fully completed by the end of June, but should the next owner take to any of the wallpaper/furniture/art/shower fixtures or cabinetry installations, he or she will certainly have a head start on the decorating process.
In Alessandra Branca's front parlour, Ms. Branca pointed out several prints on the wall from a Brooklyn artist—evidence of two two very different New York worlds colliding. "She didn't know what Kips Bay was so she wouldn't let me borrow them. I had to buy them," Ms. Branca, who was dressed in a black-and-white gingham dress with a black-and-white gingham sweater, said to a round of titters.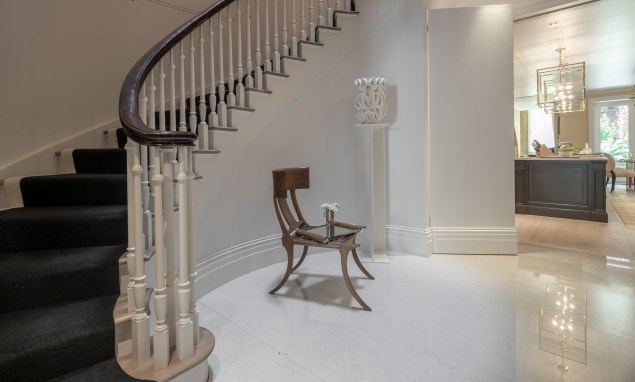 The strategically-placed mirror in the vestibule, decorated by Ronald Bricke & Associaties, provided an unusual vantage for peering up the dramatic oval staircase.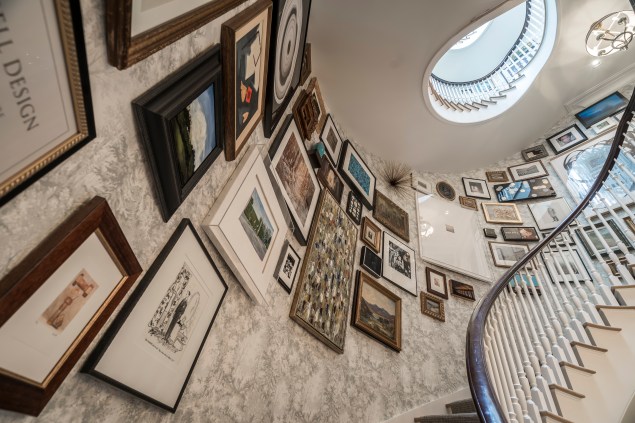 Made more dramatic still by the multitude of framed photos, paintings, prints and decorative objects that Philip Mitchell Design filled it with.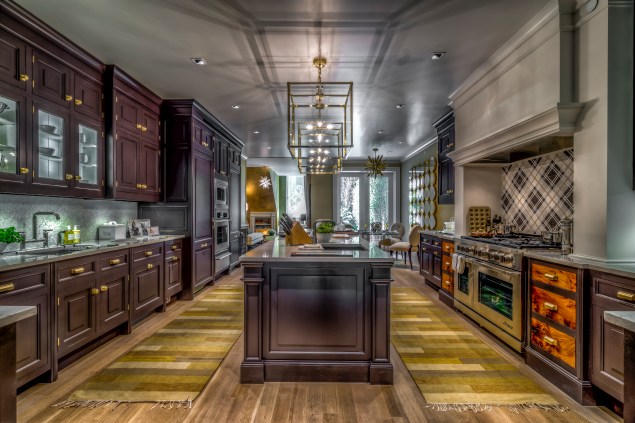 Ms. Del Nunzio pronounced the kitchen, by Christopher Peacock, her favorite room in the house.

"I like that it leads straight out," she said of the kitchen's opening onto the back patio, arranged by Janice Parker Landscape Architects. It also, she noted, had the benefit of simplicity. "Many designers, when they only have one room to work with, they overstuff it."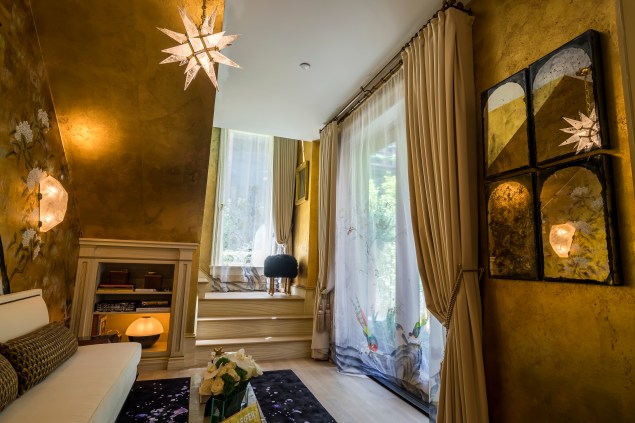 Off the kitchen lies a butler's pantry and the back stair, re-imagined by Bennett Leifer Interiors as a cozy nook.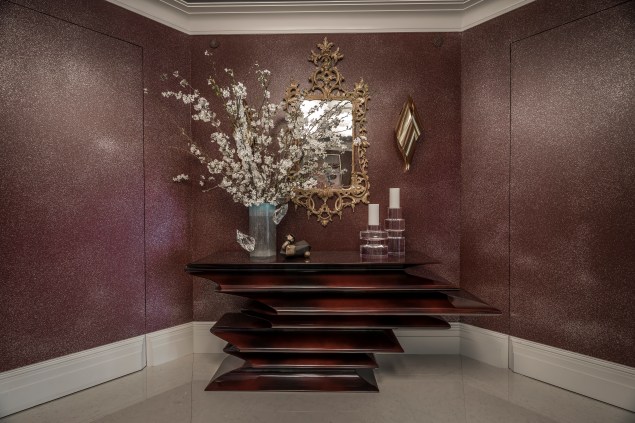 Not a typical hall table. By Drake Design Associates.

An elaborate dining room with walls covered in red gingham check by Mark D Sikes Inc.

David Phoenix Inc took on the master bedroom (well, technically the master bedroom is a suite of rooms occupying an entire floor) with a canopied bed and framed butterflies.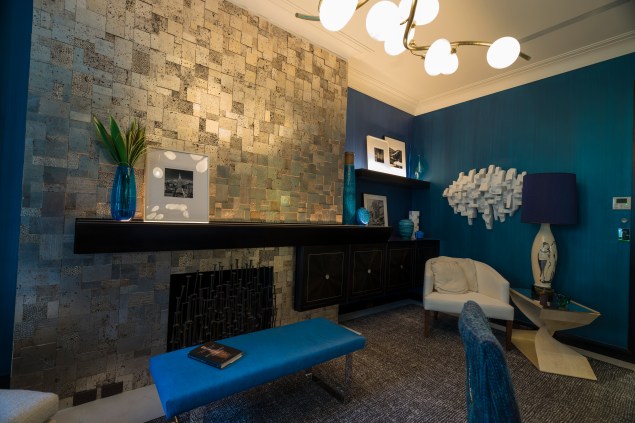 A moody  blue room by Pavarini Design.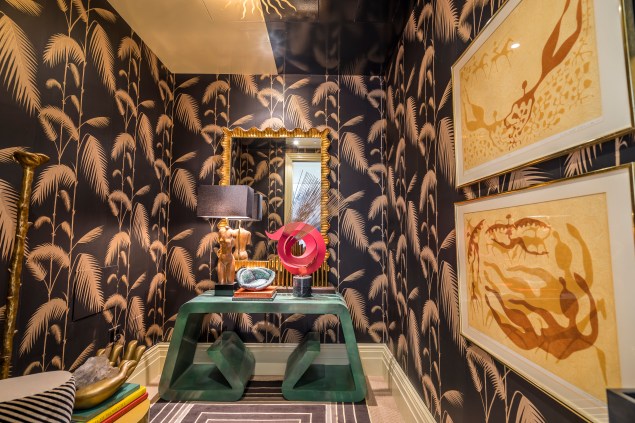 What was have to been the laundry room with repurposed into a pint-sized sitting room by Michael Herold Design.

One of the home's many palatial bathrooms, by Peter J Sinnott IV.

Meanwhile, Gail Green Interiors took on a powder room off the hall with a lot of Keith Haring.

An upper-level bedroom had been inspired by the forests of Brazil, we were told by Suzana Whyte Monacella of McMillen Inc.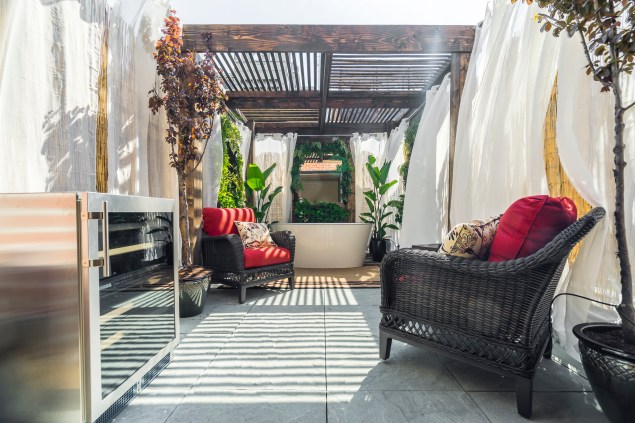 Which gave onto terrace with a soaking tub by Greener by Design. "A soaking tub on the terrace?" Ms. Del Nunzio asked, sounding intrigued and a little alarmed.

A sitting room of some kind, by Thom Filicia. Note the bar beyond the door frame: a favorite of many designers this year.

A place to relax at the top of the back stairs, by Tilton Fenwick.

A garret-like room on the top floor, by Alan Tanksley Inc., with walls that evoke a misty view of the city.

The staircase ends with a skylight, with surrounding decoration by Paula + Martha.

The roof terrace by Rottet Studio. Ms. Del Nunzio inquired as to the wood selected for the floor. The proprietor's daughter admitted that she wasn't sure. Maybe cedar? "You're the first one to ask an in-depth question," she admitted.