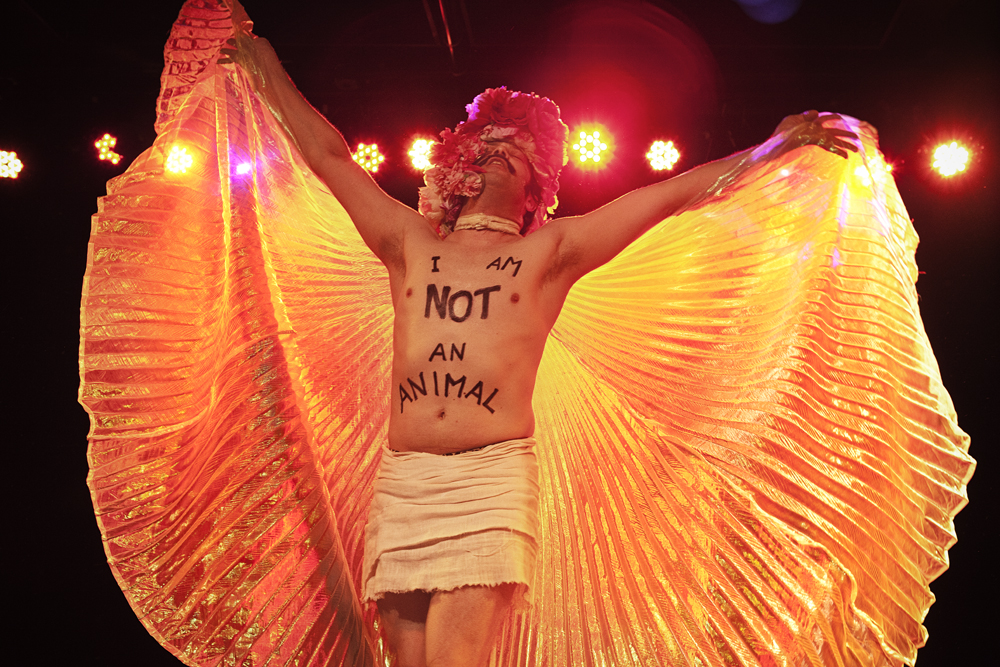 It's an hour before showtime on the opening night of the 4th annual Boylesque Festival at the Knitting Factory in Williamsburg.
Tonight's host, The World Famous Bob, is double-checking the lineup. "So it's Brief Sweat, then Bobby Barnaby, then Hard Cory then Jack N Tha Cox. Got it." She stuffs her index cards in her prodigious cleavage.
Meanwhile, twenty or so half-naked men, many in full makeup, scramble to get ready in the club's backstage dressing area. Lucky Charming is straightening his bowtie, Gee Gee Louise is touching up his makeup and Charlie Gauxdown is checking his props: cocktail glasses, S&M cord and a bright flannel blanket.
"Can I bribe someone with methamphetamines to get me a straw?" jokes Beau Creep in clown drag, wearing glittery red lips. "I'm chewing on glitter. It's like sand."
The Boylesque Festival—two nights devoted to male and male-identified burlesque performance—is an offshoot of the female-centric New York Burlesque Festival, started by Thirsty Girl Productions. One of the company's partners, Jen Gapay, is backstage as well, clutching a cocktail in one hand and colorful handmade stretchy briefs made by Mr. Gorgeous, one of tonight's performers, in the other.
The club is filling up with mostly gay men, some women, and at least one bachelorette party. "The first year of the Boylesque Festival was probably 90 percent gay male audience, now I would say its 70 percent gay men,15 percent straight women and 15 percent lesbians and transgender," says Ms. Gapay, who created the Boylesque festival with Daniel Nardicio in 2012. Business is taking off, she reports: "We have moved to bigger venues each year."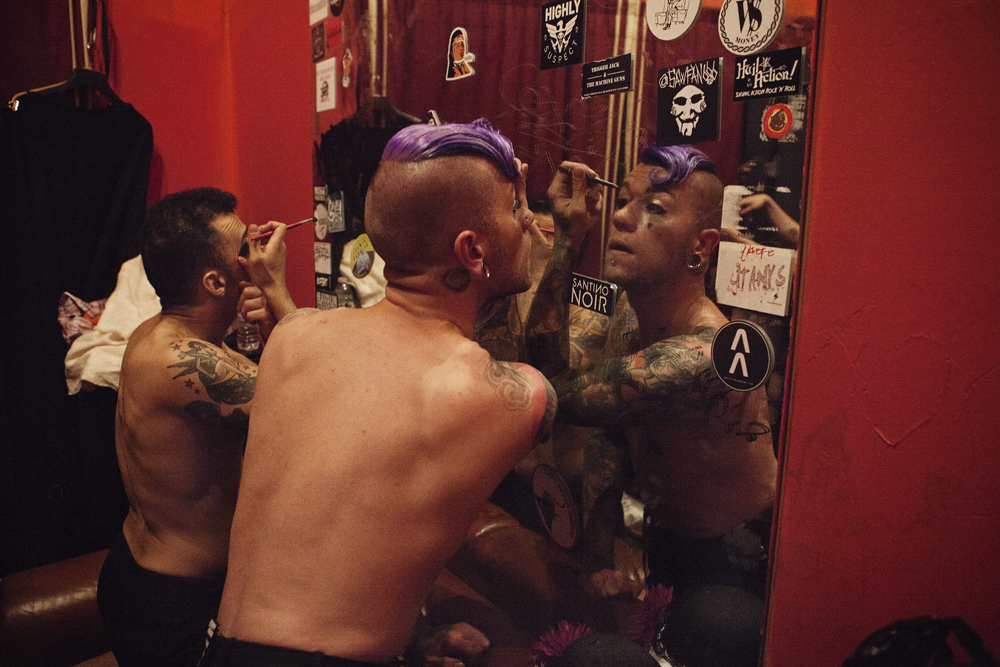 Boylesque is kind of the New Burlesque's goofy adolescent younger brother, and it is having a growth spurt. There are events all over the country, like Southern Fried Burlesque Fest in Atlanta, and the Miss Exotic World Pageant in Las Vegas. Vienna is hosting its second annual Boylesque Festival.
Despite the growth, this may be the rare field where women  do better than men.
"Do you make money? God no," says James and the Giant Pastie, a strapping Toronto native in thick eye makeup. "If you want to make money, become a stripper. This is not Magic Mike."
According to Mr. Nardicio, acts are paid around 75 to 100 dollars, though headliners do better. "One guy [is] from Japan. That'll cover his food, barely! It's more for the love of it, for these guys," he says.
"It's really naked storytelling," Jack N Tha Cox explains. He is a tall, svelte young man from Savannah, Ga. in a cowboy costume complete with gun holsters, chaps and a fur-covered G-string.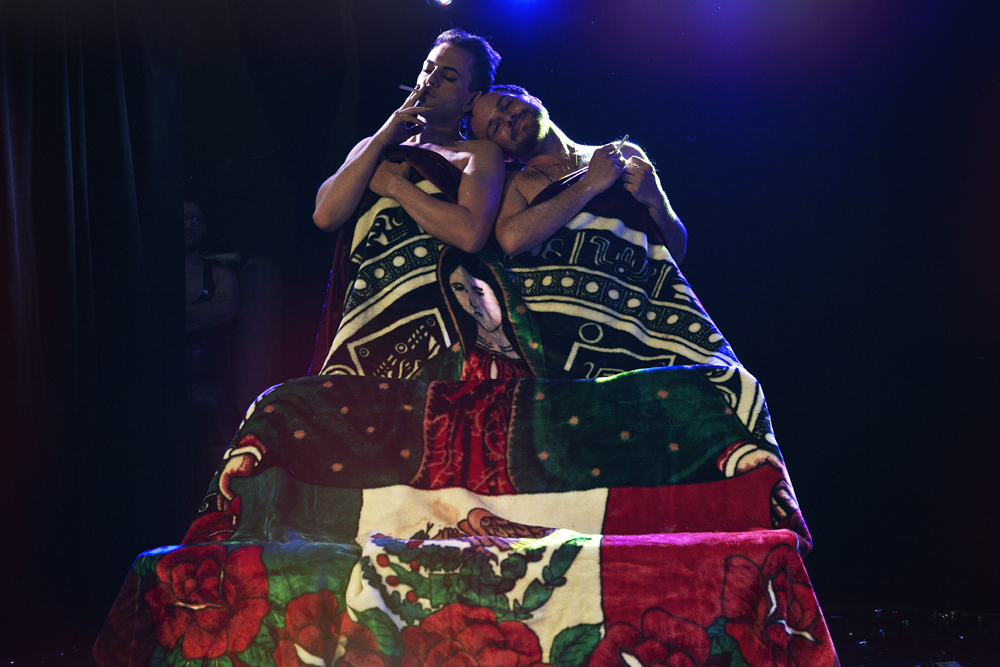 "Places," yells head "stage panther" Dr. Flux. Up first are Dicky DiBella and Joshua Weidenmiller, who start in full spandex bodysuits and, to a pastiche of pop hits, strip down to matching gym shorts and a burst of confetti from a half dozen canons. The crowd screams wildly.
Then Lucky Charming, a handsome performer of short stature, does a witty security checkpoint number, stripping down to nothing to get through an imaginary gate.
Soon Brief Sweat enters covered in a mask and rags like the Elephant Man, with a mangled prosthetic arm. As "Creep" by Radiohead blares, he strips down to reveal butterfly wings, with "I am NOT an animal" tattooed on his chest. He takes it one step further, putting on sunglasses and undressing to reveal an elephant trunk G-string.
One of the show's standouts was arguably the most conventional. Arced seductively over a chair with his legs in the air, Gee Gee Louise removes his thigh-high pantyhose, slowly and expertly, just using his toes. It's a classic number you can imagine Dita Von Teese performing, but watching a man in the seductive Burlesque role is surprisingly refreshing.
That's one thing Boylesque does share with its more popular older sister: a celebration of the body. A range of body types—from short (Lucky Charming) to tall (6'5" Mr. Gorgeous), pot-bellied (Hard Cory) to ripped (Rify Royalty), were on display, and every performer seemed proud, committed and shame-free.
"Boylesque has a sense of playfulness," says The World Famous Bob, backstage. She is one of New Burlesque's biggest stars, and this scene reminds her of when she got her start as a performer in the '90s. "In [female] Burlesque now, there are just so many performers, all doing 40 glove peels. How do you make a glove peel interesting?
"Boylesque is in that beautiful 'I can do everything I want' phase," she adds optimistically, fluffing up her blond bouffant. "Who knows, maybe they can keep it."