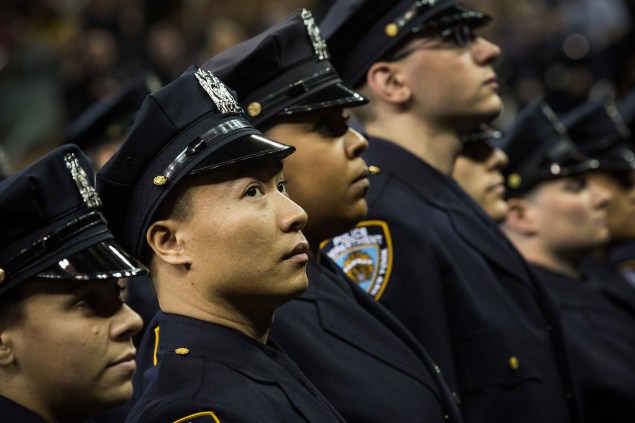 NYPD Commissioner Bill Bratton today told reporters he was backing off a previous call for 1,000 or more additional officers—a request that the Council has supported even in the face of opposition from Mayor Bill de Blasio.
Despite speaking in favor of bringing on "in excess of 1,000" new cops last fall—which surprised observers because of Mr. de Blasio's explicit opposition to the proposal—he shied away from calling for a hiring wave when addressing the Council's finance committee today. Talking to the press after the hearing, he admitted that he would like more cops, but stuck by Mr. de Blasio's executive budget outlays for the next year, which make no allowance for an enlarged NYPD.
"Every police chief in America could always use more resources," he said. "We could always use more cops."
He would not say how many he would like to see, instead saying it was up to the Council to negotiate with the mayor. Speaker Melissa Mark-Viverito, normally a de Blasio ally, has repeatedly called for increasing the size of the police force.
"That process now is really in the hands of both the mayor's office and the City Council," he said. "I think the City Council has made it quite clear that they intend to, as the process now goes through the next stage, sit down with the mayor's staff and their staff, that they're going to be advocating for more officers."
Mr. Bratton refused to say how he might allocate additional cops or whether they would help the city avoid a overtime overrun like the $100 million one the department had to absorb last year, $25 million of which was used to provide security at massive street protests.
"The budgetary process that we just engaged in, that was the presentation of the mayor's executive budget, and our presentation was based on what's in that budget," he said. "The overtime is always going to be a necessity in the police department. That's the reality. We don't want to staff up for every expectation."
The decision to toe Mr. de Blasio's line is a change of approach for Mr. Bratton. The commissioner's willingness to contradict the mayor on everything from the influence anti-brutality protests had on the killing of Officers Wenjian Liu and Rafael Ramos last December to the impact of reduced marijuana arrests on the murder rate earned him the top spot in the Observer's Power List of the most influential figures in city politics this year.