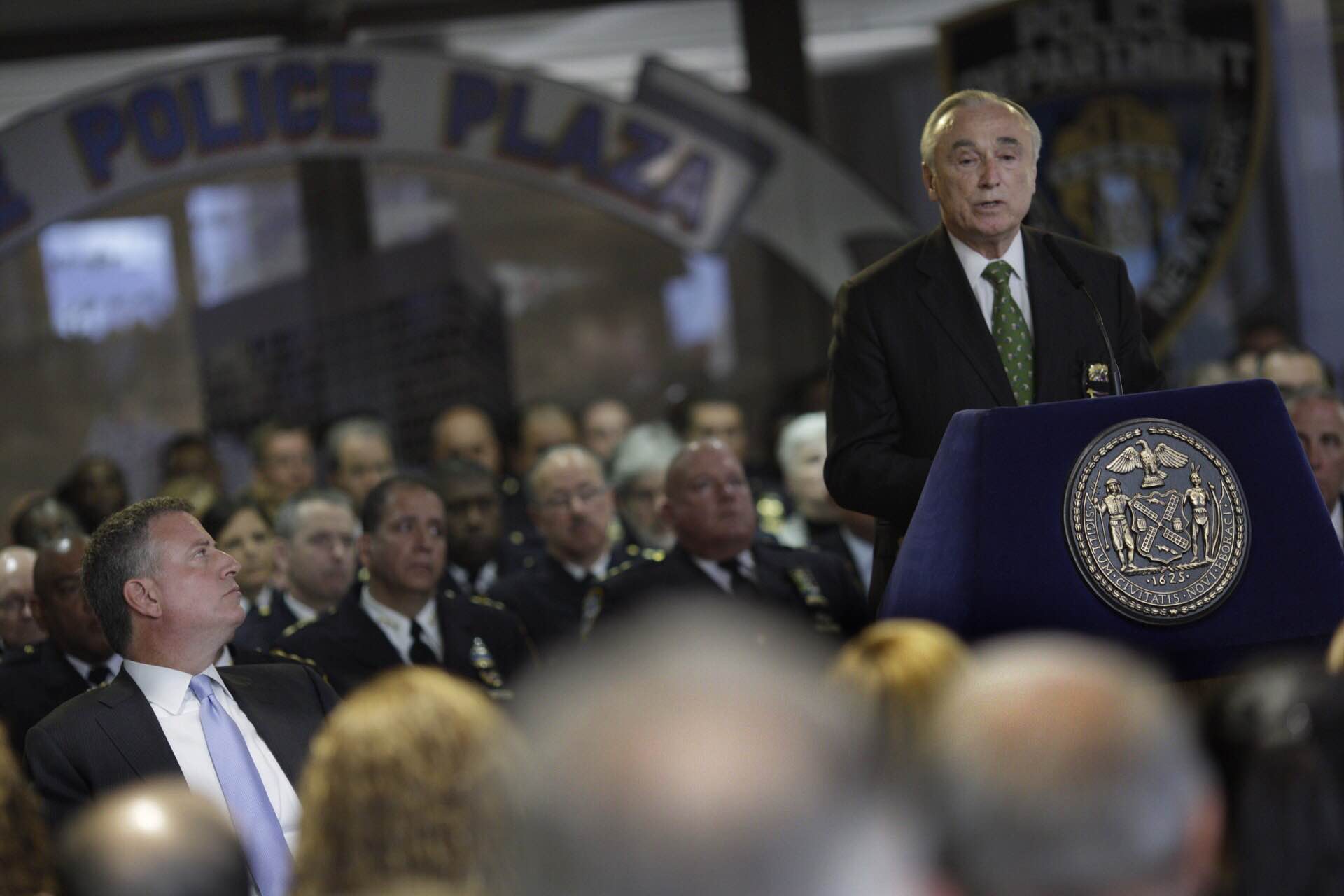 NYPD Commissioner Bill Bratton today called the death of Officer Brian Moore, fatally shot in Queens on Saturday, a "tragic irony" as he and Mayor Bill de Blasio joined other city officials in committing the names of 18 officers who died last year as a result of their work to the memorial wall at One Police Plaza.
All but four of the 18 died as a result of health complications resulting from their service during and following 9/11. Another died in a fire, another in a car accident—and the final two were Officers Wenjian Liu and Rafael Ramos, assassinated in their cruiser in Brooklyn last December by a man who had earlier posted anti-police comments on social media.
Mr. Bratton thanked the families present for their sacrifices.
"You have been there for us. Just as your loved ones were there for this city and this department. These ceremonies are never easy for you.  But it helps us. It helps us, we feel something for you," he said. "So on behalf of the department, I thank you. I thank you for all you continue to do for us. Continuing the legacy of what your loved ones did for this city."
He then alluded to Mr. Moore's death, which followed his being shot in the head while on patrol, allegedly by Demetrius Blackwell, who now faces first degree murder charges.
"There's a tragic irony this week, even as we celebrate and mourn the loss of the 18 whose names are going to be put on these walls today. This past week, we lost another fine young man, 25 years of age, just beginning his life, just beginning his career, as illustrious as that career has already been. Serving the poor and in the poor neighborhoods this past year and a half," he said, before turning his attention to another casualty of the terrorist attacks 14 years ago. "And even on the day Brian Moore died, we also lost another officer, in the continuing legacy of the courage and heroism displayed in the days and weeks that followed 9/11."
Mr. Bratton added that both names would be added to the memorial wall next year, as doubtless would others.
"I'd like to believe that some point in time, there would not be another name that would need go on these walls," he said. "But we are the police. Part of the police protection. And unfortunately, that's part of the lives that we lead. Thank God that we have men and women, thousands of them, who are willing to come into this profession."
"There's no higher calling to be willing to give your lives so that others might live their lives free of fear, free of crime. We will never forget their contribution. Thank God for them. Thank God for you. And thank God for this department, this great city," he added.
Mr. de Blasio also alluded to Mr. Moore and the danger NYPD officers "run toward" daily, before reading aloud the names of the 18 men and women to be inscribed today.
"Last Saturday, we got yet another reminder of just how real and present those dangers are. And our thoughts and prayers today are with the family of Officer Brian Moore—a family that has done so much for the city and has been so deeply a part of this department," Mr. de Blasio said. "And today, we honor 18 courageous members of the NYPD who gave this city their all. They loved this city, and they gave their all to it. They made the ultimate sacrifice so others could be safe."