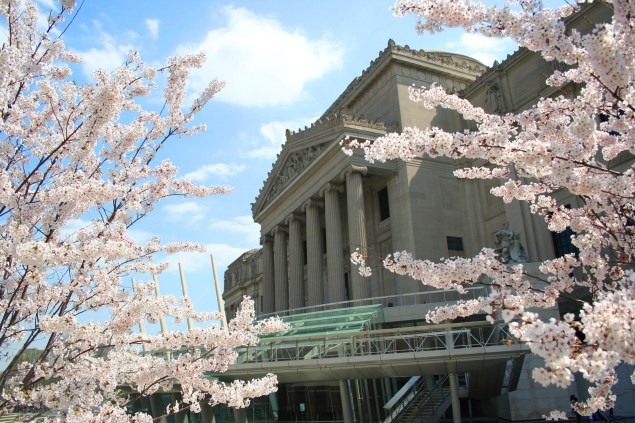 The Brooklyn Museum announced this evening that it has named Anne Pasternak, president and artistic director of Creative Time, as its next director. The appointment completely upends the well-established career path to the directorship of a major museum, and makes Ms. Pasternak, who has virtually no museum experience, one of the few women helming a top museum in the U.S.
Current director Arnold Lehman had previously announced he will retire, after 17 years, next month.
Creative Time is a well-respected public arts non-profit perhaps best known for the spectacular Tribute in Light, an artwork created by Julian Laverdiere and Paul Myoda that uses dozens of searchlights to recreate the World Trade Center twin towers in beams on light of the anniversary of 9/11. Other ambitious, memorable projects Ms. Pasternak oversaw during her two decades at the high-profile organization include Kara Walker's monumental sugar sphinx sculpture, A Subtlety, at the Domino Sugar Factory, and Doug Aitken's large-scale film projection Sleepwalkers on the side of the Museum of Modern Art, among many others.
"Anne is one of the most dynamic and creative forces in the art world today. I expect that once her extraordinary experience and energies are connected to the exciting, inclusive brand and treasures of the Brooklyn Museum, the blend will be 'dynamite'!," said Mr. Lehman in a statement.
The appointment comes after a long and contentious search that had involved Thelma Golden, director of the Studio Museum of Harlem, who is believed to have been offered the position. Another serious candidate was believed to have been Julián Zugazagoitia, director of the Nelson-Atkins Museum of Art, who also ran El Museo del Barrio in New York for seven years. Holly Block, director of the Bronx Museum of the Arts and private dealer and impresario Jeffrey Deitch were also rumored names.
In the end, the vote was unanimous according to board president and co-chair of the Search Committee Stephanie Ingrassia. "Anne is a true visionary and understands the power of art to transform communities," she said in a statement.
In general, museum directors are usually chosen from the ranks of curators or at least museum staffers, are almost always holders of PhDs (Ms. Pasternak holds an honorary degree) and hopscotch from smaller to larger museums as their career progresses.
In choosing Ms. Pasternak, the Museum appears to have favored a fresh mode of operation and its contemporary art collection (a pet project of Mr. Lehman's) over its massive holdings of Egyptian art and decorative arts, among other scholarly strengths.
However, back in November, the Observer asked art worlders who they thought would be a good fit for the job and why. A number of our contributors championed a female director, particularly one who would be able to incorporate Brooklyn's incredibly diverse and rapidly growing community into programming with the museum's world-class collection. Most of them said the museum needed a "visionary." Turns out, Salon 94 owner and art dealer Jeanne Greenberg Rohatyn may have a sixth sense for these things and correctly predicted Ms. Pasternak would be the forerunner early on.
For more on director Arnold Lehman's retirement and the Brooklyn Museum's director search be sure to read our previous coverage, "How Do Museums Collect? Brooklyn Museum Director Arnold Lehman Breaks It Down" and "Art Worlders On Who Should Get the Brooklyn Museum's Top Job."