What is it about Buddhism that inspires cynicism? Perhaps it's the challenge of taking seriously an orange-clad, head-shaven drum circle wedged between the farmers market, Lululemon and Whole Foods at Union Square. Perhaps it's the surrounding maxi-dress-and-fringe-clad Meatless Monday shoppers who galvanize pessimism. Or is it the discomfort of ignorance?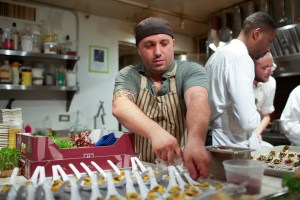 Many of us know Buddhism as a sort of intersection of free time, yoga and vegetables. Well, yoga is arguably Hindu. And vegetarianism is not a mandate for every Buddhist. That's the most important thing we learned last week, the first of a series of revelations. Another: Those orange robes originally came from saffron and turmeric dyes.
You know Jesus' birthday? Siddhartha Gautama, the Buddha himself, has a holy day-turned-holiday, too. Buddha's birthday is celebrated in spring, day depending on lunar calendar, country and sect. Generally a visit to a temple or shrine, flowers, lanterns, and candle-lit processions are involved. Whatever the specifics, it's a time for reflection and communal meals.
In that spirit LuckyRice, a festival-turned-movement highlighting Asian culinary culture, partnered with the James Beard Foundation to draw attention to the essential event and bring the idea of Buddhism into the kitchen, said founder Danielle Chang.
She enlisted Will Horowitz, a 32-year-old chef known for his world travels-inspired barbeque, and, yes, Buddhism. Years ago, Mr. Horowitz studied in Nepal at Boudhanath (say: Bohda), considered the most important Tibetan temple outside of Tibet, damaged in the earthquake last month.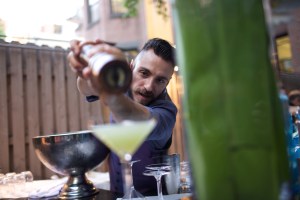 Between running Duck's Eatery in the East Village, creating menus for Seamstress uptown and a third soon-to-open spot near Duck's, and writing a book (Salt, Smoke & Time; Harper Collins 2016), Mr. Horowitz and his team planned and prepared dinner for 65. Each of six courses aligned with a spiritual revelation in Buddha's life: Birth, Extravagance (he was a wealthy prince), Abandonment (of his luxurious, hedonistic life), Balance, Awakening, and Death.
And meat certainly played a part. Think about Tibet: mountains meet barren plateau—not ideal for farming. Buddhism is not about extremes, and starvation is no better than gluttony. If a goat's what you've got, milk it and eat it.
Mr. Horowitz can go into entertaining, thoughtful commentaries on vegetarian tenets and the definition of sentient being: How do we choose to separate plants, insects, animals, and humans? If we rank them, are we racist? He's also concerned about our fearful approach to death.
---

Many of us know Buddhism as a sort of intersection of free time, yoga and vegetables.

---
As a chef, he said, the last is especially important. He had designed the Birth and Death courses as the same dish: farm egg with beets, soy milk and spices. More on that after we step outside for cocktail hour.
While hors d'eouvres like dried yak with toasted fennel seeds and chilies in poached onion bulb cups (taste: beef-ish in a zippy rub) were passed throughout the patio to an animated crowd, trendsetting musician TK Wonder sipped her "Pleasant Thinking" (Bombay Sapphire East, lemon juice, green apple cordial, cardamom bitters, ground black pepper).
Ms. Wonder—she and her identically fabulous twin are in a Vogue piece on stunning sisters—was celebrating Buddha's birthday on the eve of her own with boyfriend Cyllan Hicks, head bartender at Louie and Chan on the Lower East Side. He's a friend of Williamsburg's Extra Fancy bartender Enzo Cangemi, who created the theme-appropriate cocktail and was working the bar.
"We're busy, we never rest, but you find a corner and it's the pleasant thinking, that moment you find calm," said Mr. Cangemi. The pop of the ground pepper balances the intense, savory and sweet-ish cardamom. An absence of extremes, it seems, suits the palate as well as the mind.
"Just for liability reasons," said Mr. Horowitz to the now-seated group, pausing for effect, "we can't guarantee enlightenment."
He acknowledged temple fare as the expected go-to for this type of event. "We're not doing anything to the T of that cuisine but we're certainly taking a lot of notes from it." The yak, however, was to a T, he said, "especially late night drunk in Nepal."
The meal progressed from yolky egg to shimmering caviar and smoked sable to sassafras-braised burdock root and morels to smoked duck that at least one at every table noted tasted like pork (association with the preparation technique) to smoked eel and butter tea to Death.
And then the full spectrum of the chef's ingenuity and mindfulness was revealed: citrus curd mimicked egg yolk, and so forth—Death encompassing the same elements as Birth but emerging as something sweeter. More food for thought indeed.   
"I don't know if the way I am doing things is right or wrong, but it's interesting," said Mr. Horowitz. That's a doctrine that'll convert us all.