It's been slim pickings for oligarchs and real estate moguls lusting after townhouses on Fifth and Park; first there was Roman Abramovich's bid to buy out all the co-op owners at 828 Fifth (a task at which other billionaires—i.e. the late Howard Ronson—had failed before). Disappointed with his success there, Mr. Abramovich graduated to buying up an entire block in the East 70s, presumably for some kind of mega-mansion. Aby Rosen, meanwhile, is said to be attempting a similar maneuver at the co-op mansion 1025 Park Avenue.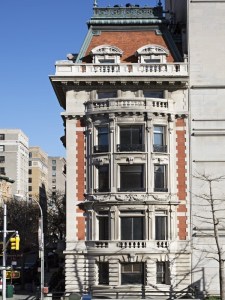 What's the point of all that money, you ask, if you can't even lay claim to a robber baron mansion on Fifth or Park? What indeed!
Well, now, there's finally a proper mansion for sale, one that doesn't involve pandering like a pauper to buy up all the pieces: the Duke-Semans mansion at 1009 Fifth Avenue, listed for $80 million with Serena Boardman at Sotheby's International Realty. Situated across from the Met and belonging to Mexican billionaire, telecommunications giant and sort-of Times man Carlos Slim, the mansion is one of the few remaining single-family residences along what was once known as Millionaire's Row (quaint)!
The brick and limestone mansion measures 20,000 square feet, putting it on par, size-wise, with the whale of a townhouse Joseph Chetrit is planning for the Sony building, though of course, 1009 Fifth is sure to be far lovelier. A Beaux-Arts confection eight stories tall with a corner orientation that offers that most rare of townhouse qualities—good light—the house has 11 fireplaces, hand-carved paneling, "lovely trompe l'oeil accents," intricate plaster freizes and gold-leaf trimmed fixtures (!) according to the listing. Oh, and a "stunning sweeping staircase."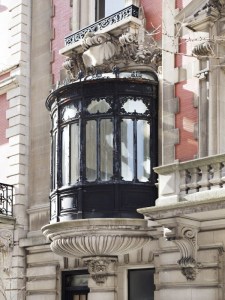 The house fetched what was considered a very high price—$44 million—when Mr. Slim bought it from real estate mogul Tamir Sapir in 2010, prompting Paula del Nunzio, one of the Brown Harris Stevens listing brokers who sued Mr. Sapir after he inked a deal with Mr Slim without them, to tell the Times that "the important thing is that the sale occurred. A $44 million sale occurred in these current market conditions. That is utterly phenomenal."
A mere five years later, of course, market conditions are very, very different and Mr. Slim is hoping for $80 million, a sum that seems utterly doable for something as obviously superior as the Duke-Semans mansion (so called for its builder, tobacco magnate Benjamin N. Duke). And one that would blow the so-old-it's-dusty $53 million townhouse record that J. Christopher Flowers paid for the Harkness Mansion out of the water.
Of course, we are somewhat suspicious about the lack of interior photos (though the Sotheby's listing abounds with exterior shots and close-ups of the limestone detailing). Maybe Mr. Slim just doesn't want
hoi polloi
gawping at his mansion? Though
a mid-'90s scheme
to turn the building into luxury rentals and this line in the listing would seem to suggest that renovations might be in order: "the top floors of the house also incorporate a dramatic skylight and are accessed by a separate staircase."