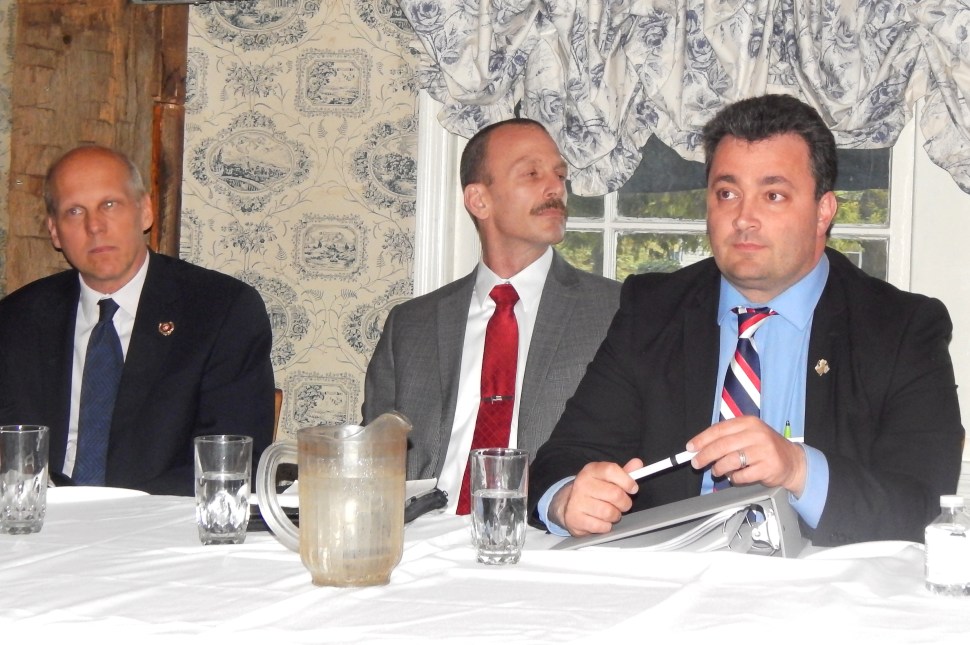 Morris County Freeholder John Cesaro tonight struck back against arch rival Freeholder John Krickus, who asserted his allies' tangible campaign efforts in Cesaro's hometown of Parsippany.
"I hope they enjoy fantasy land for the next 48 hours because reality will set in on June 2nd," said Cesaro, the to vote-getter on the Cesaro-Krickus-Scapicchio ticket three years ago who this year went rogue against his former running mates, who hail from the western section of the sprawling North Jersey Republican county.
"There are people who still believe in the tooth fairy, and John Krickus simply sounds like a man desperate to win. "If he believes my home town is going to come out against me, I've got a bridge i can sell him."Having tapped the financial and organizational support of labor in this primary and girded by Republican Gov. Chris Christie's 2013 reelection run with the considerable support of labor groups, Parsippany-based attorney Cesaro and his allies have a significant money edge in this brutally competitive freeholder race.Morris County Republican Chairman John Sette says the resources will backfire on Cesaro. After staying out of the endorsement game through the primary season, Sette came out this past week and backed Krickus and Scapicchio and their running mate, Denville Councilwoman Deborah Smith.
"I really am still still reeling from John Sette's phone conversation wherein he said 'I'm supporting the incumbents; I'm a man of my word.' I'm still scratching my head as to the reason why he changed his mind and backed [Krickus, Scapicchio and Smith]. What caused him to snap?"
Cesaro insists it couldn't have been the money because the labor and Democratic Party-affiliated PAC dollars infused his slate prior to this past week. Ultimately, he said Sette's endorsement won't matter, dismissing the late flurry of opposition activity as more 11th hour desperation. "I don't think it's going to have any effect on the election," Cesaro said. "We've had seven or eight debates and in every single debate it was clear, they have no platform. They talk about zero-based budgeting. I voted for zero. I talk about zero but with a plan, a plan that includes economic growth, improving transparency and ethics and long-range governing.
"These guys are the laughing stock of the county right now," added the freeholder, whose opponents say is leading Morris County Democratic Party rule. "When you don't have a message, you're going to mud sling and accuse people of back door motives. I don't know what they're talking about [when they ask about what union groups expect in return from Cesaro in exchange for their financial support] because quid pro quo is illegal. I cant help the fact that my teams message resonates across the spectrum but if we want to talk about dealings, ask Krickus and Scapicchio why in December of 2013 they decided to bail out on [the county's healthcare consultant] but this year fought to make [the same entity] the healthcare consultant for the county. Before they insult the hard working men and women of the state of New Jersey, they need to look in the mirror.
"We are no longer the club of the rich," Cesaro added. "We are the club of inclusion. They're losing this race. That's what their attacks now indicate. In February, March and into the third week of April, there were no attacks. Our candidates' nights were benign but  they realized they have a problem the attacks started. The new lie is that John Cesaro supported the solar project. The solar project was in 2009 and I got elected in 2012. I said this at candidates' night. I'm not offended by the attacks. They're a compliment. It means we're going to prevail."