"Twenty-two years without ever making his bed," marveled Sen. Dick Durbin recently, referring to his former housemate in Washington, D.C., and longtime colleague, Sen. Charles Schumer. "You might say, 'Well, so what?'" he continued, eyebrows arched in the Observer's offices. "The bed was in the living room. My wife and I just walked in to see his boxer shorts and I said to him, 'What did your mom do to you? I mean, didn't she ever tell you to make your bed?'"
The Illinois liberal's exasperation with his old friend is understandable; he is the latest in a long line of politicians to know defeat at the hands of the Democrat everyone calls Chuck. Earlier this year, the 64-year-old No. 3 Democrat in the Senate hierarchy leapfrogged Mr. Durbin, the minority whip, and announced he had secured the votes to replace retiring Senate Minority Leader Harry Reid.
It was a swift denouement of a rivalry that spanned decades. It was also vintage Schumer: In the roughly 24-hour period after Mr. Reid revealed his decision to retire at the end of 2016, Mr. Schumer had cashed in many old chits, working the phones with the knowledge that he, and not Mr. Durbin, had ingratiated himself with the aloof Mr. Reid.
Thanks to his passion for politicking, unparalleled fundraising prowess, a life-long love affair with the camera, a deft avoidance of real scandal, and plenty of good luck, Charles Ellis Schumer of Sheepshead Bay will soon be one of the country's most powerful elected officials. He is ubiquitous, brilliant, insufferable and paradoxical—the consummate dealmaker, reliable pal of Wall Street yet friend to liberal stalwarts like Mayor Bill de Blasio and Sen. Elizabeth Warren. Given Republican control of Congress and a deficit of star power in the state's congressional delegation, he is, arguably, the only New Yorker in Washington who matters.
"He's entitled to this, he's worked for this," conceded Mr. Durbin, adding that his future boss "operates on a higher RPM level" than Mr. Reid. "Harry was more of a hands-off kind of committee leader … Chuck is more personally engaged."
Few doubt that Chuck Schumer has the right resume to lead Senate Democrats. But some critics question whether he is the man for the job—given his reflexive cautiousness, incessant Wall Street boosterism and a lack of sweep in his political vision.
***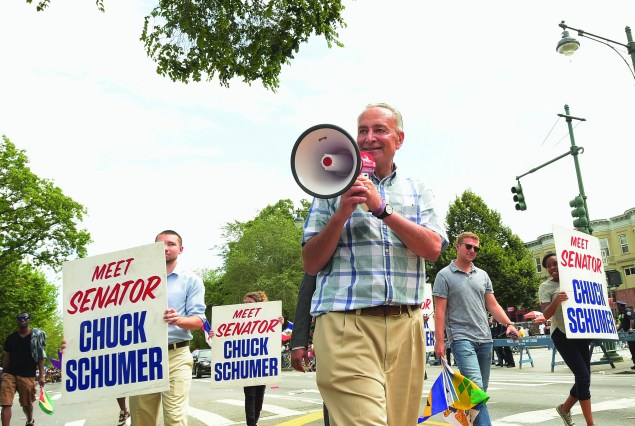 The son of an exterminator and a housewife, Charles Schumer was always an overachiever. He scored a perfect 1600 on his SATs at James Madison High School, where he was valedictorian. As an undergraduate, he won election as president of the Harvard Young Democrats, and later graduated from Harvard Law School.
At the age of 23, the new law school grad launched his campaign for State Assembly, challenging two more experienced politicians in the Democratic primary. He was 25 years younger than a frontrunner, attorney Jerome Cohen. It was a heavily Jewish district, so Mr. Schumer went to work showing people he could out-Jewish Mr. Cohen.
"He was a classmate of one of my sons," Mr. Cohen, 89, recalled earlier this month, noting that his young opponent repeatedly used the Yiddish term for "strong person" to promote himself. "He described himself as shtarker," Mr. Cohen said. "He managed to call himself the Jewish candidate."
Mr. Schumer was no more observant than Mr. Cohen, but he outhustled him, winning the working-class southern Brooklyn district by about 700 votes. "I wasn't too happy at the time. But he outsmarted me," Mr. Cohen acknowledged, emphasizing that he and Mr. Schumer remain friends. (Mr. Schumer's official Senate biography says he was the youngest assemblyman elected since Theodore Roosevelt; this is false. A 23-year-old named Richard Gottfried, who is still a Manhattan assemblyman, was elected in 1970.)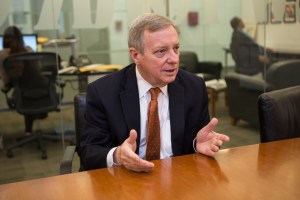 Historic election or not, Chuck Schumer was hard to miss. He obsessed, like few other legislators, over building local fame. Long before Alfonse D'Amato, the Republican he would eventually defeat, was dubbed "Senator Pothole," Mr. Schumer filled in potholes, literally.
At 25, and still a freshman legislator, he led constituents and reporters on a quest to fix potholes on a pockmarked stretch of Avenue V in Sheepshead Bay. Hauling 80-pound bags of "cold patch," a ready-made asphalt, Assemblyman Schumer steered his entourage to 55 potholes, detailed The New York Times, which noted that the assemblyman was careful not to fill in any potholes beyond the boundaries of his district.
"I see myself as the mayor of a town of 150,000 people with no budgetary powers," Mr. Schumer boasted.
In 1978, a 27-year-old Mr. Schumer was visiting a constituent in Midwood when a neighbor screamed that she had just been robbed. Mr. Schumer chased two suspects, helping to catch a 14-year-old girl. He held her "screaming and kicking for five minutes" until police arrived, he told the Times. Already proficient at crafting sound bites, he offered a nice kicker for the article. The burglars were destroying his middle-class community "like a pack of wolves on the prowl."
The young legislator, whose mantra was "politics is public relations," according to his former staffer Daniel Feldman, was succeeding mightily. He hit every community board meeting, tenant rally and elementary school graduation ceremony. He launched headline-grabbing investigations, exposing corruption in drug treatment programs and a bid-rigging scheme in the sale of asphalt to New York City.
"Chuck got more press than the rest of the Assembly put together," said Mr. Feldman, who later replaced his old boss in the Assembly. "But one time he came into the office ranting that 'Half these people in the district don't know who the hell I am.' Other politicians in the area, far less known than Chuck, deluded themselves into thinking they were better known than they were. Chuck had a tremendous sense of reality."
But Mr. Schumer craved a bigger stage than Albany, remembers former Assembly Speaker Mel Miller: "We always thought he was going to move as soon as an opening came … His eyes were on Washington."
Mr. Schumer's political career is a study in lucky breaks and a chess master's ability to take advantage of every last one. He knows what exactly his strengths are—and the weaknesses of those who get in his way.
When Elizabeth Holtzman, at the time the youngest woman ever elected to Congress, left her seat to run unsuccessfully for the Senate, the 29-year-old Mr. Schumer leapt into the race to replace her. He bragged in a newspaper story that, next to Ms. Holtzman, he was the "best known political figure in his district."
He was not wrong. He won easily in 1980 against three other Democrats and embarked on a House career at the dawn of the Reagan era.
This was the beginning of Mr. Schumer's deep, enduring friendship with Wall Street. He took a spot on the Financial Services Committee, raising a half million dollars from the city's top law firms and securities houses to show his clout before congressional districts were redrawn in 1982. New York, due to its population loss, was set to shed several House seats. Mr. Schumer's district survived.
But it was around this time, for an entirely different reason, his political career nearly ended. 
***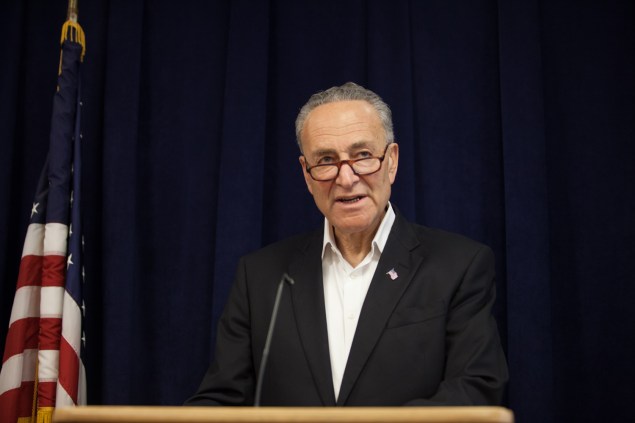 Viewed in retrospect, just about every success in Mr. Schumer's life looks preordained. Of course, the hard-working Harvard boy won a seat in the Assembly. Of course, he raced right into Congress. Of course, he fulfilled the dream of countless politicians and became, in 1999, a United State senator. Of course, in 2015, he was christened the next leader of the Senate Democrats.
In the fall of 1983, the rising star was staring into the abyss.
"I used to be mentioned as one of the hot young politicians," he complained to New York Magazine. "Now, who knows?"
The lengthy magazine spread is unimaginable today: Mr. Schumer, hunched in a swivel chair, stares sour-faced into the camera, like Charlie Brown. A headline booms above his photograph: "Congressman Under a Cloud: Charles Schumer's Three-Year Fight Against an Indictment."
The article recaps how both a U.S. attorney and later the Brooklyn district attorney were on the verge of indicting the first-term congressman for allegedly forcing his Assembly staff to work on his congressional campaign while still on the state payroll. In a twist, the Brooklyn district attorney investigating the case was the same Elizabeth Holtzman who had vacated the congressional seat Mr. Schumer won. (Ms. Holtzman became Brooklyn D.A. after losing her Senate bid.)
Mr. Schumer, aggressively denying any wrongdoing, said that the investigation had cost him $60,000 in legal fees and many sleepless nights. He claimed he was putting off having children. (He eventually had two daughters with his wife Iris Weinshall.)
It may have been the last time in his life he ever pitied himself. "There is a mind-set against politicians today, an assumption of guilt no matter what the charge is," he said.
Luckily for Mr. Schumer, Ms. Holtzman never brought an indictment. The ethical cloud over his head soon passed.
Back home, he continued to master constituent affairs—and was not above pandering to the anxiety of the outer-borough folk who had sent him to Congress. At a 1984 rally for local Democratic district leaders, he warned that a large public housing development in his district, the Sheepshead Bay-Nostrand Houses, was in danger of "tipping," according to a Democrat in attendance.
The term was used to describe the point when a majority white neighborhood has enough black residents to frighten whites into moving out.
In Washington, however, Mr. Schumer made all the politically correct moves. He played a significant role in President Ronald Reagan's immigration overhaul. He championed tougher trade policies with Japan (more of an economic rival at the time than dependable ally). He was instrumental in the passage of gun control legislation.
In 1998, Sen. D'Amato, the three-term Republican incumbent, was a ripe target, prompting the ambitious congressman to jump into the race. He coasted in the Democratic primary against Geraldine Ferraro and Mark Green, then swatted away Mr. D'Amato, winning election by 10 points.
Mr. Schumer's most famous (and infamous) protégé, Anthony Weiner, compared him to hockey's greatest player, Wayne Gretzky. "Gretzky saw the game much slower than anyone else. Chuck is that way, maybe in reverse. His standard resting speed is twice as fast as most people in Washington."
***
The retirement of Sen. Daniel Patrick Moynihan in 2001 meant that Mr. Schumer, less than halfway into his first term, earned senior senator status. But Hillary Clinton, the former first lady, immediately parachuted into New York and suddenly Mr. Schumer was the most junior senior senator around.
"He was a senator for three years," former Gov. David Paterson recalled, "and then an overshadowing figure in Hillary came in. We'd go to events and [her Secret Service detail] would move us when we got in."
"He was still … politically insecure," a Schumer confidante added. "The big thing in those days was how do we get this freshman senator, who's not rich, not famous, not hanging out at elite parties, from Brooklyn—how do we get him attention?"
Mr. Schumer began visiting all 62 counties in the state, something he still does annually. He immersed himself in upstate issues to shake the big city liberal tag. Earlier this month, for instance, he lobbied HBO to shoot a movie about Harriet Tubman in her hometown of Auburn, N.Y., a small city in the Finger Lakes. He also managed to get Greek yogurt, much of it produced in upstate New York, listed as a separate menu item for the federal school lunch program, starting next school year.
In 2004, his re-election win was dominating enough that many talked about Mr. Schumer as a future governor. But with Ms. Clinton eyeing a campaign for president, he realized he could be the macher of New York without another bloody campaign. He stayed in Washington.
His clout reached such heights with Ms. Clinton's departure to head the State Department that the Observer, in 2009, dubbed him a "hegemon." One reason was that he played such an instrumental role in anointing Ms. Clinton's successor, an unknown congresswoman from a rural upstate district named Kirsten Gillibrand.
"What he became was my sounding board," Mr. Paterson recalled. "He wasn't disclosing to the press that we were talking as often as we were."
Mr. Schumer reportedly didn't want to compete for public attention (and affection) with Caroline Kennedy, perhaps the only possible candidate whose fame eclipsed Ms. Clinton's. When Mr. Paterson picked Ms. Gillibrand (Mr. Schumer's favored candidate) as the state's junior senator in 2009, that problem was solved.
***
Chuck Schumer's politics, as he has repeated ad nauseam, focus on the middle class. Not the rich. And certainly not the poor.
He is prescient, but not trailblazing. He is unlikely to expend much political capital on fighting poverty or income inequality.
He treads carefully. Naturally hawkish, he voted for the Iraq War when public sentiment was for it; he opposed same-sex marriage until the exact moment it no longer made sense to do so.
"It's time," Mr. Schumer said in 2009, upon announcing he supported marriage equality. Mr. Schumer's words, in whatever the era he has legislated—for better and worse—have always been apropos.
During a period of economic strength, he partnered with Republicans to successfully knock down the walls between investment banks and commercial banks. In 2007, he pushed for less regulation of the financial industry to make New York City more competitive globally. Around the same time, he crafted an amendment that barred the Securities and Exchange Commission from overseeing credit-rating agencies, like Standard & Poor's and Moody's Investors Service.
Mr. Schumer shares donors with many Republican elites. He and George W. Bush, for example, each counted Goldman Sachs, Morgan Stanley and CitiGroup as top funders. Two of the major investment banks that collapsed in 2008 financial crash, Lehman Brothers and Bear Stearns, also showered money on both men. Mitt Romney backers, such as Paul Singer and John Paulson, also support Mr. Schumer's campaigns.
"He's very useful to the business community," explained Kathryn Wylde, the president of the Partnership for New York City, a nonprofit representing the city's business elite. "I think he's helped New York dodge many bullets."
But Mr. Schumer dodged a bullet himself. Despite having helped usher in a permissive regulatory environment that many critics believe encouraged Wall Street misdeeds and economic collapse, he remains popular; he enjoys a "rock solid" 54 percent approval rating, according to a recent Marist poll.
"For much of his career his role was to raise a lot of money for the Democratic Senate Campaign Committee and then be a senator for Wall Street and that worked just beautifully until Wall Street crashed the economy," said Robert Kuttner, co-founder of The American Prospect, a leading liberal magazine. "Progressives have viewed him as an archetypal Wall Street Democrat."
"Wall Street's an important part of New York," Mr. Schumer said in a brief interview with the Observer. "I have my internal gyroscope: when they do the right thing, I'll back them up. When they do the wrong thing, I'll criticize them." He noted that he was the lead author of Dodd-Frank, post-Recession legislation that tightened scrutiny of banks and Wall Street.
As the political zeitgeist, at least for Democrats, moves left, Mr. Schumer has lately found himself in an awkward position. He resists Elizabeth Warren-style populism, but his brand, fundamentality, is about adaptability—Chuck Schumer can never be unpopular.
Last year, he quietly passed on being the ranking member on the coveted Banking Committee, where he would have the uncomfortable task of appeasing the resurgent left while doling out favors for New York's finance titans.
He was critical of the Trans-Pacific Partnership, a 12-nation free trade agreement backed by President Obama and Wall Street—and reviled by many left-leaning Democrats and organized labor. The legislation would give Congress the ability to vote for or against—but not amend or filibuster—major international trade agreements negotiated by the White House.
Rather than join the Warren camp and protest the whole agreement as a threat to American jobs, Mr. Schumer took a position, noted Mr. Kuttner, that could placate liberals and simultaneously show allies in the finance sector he isn't truly anti-trade. Explaining that he cared first and foremost about cracking down on foreign countries manipulating their currencies to gain a trade advantage, Mr. Schumer pushed an amendment to do just that, perhaps knowing the Obama administration would shoot it down if it ever survived the House. The Senate voted last week to pass the trade deal but killed Mr. Schumer's currency amendment. 
Even though Mr. Schumer voted against the trade legislation, he could say his opposition was not ideological and show progressives he voted the "right" way.
***
The left has never revolted against Mr. Schumer. Labor leaders like him. Progressive activists are more wary, but he is rarely the target of their ire, like the Clintons or Andrew Cuomo.
Even Republicans have nice things to say about him. His unwavering support for Israel in the face of international hostility has won him many friends in the Senate, pointed out former Sen. Norm Coleman, a former Minnesota Republican, who happens to have been a high school classmate of Mr. Schumer's at James Madison.
"I've known him for a hundred years. Chuck was never a wallflower," Mr. Coleman said. "He's someone who's tough, smart and respects the institution."
Remaining in the Senate has conferred several advantages on Mr. Schumer. His popularity does not suffer like a mayor's or a governor's because he is not an executive: fluctuating crime, job losses and man-made catastrophes are not blamed on him. There is no press corps dedicated to him, like there is for City Hall and Albany. His every action is not tracked. Mr. Schumer, therefore, can pick his issues, buffet-style, and own them. He has not been expected, necessarily, to lead.
The Schumer legacy is pointillist. He is not like Mr. Reid, the "Caesar" of his state, in the words of Nevada politics guru Jon Ralston. Mr. Reid exercised full control of Nevadan politics, showering his once forgotten home with billions of federal dollars it may never see again. Virtually every Democrat who ran for higher office had to kiss Mr. Reid's ring.
There are no major public works projects or a singular piece of legislation that bears the Schumer stamp. His fingerprints, a little at a time, are everywhere.
When the Observer queried a host of smart people about Mr. Schumer's single greatest achievement in a 40-year career, they struggled to name one.
"He does so many different things. He has a finger in every pot," offered Mr. Paterson, the former governor.
"He's a skilled dealmaker," said Kenneth Sherrill, a professor emeritus of political science at the Graduate Center and Hunter College, CUNY. "But I can't think of any one thing. To be honest, I'm drawing a blank."
Along with several other Democrats, he helped usher Obamacare into law—but later complained President Obama should've been focused elsewhere and that his party "blew the opportunity the American people gave them" in a speech last year to The National Press Club.
Otherwise, some other crusades, like regulating laser pointers and wire grill cleaning brushes, seem small bore. Still, Mr. Schumer's frequent Sunday press conferences, the subject of occasional derision among journalists, are highly effective in cultivating the image of a politician who cares about working stiffs. He still favors cheap suits and an approachable, almost cheesy demeanor in public; aides say, with some endearment, that he's a slob who can't eat a hot dog at a county fair without getting catsup and relish on his face. 
The style usually has substance, though there are exceptions. A reporter last March spied Mr. Schumer, famous for bicycling around the city on weekends, disembarking from a vehicle a short walk from a Sunday breakfast at the Council of Jewish Organizations of Flatbush. Aides produced a bicycle and Mr. Schumer, ever the showman, pretended he had rode all the way to the event in Brooklyn.
If he indeed replaces Mr. Reid, his greatest legacy may be just that: putting himself perfectly in the position to succeed.
The turning point was 2006. Chairing the Democratic Senatorial Campaign Committee, Mr. Schumer recruited a slate of candidates to retake the Senate from Republicans. An army of Schumer loyalists—Montana's Jon Tester, Missouri's Claire McCaskill, Pennsylvania's Bob Casey—came to power in that cycle, as voters revolted wholesale against the George W. Bush era. The 2008 Obama wave padded the majority and added to his prestige. In that election cycle, he raised more than $160 million for the DSCC—and helped unseat Republicans like Mr. Coleman.
It was, perhaps, the most fortuitous time in history to be in charge.
Luck is again on Mr. Schumer's side. In 2016, Republicans must defend 24 Senate seats, compared to just 10 for the Democrats.
"Can Senate Democrats retake the majority in 2016? Absolutely," Charlie Cook, one of the top election forecasters in the country, recently wrote in National Journal.
What could make Mr. Schumer even more formidable than his recent predecessors is his home state. In deep blue New York, he is virtually unbeatable, and Republicans have not fielded viable challengers—in 2010, he slaughtered a little-known Republican sacrificial lamb named Jay Townsend by more than 30 points. 2016, when he is next up for re-election, looks to be more of the same.
As a Senate leader, Mr. Schumer will be in position to make New York's needs a far larger priority in a hostile Congress. If he becomes majority leader, he will set the agenda of the chamber. He will be a crucial negotiating partner with the next president, Republican or Democrat, in what will be a body closely divided between the two parties.
Federal dollars for New York, the so-called pork, could become more readily available with Mr. Schumer in charge. Wall Street, his eternal ally, will have a champion to throw an occasional counter-punch at the populist left. He can also stymie the progress of undesired local projects, like Mr. Reid has done in Nevada with the Yucca Mountain Nuclear Waste Repository.
"He'll have extra leverage in getting projects in the state included in the final compromise legislation," said Patrick Miller, an assistant professor of political science at the University of Kansas. He noted that former Majority Leader Sen. Bob Dole of Kansas governed in a less partisan environment. Still, "leaders play an important role in bargaining for what's going to be on the agenda and what won't be."
This could mean, at the minimum, more federal funds for New York City to address glaring infrastructure needs. A 2014 Center for an Urban Future report said the city alone will need $47 billion to replace and repair aging streets, bridges and subway signals over the next five years. Nearly half the pipes feeding water to the city were installed before 1940 and about 1,000 miles are more than a hundred years old, according to the report.
"Simply put, too much of the city's essential infrastructure remains stuck in the 20th century—a problem for a city positioning itself to compete with other global cities in today's 21st century economy," the report said.
Not surprisingly, Mr. Schumer thinks he can deliver plenty for his home state. "God willing I become the leader," he said as if his ascendency was in question, "I will not forget New York. New York is in my bones. I intend to be just as diligent around New York helping in every way I can as before. It's part of the job I love, it's part of the job I'm proud of … I'll always try to use my clout for New York. I do now, I will then." 
A version of this story appeared on the cover of the June 3rd print edition of the New York Observer.