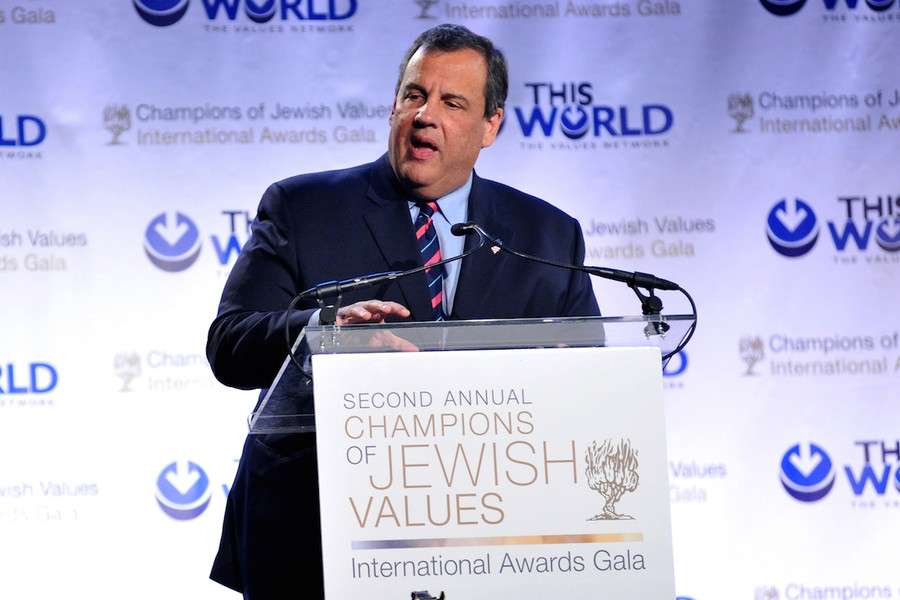 Gov. Chris Christie of New Jersey lashed out at President Obama again last night, accusing the Democrat of "fooling" Americans as he negotiates with Iran over limiting their nuclear weapons program.
Mr. Christie, a Republican, is trying to revive his fledgling presidential bid and vie for the attention of well-heeled donors like Sheldon Adelson, who sat mere feet from him as he delivered his broadsides against the president.
"Imagine that we have an American president who is trying to convince us–and remember as he tried to convince us seven years ago–that somehow Iran will change," Mr. Christie said at a Manhattan gala hosted by the World Values Network, a pro-Israel organization.
"I see no indication of an Iranian change of behavior. I see no glimmer of light and yet this president wants to create that glimmer to fool us," he continued. "It's not there, the glimmer of light is not there and the president is as he did seven years ago fooling us again."
World Values Network, founded by Rabbi Shmuley Boteach, who emceed the evening, raised over $2 million during an auction portion that included a chance to buy a lunch with Mr. Adelson, the highly generous donor to Republican candidate who the Rabbi described as "the world's foremost Jewish philanthropist."
The speech was something of a pro-Israel mulligan for the New Jersey's governor. Mr. Christie also spoke at last year's World Values Network gala, but faced some criticism for failing to mention Israel's security needs with specificity, sticking instead to remarks about foreign policy generally. This year, the governor seemed intent on making clear exactly why he was there.
The organization presented an award to Mr. Christie for his aggressive defense of Israel, though he was not the only presidential hopeful honored. Sen. Ted Cruz of Texas spoke before Mr. Christie, though he generally refrained from attacking Mr. Obama, instead focusing on his own pro-Israel credentials. New Jersey Sen. Bob Menendez, who was recently indicted on federal corruption charges, former House Speaker Newt Gingrich and Congresswoman Carolyn Maloney addressed the audience as well. Mr. Gingrich got a roar from the crowd when he said it was time to decide "whether Never Again is a slogan or a policy."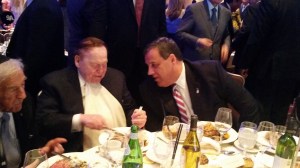 Mr. Christie and Mr. Adelson, a casino magnate who backed Mr. Gingrich's failed presidential campaign in 2012, chatted amiably for several minutes before Mr. Christie took the stage. The New Jersey governor briefly plopped down next to Mr. Adelson at a front row table as the billionaire enjoyed his meal of chicken and steak.
Mocking Mr. Obama's famous campaign slogan, Mr. Christie said that "strength" and not "hope and change" is most important. "This president has shown now what a lack of American leadership and strength can do to the world," he said.
"A president who now sees a Middle East on fire," Mr. Christie added. "Libya on fire. Egypt under martial law and a runaway situation in more countries than we can count on two hands."
What kind of support Mr. Christie will ultimately get is not clear. Reeling from the Bridgegate scandal, which has led to the federal indictments of several close aides, and a sluggish New Jersey economy, Mr. Christie's presidential hopes have taken major hits since he breezed to re-election in 2013. The 2016 Republican field is crowded with stronger, scandal-free candidates like Mr. Cruz, many of whom share his hawkish approach to foreign policy and fiscal conservatism.
---

"Stop rationalizing, stop waiting for a better day to come and start to force it to come. It's not easy, it's never easy," Mr. Christie declared.

---
Though the governor won a few applause lines during his speech, he energized the ballroom inside the Marriott Marquis less than Mr. Cruz, one of the Senate's most ardent Israel supporters. When Mr. Christie finished his speech, he did not receive a standing ovation.
Still, he soldiered on with his old swagger, promising that he could tame Iran and the chaos in the Middle East. He said Iran should not be negotiated with because it "believes that Israel doesn't have the right to exist" and America "should die."
"Stop rationalizing, stop waiting for a better day to come and start to force it to come. It's not easy, it's never easy," Mr. Christie declared. He added that it's "not a time for nuance, but a time for directness."
"Our friends in Israel deserve better than what they've gotten in the last seven years from this White House," he said.