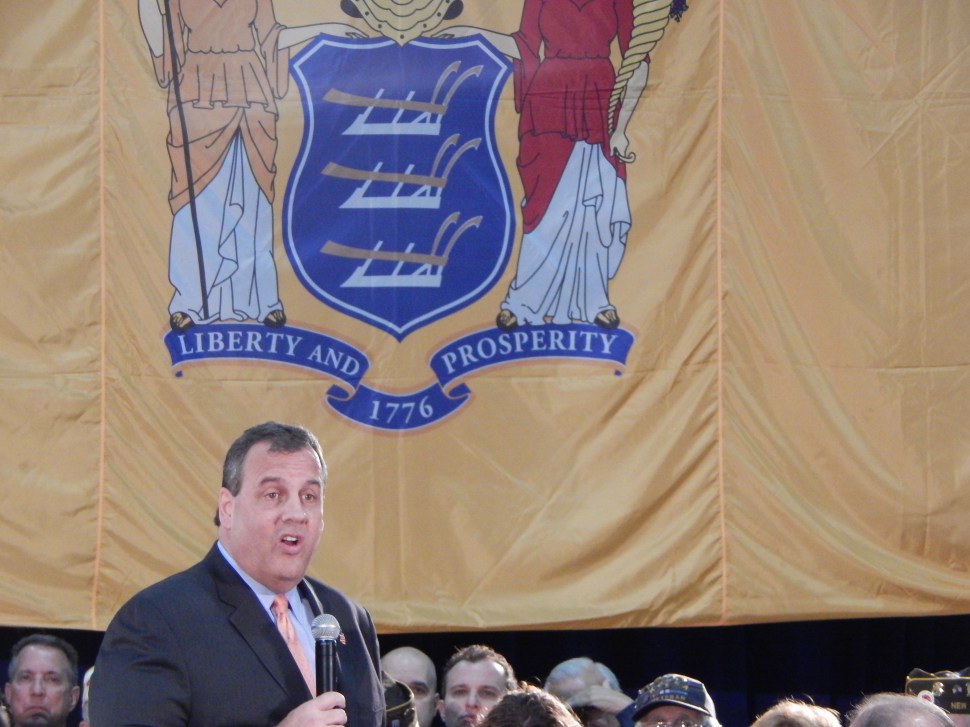 Affirming the fears of some education leaders during a policy speech in Burlington County today, Gov. Chris Christie suggested the state back off Common Core standards in its schools and instead develop "new and stronger" education guidelines going forward.
"It's now been five years since Common Core was adopted. And the truth is that it's simply not working," Christie said. "It has brought only confusion and frustration to our parents.  And has brought distance between our teachers and the communities where they work. Instead of solving problems in our classrooms, it is creating new ones. And when we aren't getting the job done for our children, we need to do something different."
The likely presidential candidate made his pitch at Burlington County Community College this afternoon, after his office announced yesterday that he'd be proposing new "academic standards" for students and teachers. Many assumed the proposal would relate to Common Core, an issue he's pivoted on as he continues to mull a run for the Republican presidential nomination in 2016.
Early in his tenure, Christie backed the policy, which outlines what children should learn in each grade and which has been adopted by most states in recent years. But it's one unpopular among most of his own party — save former Florida Gov. Jeb Bush, the major establishment candidate in the race and likely one of Christie's closest challengers.
Today, the governor outlined a strategy for coming up with new standards, including putting together a New Jersey College and Career Readiness group that will conduct a point-by-point review of previous state standards and recommend a new set of higher, New Jersey-based standards, to be completed by the end of this year.
"I have heard far too many people – teachers and parents from across the state – that the Common Core standards were not developed by New Jersey educators and parents," Christie said. "As a result, the buy in from both communities has not been what we need for maximum achievements.  I agree. It is time to have standards that are even higher and come directly from our communities.  And, in my view, this new era can be even greater by adopting new standards right here in New Jersey – not 200 miles away on the banks of the Potomac River."
He said the review will answer and develop recommendations around the following criteria:
Do the current standards reflect New Jersey's real and distinct needs?
Do they measure up to previous New Jersey standards?
Do they reflect the expectations of New Jersey's colleges and employers?
Will they close the persistent and profound achievement gap?
Still, Christie stood behind his support for the state's PARCC testing, a controversial set of exams that are, ironically, based on certain Common Core tenets. Department of Education Commissioner David Hespe also reaffirmed his support for the tests, which critics — including parents and some lawmakers — have questioned in recent months as being too cumbersome and time-consuming for both students and teachers.
"This will in no way affect our efforts to continue effective testing and measurement of our students through the PARCC test.  We must continue to review and improve that test based on results, not fear or speculation," Christie said. I will not permit New Jersey to risk losing vital federal education funds because some would prefer to let the perfect get in the way of the good.  We must test our children because federal law requires it and because it is the only way to objectively judge our progress.  Bringing educational standards home to New Jersey does nothing to change those obligations."