As the dust begins to settle around the guilty plea and nine-count indictments of three former members of Gov. Chris Christie's inner circle in connection with the closing of access lanes at the George Washington Bridge in 2013, one Republican state senator — speaking out of tune with many of his colleagues — has some harsh words for the presidential hopeful.
"The seeds for this entire event were planted when Chris Christie made the decision that he was going to run for reelection and basically ignore the Republican candidates that were running, including those running for the legislature," said state Senator Mike Doherty (R-23), a ranking GOP member of the legislature. "His obsession with getting these 100 Democratic mayors led to this entire Bridgegate scandal.
"He's got no one to blame but himself for this fiasco," he added.
That fiasco — colloquially known as Bridgegate — was vaulted back into national headlines last week when U.S. Attorney Paul Fishman announced last week that criminal charges were being brought against three key players involved in the closings: former Port Authority official David Wildstein, former Port Authorty deputy executive directior Bill Baroni, and former Christie deputy chief of staff Bridget Kelly. Wildstein pled guilty to a two count information in federal court on Friday, admitting that he had conspired to shut down the lanes in Fort Lee as political retribution for the town's Democratic mayor, who had refused to endorse the governor during his 2013 reelection campaign. Kelly and Baroni, meanwhile, proclaimed innocence during their own court appearance yesterday, calling Wildstein a "liar."
The news has also vaulted Christie — a likely candidate for the 2016 Republican nomination whose ambitions have been stymied by the scandal over these last two years– back into the spotlight. Pundits and political commentators spent the weekend speculating over all the ways the scandal might affect the Republican's future political prospects, and the verdict, at this point, seems mixed: some observers, including many Republicans, have declared him exonerated of wrongdoing given an outcome that agrees with his previous claims about the situation, while others, mainly Democrats, consider it impossible to deny that Christie was at least partly responsible for creating a culture where subordinates thought a political payback scheme was acceptable.
Christie, for his part, has defended himself with the former narrative, and prosecutors last week were careful not to fuel questions over the incumbent's involvement in the lane closings.
But Doherty, a 14 year veteran of the state legislature who's vocally criticized the governor on other issues, said Christie's fault in the matter is more political in nature. He points to the governor's apparent reelection strategy in 2013, which placed a huge emphasis on bringing Democratic officials into the fold in an effort to secure a historically wide margin in his victory over former state Senator Barbara Buono and appear more bipartisan in the process. That strategy was largely successful, with Christie taking the election with some 61 percent of the vote and garnering support from demographics traditionally untapped by Republicans, including blacks and Latinos; but according to Doherty, it also forced Christie to abandon those who helped make his career possible in the first place.
"I think I represent a lot of people who think he used us to get into the office, and then when it came time to use up some of that political capital that we helped him garner, he decided he was not going to expend any political capital on any of the Republican candidates, he was just going to use it for his own ambition," Doherty said.
---

"It's going to be a continuing dark cloud over the state of New Jersey, it's going to diminish the reputation of the Republican party, and good luck to somebody running in 2017."

---
To underscore the point, Doherty detailed to PolitickerNJ "one of the most strange political campaign events in my life," which was a campaign stop Christie made in 2013 to Warren County, within Doherty's home district. It was the weekend before the election, and Christie's last visit to the county, and Doherty said the local Republican slate had gathered at Hot Dog Johnny's, an "iconic hot dog joint" off of Route 46, he said, to greet Christie upon his arrival. Freeholder and legislative candidates mulled about the establishment with their families and supporters, excited to have the governor come and rally the team. But what they got when Christie's motorcade finally showed up was not what they were expecting, he said.
"It was just an extremely weird event, which I think is emblematic of the whole campaign," Doherty said. "There were no speeches, none of the candidates running were allowed to speak, there was no platform or microphone, no nothing. And we just stood around, freeholder candidates, sheriff, legislative candidates, Republicans, and basically stood around with our thumb up our asses and waited for the bus to show up, and the governor got out, and he was surrounded by what I felt was an extremely large number of states troopers."
Doherty said the event was notable because it shed light on Christie's strategy that year: "He didn't want to be seen with Republicans or campaign with Republicans.
"There was none of that. It was absolutely the contrary," he said. "They made a purposeful decision not to have any speeches, not to have any platform, not to have any focus, not to recognize any of the elected officials there that were on the ballot with the governor. It was like an ego trip, as opposed to actually trying to help Republicans get elected. It was almost as if it was an obligation but he really didn't want to be seen with us."
A West Point graduate who once served as a nuclear operations office in Germany with the U.S. military, Doherty said his grievances with the governor's 2013 run in part comes down to his hallmark leadership style. Christie's campaigning that year was, in fact, marked by a calculated design meant to win over local Democratic mayors and officials, such as Essex County executive Joe Divencenzo, and play for GOP seats in a select number of battleground districts, such as LD14, LD18, and LD38. For Christie, it paid off: political experts look on the Republican's reelection campaign as a major turning point in the pragmatic pol's effort to establish himself as a bipartisan power broker willing to reach across the aisle and make difficult decisions, and his overwhelming victory helped him achieve national recognition within his own party.
But the governor arguably also managed to offend Republicans in the process, especially in a handful of South Jersey districts where rumors spread of the Republican cutting backroom deals with Democratic leaders like George Norcross III to avoid campaigning on their home turf in exchange for political support. In the end, Doherty insisted that his single-minded pursuit of reelection victory — and the Democratic support that helped make it so definitive — ultimately hurt Republicans in New Jersey.
"One of the fundamentals of leadership is caring about your team, is not leaving anybody behind. The team goes across the goal line together, and a leader feels bad, ashamed, embarrassed when he leaves people behind. And here there was not even an effort to bring the team across the finish line. There was merely an effort for promoting himself. And we lost a tremendous opportunity," Doherty said.
Instead, Doherty said he would've like to see Christie settle for a smaller margin of success — 55 percent, perhaps — in order to campaign harder for those Republicans who helped get him elected in 2009. He noted that the party failed to add any seats to the legislature during Christie's second run, despite a well-liked Republican executive finally occupying the front office.
"Why garner political capital unless you're going to expend it? You garner political capital so that by the fall election, you can tell the voters hey by the way, when you're voting for me for reelection, vote for the Republicans too because I need them to do this and that and the other thing," Doherty said, adding Christie "throws out compliments for Republican elected officials like manhole covers."
Doherty argued there are other governors — and presidential candidates — out there who have been successful in both garnering the popular vote but also building their own parties in the process, including Wisconsin Gov. Scott Walker. Doherty said for him, "that's more of leader, because you're able to get a majority and actually effectuate policy changes in the state of New Jersey."
"It's a serious character flaw that you do not care about your people," he said.
Doherty's comments, aside from being a staunch condemnation of Christie's 2013 campaign tactics, also underscore what many see as a slow splintering of allegiance among Republicans in Trenton. Christie swears his relationship with his GOP allies in the legislature has not weakened or wavered, but in a party that has shown in past years an almost dogged loyalty to the governor, there is evidence of growing fatigue. Earlier this month, state Senator Joe Kyrillos (R-13), a longtime friend and close Christie ally, defected to the campaign of one of the Republican's biggest opponents, former Florida Senator Jeb Bush. Kyrillos' departure has been viewed as an overwhelming blow to Christie's burgeoning presidential campaign, even if the governor himself dismisses it.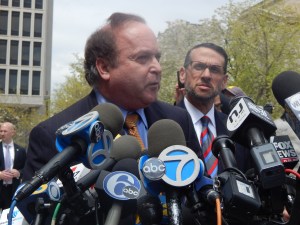 And the bleeding may not stop there: according a recent report in Politico, Bush is moving forward with a plan to have a majority of the state's 16 Republican state senators endorse him, though no others have announced their support publicly.
Doherty suggested Kryillos' defection — which he thinks "says a lot", given his long-standing relationship to Christie — could encourage others to move away from the governor in the coming weeks. But he noted that much of the GOP leadership in Trenton still stands with Christie when it comes to major legislative efforts, including a vote recently on a package of bills aimed at overhauling the Port Authority. That legislation had passed both houses unanimously last year, then was vetoed by the governor; but when it came back for an override vote in March, almost all Republicans — save Doherty himself — flipped and stood firmly alongside Christie.
One of the factors that convinced several Republicans to vote down the override despite supporting the original legislation was the introduction of a separate reform package by Senate Minority Leader Tom Kean (R-21) a few months prior. Doherty said he is sometimes confused by Kean's support for Christie's initiatives, given Christie's attempt in 2013 to oust Kean from his leadership post. 
Kean's upset win over Christie-backed state Senator Kevin O'Toole (R-40) that year — which, for many, was the first time Republicans had defied the governor — was seen as a consequence of Christie's restrained campaign-time presence in South Jersey, where Kean sought thanklessly to flip seats with a handful of female candidates despite the governor's own plan to avoid doing so.
"Sometimes I scratch my head, because Tom really owes no allegiance to Chris Christie and yet he seem to carry water for him from time to time," Doherty said.
Ultimately, Doherty said the party's problems in New Jersey are likely to continue, particularly given the events of the past week. Whether or not Christie himself is able to get beyond the fallout from Bridgegate and continue on with a presidential run, Doherty argued the scandal ultimately reflects "negatively on all Republicans and our message."
"It's going to be a continuing dark cloud over the state of New Jersey, it's going to diminish the reputation of the Republican Party, and good luck to somebody running in 2017," Doherty said. "It seems a longer and longer shot that a Republican is going to get consideration by the voters of New Jersey. They're going to say, are you kidding me, we just had eight years of Republican rule and what do we have to show for it?"
The governor's office declined to comment on the senator's criticisms, but noted a certain irony in the fact that Doherty would point to Christie's appearance in Warren, one of the most conservative counties in the state, as evidence that he had avoided campaigning with Republicans.
"We have a lot of problems, and we've been pulled into this storm that appears it's going to last another couple of years," Doherty added. "I'm sick and tired of it, frankly."