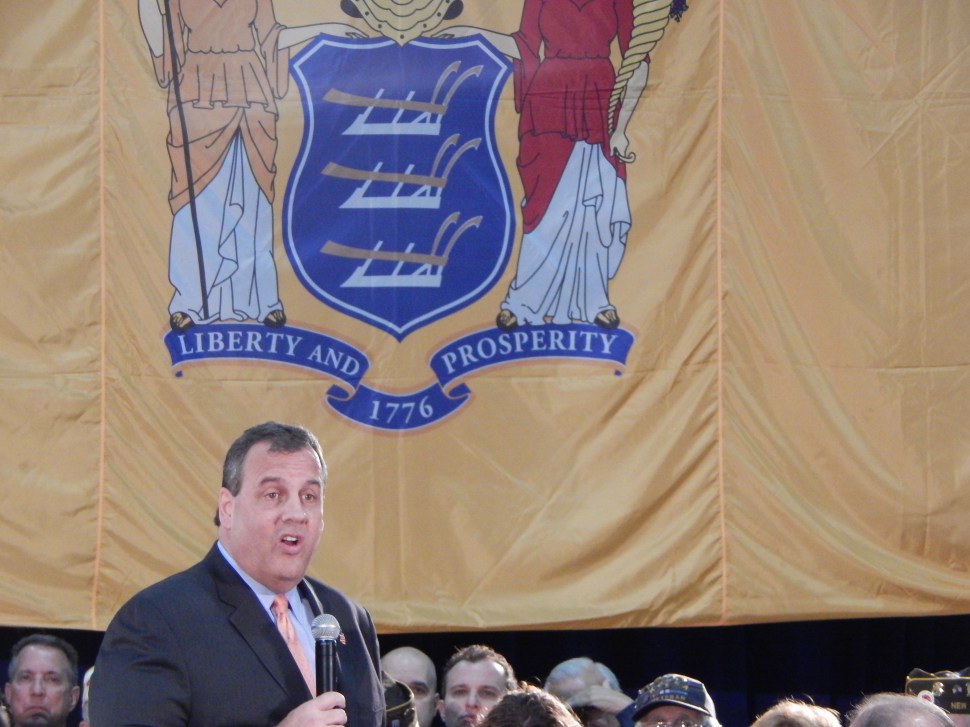 SPARTA — Gov. Chris Christie said at a town hall today that it is members of public sector unions who will "pay the price" for their leadership's refusal to negotiate a way out of the state's $80 billion pension and benefit crisis.
Days after returning from his second tour of the first-in-the-nation primary state of New Hampshire, Christie told an audience here that he doesn't "think it's any national secret that I've had my conflicts with the unions." He then went on to describe how public labor leaders, specifically from the New Jersey Education Association, recently backed out of talks with his administration over a fix for the pension system after agreeing to a "framework" of new reforms earlier this year.
"In February, they actually signed a framework with us. And then, just a few weeks ago, they announced they were walking away," Christie said. "They don't want to negotiate, they want to get everything that they're getting and give nothing back."
Late last month, leaders of the NJEA announced that they would not continue those talks with an independent commission that Christie had put together to address the pension crisis, currently suffering from more than $80 billion in underfunded liabilities, last year. Wendell Steinhauer, the organization's president, argued that his "sole focus is ensuring that our members' current pensions are fully funded by the state."
The backing-out was seen as a slight blow to Christie, who had touted having reached an "unprecedented accord" with the union on the issue during his budget address this year.
In recent weeks, however, Christie has struck back, arguing that further reforms to the system are necessary in the face of other budgetary pressures, including education. He's refused Democrats' apparent wish to raise taxes to collect revenue to fund the pensions, and vowed to the audience today that he won't let lawmakers "take money from you to pay their union friends."
"You're question to them has to be, how much do you think you're going to tax out of my pocket to pay your public sector union friends?," Christie asked the crowd, which responded with applause.
"It's embarrasing, and I'm tired of hearing this I what I was promised," he said later. "Everybody has got to be in this together."
The issue is likely to be decided soon in court, where a handful of unions and Christie's administration are currently in litigation over its decision to put off a scheduled FY2016 payment to the system. Judges in the state's highest court heard oral arguments from both parties at a hearing last week, and a decision on the case is expected to be released in the coming days.
"In the end, it's their members that are going to pay the price. Because we simply can't afford to sustain this system," Christie said.