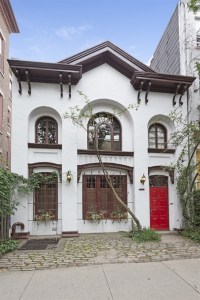 Maybe it's the profusion of hypermodern condo construction lately taking place all over Manhattan, Brooklyn and Queens that's making buildings once used for industrial and/or commercial purposes seem increasingly attractive. But then again, luxurious industrial-to-residential conversions as such are not all that new, and it's possible, we suppose, that the burly New Yorkers who once worked in Soho's refrigeration facilities and the employees of Hell's Kitchen telephone companies simply demanded a quainter workplace than the nine-to-fivers of today. We should also include the firefighters of yesteryear on that list, if the carriage house at 172 Pacific Street in Cobble Hill is any indication.
Featured–along with Julia Roberts–in the film version of Eat, Pray, Love, the home served as a firehouse in the mid 19th century and was subsequently (quite a while ago, we imagine), to create an impossibly fanciful two-unit residence, which just sold for $6.25 million, according to city records. (The listing held by Deborah Rieders, of Corcoran, indicates that reconfiguring the place as a single-family should be a snap.)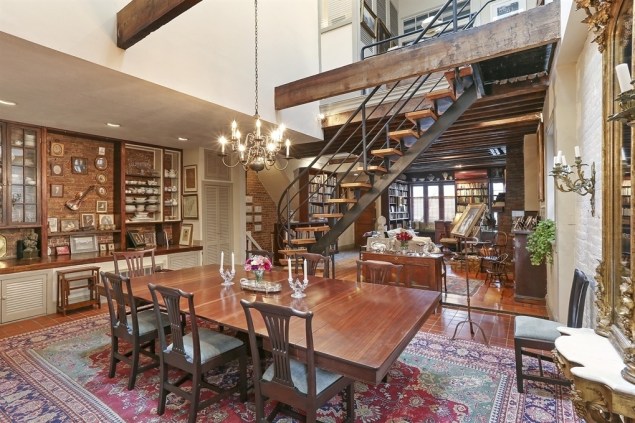 The sellers, Ernest W. Hutton Jr. and Anne Moore Hutton, are an architect and an art appraiser and dealer, respectively, and the couple's combined expertise shows beautifully in the home's interior. (Ms. Hutton specializes in early American portrait painting and, to a lesser extent, in still lifes and land/seascapes.) There are ranks of dark, exposed wood beams and arched windows, an enormous fireplace built from fetchingly-weathered reclaimed brick and skylights that filter in light ever-so-magically. There's definitely a bit of a storybook/historical museum vibe here, but it's nicely offset by an open modern layout, plus additions like a curved metallic staircase and high-end stainless steel kitchen implements. The buyers, known publicly only as 172 Paclyn LLC, also get a small greenhouse, a perennial garden and a terrace off the second floor wrapped into the bargain.