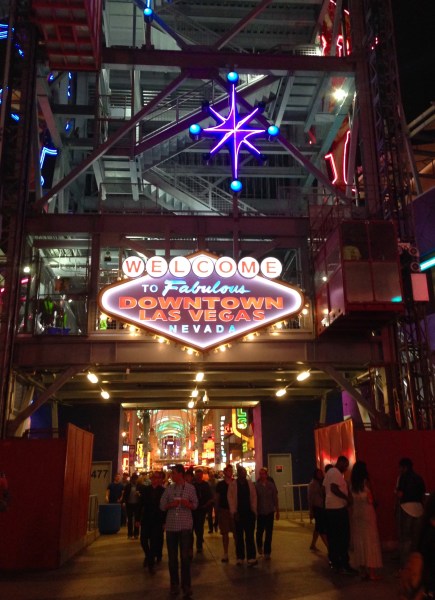 A Black Escalade T-boned our cab as we accelerated out of the hotel driveway, smashing in the fender and jerking us forward.
"Welcome to Vegas," someone yelled. Slightly stunned but uninjured, we walked back to the dispatcher and found another cab. "That could have been very bad," we kept saying as the second cab left downtown for The Strip. Mostly strangers sharing a car before the accident, we exchanged cards "just in case." It turned out that one guy worked at a startup; another was an investor. Once the startup guy's shock wore off, he started pitching his company. The desert sunset reflected in casino windows.
I was at Collision, a technology conference in Las Vegas. It was my first time in the incongruous city that many people seem to visit due to some obligation–a bachelor party or a work thing or a stop on a cross-country road trip. It wasn't my first time at a conference, of course. But, considering how often I write about media companies getting in on the "lucrative conference business," it's surprising how infrequently I actually attend them.
Eye rolls seem to inevitably follow the words "tech conference" and "Las Vegas," but it was a fun few days.
Some of my takeaways: The Strip is gaudy and overwhelming, but not in the way I expected; chewing gum sales were disrupted by smartphones because people are less likely to buy things in a checkout line if they don't look up; there's a tech scene everywhere, even in Fargo; most Apple Watch users seem to use the wearable to tell time and track the number of steps they take in a day rather than to check email or tweet; speakers get better fruit salad (berries) than people in media (melon).
I moderated a panel on publicity and judged a pitch contest, where my role seemed to be to ask early stage companies practical questions about the product. Other judges asked about revenue models.
"If there is any evidence of a bubble, this is it," an investor told me early on, pointing at the vast tents lined with pitching startup founders and multiple stages featuring speakers simultaneously holding forth to a mostly attentive audience (Wi-Fi was spotty) of hungry startup founders.
Collision, of course, is itself the product of hungry founders. In 2010, after returning to Ireland from a stab at the Silicon Valley startup world, Paddy Cosgrave decided to launch Web Summit, a tech conference in Dublin. He persuaded his friends, Daire Hickey, a freelance journalist he knew from university, and David Kelly, a young accountant, to come aboard as his co-founders. The company added other lucrative tech events including, a year ago, Collision.
The Irishmen chose to hold the conference in downtown Vegas thanks to Zappos founder and downtown Vegas visionary Tony Hsieh.
"Downtown Vegas is a bit like a startup," Mr. Hickey told me one afternoon.
Indeed, that's the idea. Mr. Hsieh used $350 million to create the Downtown Project, which basically sought to remake the seedy city a few miles from shiny casinos that form The Strip into a hip tech town. Now in its third year, the project hit some organizational snags and became the subject of controversy last fall.
There is something creepy about a downtown manufactured to feel like Austin, and maybe it isn't all that different from casinos made to look like Paris or New York or Venice. But at least the bones are real.
And given the choice between the scaled down Eiffel Tower on the decidedly un-pedestrian friendly, mall-like Strip and a city deliberately redesigned to resemble the sort of place that young creative types congregate in, I chose the latter.
After dutifully watching people digitally capture the fountains at The Bellagio and walking around a Francophile's dream (or perhaps nightmare), I returned downtown, where Mr. Hsieh played host at nightly parties at his trailer park made up of air streams and tiny houses that, as far as I could tell, functions as an event space and sometime crash pad.
Sitting on the top balcony of an airstream while sipping Fernet Branca ("Tony's favorite drink," the woman who greeted us the first night said, handing us a mini bottle of the trendy Italian bitter. Large and small bottles, as well as other drinks, were available in the trailer that functioned as a bar), it was hard to remember I was still in Vegas. A  lama, led by a handler, wandered through the party. There was a bonfire and a stage where people were jamming.
"Excuse me, I have to wake up at 5," Mr. Hsieh said, before retiring to his airstream.
The next morning, I read that Zappos had done away with leadership positions and 210 employees had taken a buyout.
My first night in Vegas, I wandered over to the "Fremont Street Experience," where I was overwhelmed by the zipliners flying overhead and the army of Elvises posing with tourists in an artificial daylight. I turned around before I got to The Container Park, one of the Downtown Project's most visible additions. At night, a fire-breathing praying mantis imported from Burning Man stands sentry outside the shipping containers that house quirky stores and restaurants.
Three days later, on my way from the Neon Museum to the Mob Museum (everything in Vegas, it seems, is about Vegas), I realized that there had been hipster boutiques and coffee shops on the street all along, hidden behind the seedy carnival atmosphere. Although those business actually exist because of the Downtown Project's planning (and Tony Hsieh's funding), the excitement occasioned by a delivery of backpacks in the shape of large stuffed animal heads at the boutique/coworking space seemed genuine.
A man walked past in a Zappos t-shirt and backpack. By the time it registered that it was the Zappos founder, he was already gone.
The conference was over. I had a shattered iPhone screen (dropped while waiting for an elevator), a jammed finger (car accident) and a fuzzy head (too much Fernet). As I headed to airport, past the attempt to artificially remake a neighborhood into the kind of place that creative people would hang out in, past the hodgepodge of recreated landmarks on a strip of desert, I felt like I understood something essential about the tech scene and Vegas and maybe even human nature: there are a lot of people who manage to convince themselves that they will beat the odds, whether at the blackjack table or by raising a round of funding.
And there's a lot of money to be made off those people.