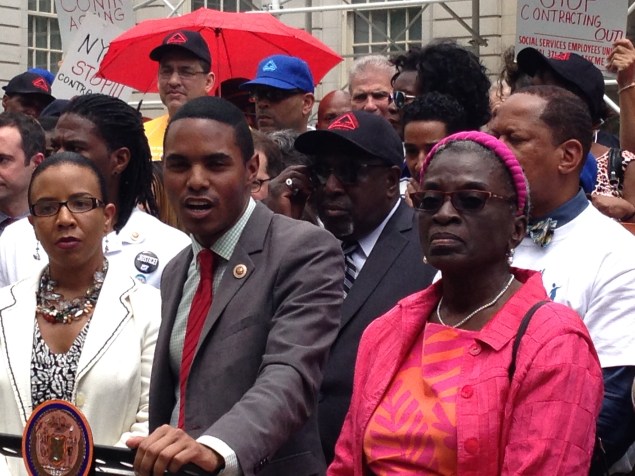 Roughly a dozen council members rallied with members of the Social Service Employees Union Local 371 against Mayor Bill de Blasio's plan to turn 57 New York City Housing Authority community and senior centers over to the Department of Youth and Community Development and the Department of the Aging—a move that the pols and protesters argued would lead to disruption of services and private contractors taking over from organized municipal labor.
The event, spearheaded by Bronx Councilman Ritchie Torres and Local 271 President Anthony Wells, attacked Mayor Bill de Blasio's plan to replace a $17.1 million year-to-year budget allocation by the Council to NYCHA to run the centers with $22.4 million in the executive budget allocated to the two city agencies. Mr. Torres, chairman of the Committee on Public Housing, noted that the departments do not have their own labor force and would have to contract out the operation of the 33 senior facilities and 24 community spaces to private operators—which he warned would mean the end of as many as 100 union jobs and invaluable institutional knowledge.
"There's uncertainty about what the state of those centers is going to be," said Mr. Torres, a native of public housing, claiming many public housing residents have complained of their dealings with private contractors. "When you privatize services, you're undercutting the municipal labor force, and then something is lost and you can't measure it in dollars and cents."
There are 252 active senior and community centers scattered across NYCHA's 334 developments in the five boroughs. By 2013, the city departments, as well as some local nonprofits took the bulk of the centers over, and Mr. Wells credited union pressure with keeping the city agencies from taking over the remaining 57. Mr. Torres said that the takeover resulted in widespread privatization—which he called a "disease"—and loss of experienced staff, as well as interrupted access to the centers, which he said left seniors with no place to go and youth vulnerable to untoward influences in the street.
Mr. Wells, whose union is part of the massive DC 37 branch of AFSCME, asserted that the Department of the Aging intended to close at least 15 of the senior centers since it regarded them as redundant.
"They claim they want to focus on being landlords," he said. "Part of them being landlords is providing services to the community."
The rally's fiercest rhetoric came from other council members, who questioned Mr. de Blasio's progressive bona fides—on the same day the mayor was in Washington, D.C. with other leading liberals promoting a national agenda to combat income inequality.
"People can call themselves anything they want to. They can adopt whatever label they want to, whatever title they want to call themselves. But you will know a person by their actions and their work," said Brooklyn Councilwoman Inez Barron. "The mayor calls himself progressive."
Bronx Councilman Andy King went further, claiming the mayor was indebted to private interests.
"It's time to support and take care of the people who voted for you, not the people who paid for you," said Mr. King, who was a member of Local 371 for a decade.
NYCHA and the mayor's office would not respond to Mr. Wells, Mr. King's and Ms. Barron's assertions, but defended the plan in light of NYCHA's straitened finances and shrinking subsidies.
"Decades of federal and state disinvestment coupled with aging buildings have left NYCHA in a dire financial situation. Partnering with city agencies and nonprofits to maintain these services for NYCHA seniors and youth will allow the authority to focus on our core work of maintaining and preserving safe, clean, and connected communities," spokeswoman Jean Weinberg told the Observer.
Mr. de Blasio made a similar argument in outlining his 2016 budget last week.
"When it comes to the community and senior centers at NYCHA, that's $22.4 million a year, we are taking that cost off of NYCHA's budget," he said.
Additionally, a recent report by the nonprofit Citizens Budget Commission argued that closing the centers or transferring them to city departments was crucial to closing NYCHA's swelling yearly operating budget deficit, which is projected to bloat to $400 million by 2019. The CBC study noted that 40 percent of the funds directed to the centers goes toward administration, and that providing social services falls outside NYCHA's mission as a landlord.
Oddly, NYCHA argued against the CBC's proposals when it released the report last month.
"We are proud that our community and senior centers play a vital role in facilitating community engagement, education access, and job training for our 400,000 residents," the authority told the Observer at the time.