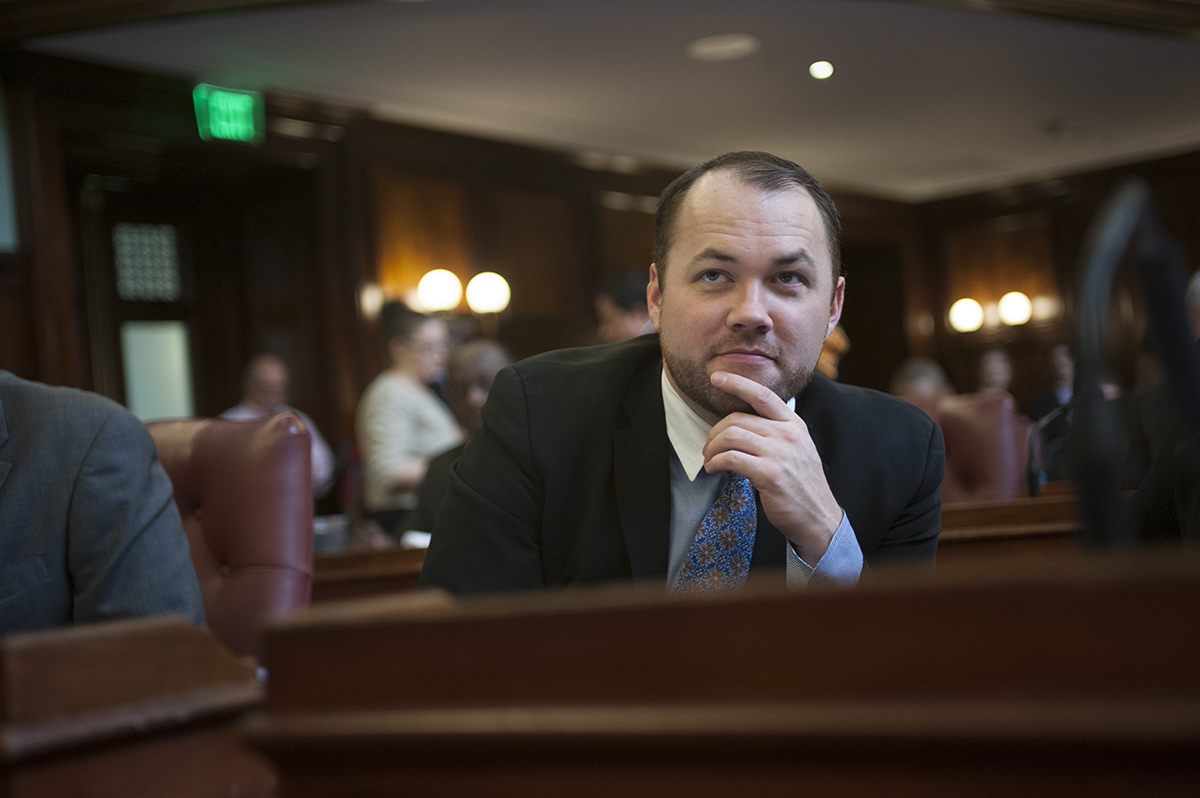 Following a spate of high-profile deaths at Rikers Island, the City Council today passed legislation requiring the Department of Health and Mental Hygiene regularly report to them on medical care at the city's jails.
"Today, the Council is addressing what we've seen to be a very urgent issue—the healthcare that is provided to our city's incarcerated," Councilman Corey Johnson, chair of the health committee and a sponsor of the bill, said during a press conference before today's 49-0 vote in favor of the bill.
Mr. Johnson noted those sent to the city's jails, including those on Rikers Island, are "overwhelmingly poor and they're overwhelmingly sick." The city estimates 40 percent of inmates are mentally ill.
Healthcare at the city's jails falls under the domain of the Department of Health, rather than the Department of Correction. Making matters more complicated, DOH uses a private company, Corizon, to actually provide the care. That company has come under intense scrutiny in recent months, and city officials have said they're considering whether to renew the company's contract or look elsewhere for healthcare.
Today, Mr. Johnson charged the private company with "failing to provide comprehensive and safe services to people under their care," noting they've been linked to what he deemed "15 preventable deaths over the last five years."
"In all these cases, quality of or timeliness of healthcare was an issue," Mr. Johnson said.
Mr. Johnson's committee lambasted Corizon at a hearing earlier this year, at which Mr. Johnson enumerated the causes of deaths in those fifteen cases—rattling off tales of inmates who died of sepsis, bacteria infections from constipation, asthma attacks, and a torn aorta that was never detected because a chest x-ray was never done, despite multiple pain complaints. He also pointed to a scathing report from the State Commission on Correction on the death of inmate Bradley Ballard, a mentally ill inmate, called the company's treatment "so incompetent and inadequate as to shock the conscience."
"The first step in addressing these issues is getting a better picture of the adequacy of the health care that is being provided," Mr. Johnson said.
The bill requires the Department of Health to provide a report every three months outlining the medical and mental health services provided to inmates in city jails, including performance indicators. The report will also be required to be posted online in a searchable format.
Mr. Johnson has called for the city to end its contract with Corizon, a position he reiterated again today to the Observer. Asked whether she agreed, Council Speaker Melissa Mark-Viverito said today she hadn't formed an opinion—but that Mr. Johnson's assessment would "weigh very heavily" with her.
"Our concern is to make sure that quality care is being provided in our jail system, and if that is not happening, and you're talking about a contract the size that we're talking about, that is not an efficient, and it is an inhumane, use of public resources," Ms. Mark-Viverito said. "And as such, we have a responsibility to make sure we get it right."
At the hearing in March, Dr. Calvin Johnson, Corizon's chief medical officer, said the company wanted to work with the city.
"We want to be a good partner and we stand by our statement today and tried to articulate the important points," he said. "We're going to keep working hard at this. We're going to get better and better."
Today, Corizon said in a statement it welcomed all "opportunities to create greater transparency and better outcomes for our patients" and looked forward to working with city agencies and Mr. Johnson to implement the bill.
"As a physician-led company, our top priority is providing skilled and compassionate healthcare to our patients. We work hard to both provide our patients at Rikers with high-quality care and continually improve our medical care services," the company said in an unsigned statement.
The Department of Health praised the legislation in a statement.
"This legislation will help improve transparency throughout the jail system, including in the provision of health care services, and we look forward to working with City Council to ensure the delivery of high-quality health care to all patients in correctional facilities," a spokesman said in a statement.
Conditions at Rikers Island have been thrust into the spotlight over the last year, following a lawsuit from U.S. Attorney Preet Bharara, who has alleged a culture of violence against young inmates at the city's jails. There have also been repeated media reports about the deaths of beatings of mentally ill inmates, and about rising violence in city jails.
Mayor Bill de Blasio and Correction Commissioner Joseph Ponte have promised reform—and has reduced the number of inmates held in solitary confinement and opened new units for mentally ill inmates.
This story has been updated with statements from Corizon and the Department of Health.