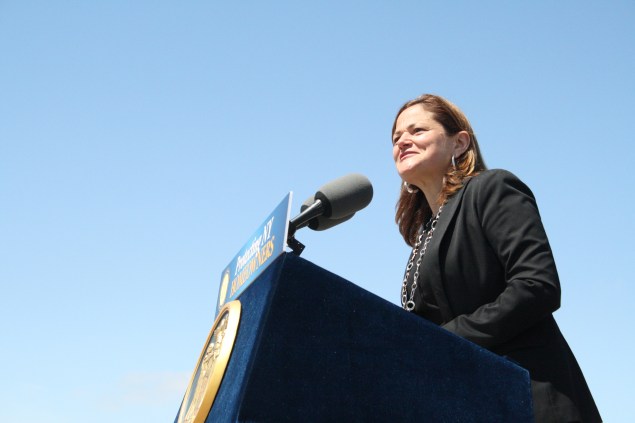 No, she still hasn't read the new congestion pricing proposal. But yes, she'd consider supporting it.
Like Mayor Bill de Blasio, Council Speaker Melissa Mark-Viverito said today she hadn't yet taken the time to read the actual "Move NY Fair Plan," which proposes placing tolls on the East River bridges and lowering them on other outer borough crossings in an effort to raise revenue for the cash-strapped Metropolitan Transportation Authority. The pricing scheme would also toll motorists entering Manhattan south of 60th Street.
Ms. Mark-Viverito, a past supporter of congestion pricing, said today she is "leaning towards" endorsing this plan. Previously, she had said she was "open" to it.
"Based on meeting with the representatives and understanding and, you know, generally about it and what I've read in the papers as well and some of the articles that have come up on it–it's something I would lean towards," Ms. Mark-Viverito told reporters at a City Hall press conference.
A different congestion pricing proposal–it did not lower tolls on outer borough bridges–passed the City Council before dying in the Assembly in 2008. The tolling plan needs state approval but must go through the City Council first. Ms. Mark-Viverito, a Manhattan lawmaker, supported it then, while Mr. de Blasio, a Brooklyn councilman at the time, opposed it.
Since congestion pricing's initial failure, the new Move NY plan has been gaining traction with lawmakers in the Council, Assembly and State Senate. Many Democrats in Manhattan, including Borough President Gale Brewer, are backing the plan, as well as labor unions and business organizations.
But many hurdles remain. Republicans who control the Senate are firmly opposed to any new tolling plan. In Queens, where free access between the borough and Manhattan would be eliminated, many elected officials came out against the Move NY plan a few weeks ago.
Ms. Mark-Vivertio said the idea had a lot of merit, however.
"The idea of creating some equity in a system … to be able to bring additional revenue to reinvest in expanding our transportation infrastructure is something I will seriously consider," she said.