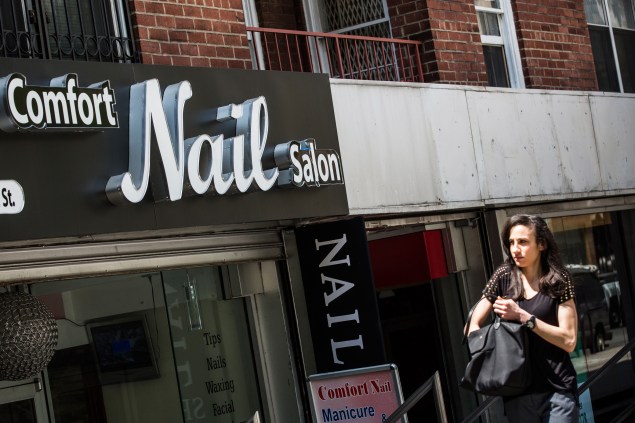 Gov. Andrew Cuomo today debuted a "Bill of Rights for Nail Workers" and a checklist of questions he called for salon patrons to ask next time they visit a manicurist or pedicurist in the state.
Following weeks of controversy surrounding the beauty industry after a New York Times series revealed poor wages and working conditions at nail salons, Mr. Cuomo announced his office would send a sign outlining workers' rights—including to minimum wage, tips, a meal break, protective gloves, goggles and a respirator and being able to start a job without paying a fee—that all salons will be required to hang in plain view. He also called upon consumers to demand proper treatment of employees by denying their business to salons that violate labor law.
"Nobody can do it faster than the consumer can do it, and no one can do it faster than the marketplace can do it," he argued in the library of the General Society of Mechanics and Tradesmen of the City of New York in Midtown Manhattan. "You'll see how fast we can make a difference when we come together, and we all work in the same direction."
Mr. Cuomo encouraged people seeking mani-pedis to carry his checklist with them, and ask its five questions of the owner when they visit a salon: "Are workers paid at least the minimum wage and overtime? Is appropriate protective equipment (respirator mask, gloves, eye protection) provided to workers and used? Is there adequate ventilation (no strong chemical odors)? Is the salon business license posted in plain view? Is the Nail Salon Workers' Bill of Rights posted in plain view?"
"If the answer isn't 'yes,' say 'thank you very much,' walk out the door, go down the block and patronize another business, and you will see how fast we change these industry practices," Mr. Cuomo said, noting the density of salons in New York City.
Mr. Cuomo said improving the lives and livelihoods of manicurists and pedicurists is one part of a larger effort to prevent business owners from taking advantage of employees, especially those who are foreign nationals lacking proper paperwork.
"So the nail salon workers today, putting the nail salon workers as, as a metaphor and as an example of a much deeper problem in this society that happens every day: exploitation of workers, especially workers who may be undocumented," he said. "If we can make a difference, and we can make it quickly, this is going to be a powerful example. It's nail salons today, but I want every business out there to know we're watching, and we will not tolerate abuse of workers, and we will not tolerate the exploitation of workers who have a questionable legal status, and are therefore in a vulnerable legal position, and therefore are vulnerable to being exploited."
The event came just weeks after Mayor Bill de Blasio, often a Cuomo rival, deployed hundreds of volunteers to the streets to hand out multi-lingual flyers about the rights of salon workers and after the mayor announced his intention to launch an investigation into the conditions at such businesses. Mr. de Blasio was not in attendance at the event, though his ally Public Advocate Letitia James was.
Democratic Assemblyman Ron Kim of Queens and Democratic State Senator Brad Hoylman have proposed legislation that would tighten the currently loose regulations on salons, and make it easier for the state to close unlicensed facilities down. It would also create an apprenticeship program for workers, which would replace the current illegal systems whereby salon employees pay owners to hire them.