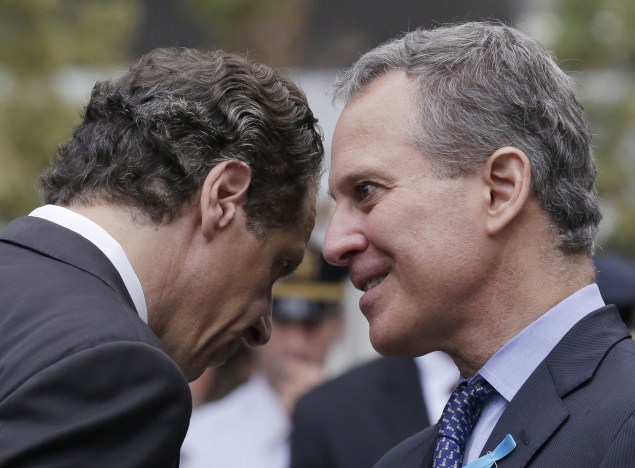 Gov. Andrew Cuomo told the Observer today that Attorney General Eric Schneiderman is "late in the day" with the massive End New York Corruption Now Act ethics proposal he released earlier this week, given that the legislative session will end on June 17.
After repeatedly and roundly criticizing Mayor Bill de Blasio for not visiting Albany until this week to lobby for changes to real estate and rent laws, Mr. Cuomo indicated that Mr. Schneiderman is similarly late with the ambitious package of reforms he debuted on Wednesday.
"Let me make this as a blanket statement: it is late in the day for anything. You have a number of days left, and any complicated issue, anyone who's watched Albany with one eye for a short period of time, you can't get, realistically, a complicated issue done with this Senate and this Assembly, in the midst of everything that's going on in a matter of days. That's not how it works," Mr. Cuomo said, in an apparent allusion to the recent arrests of former Assembly Speaker Sheldon Silver and former State Senate Majority Leader Dean Skelos, which have thrown the capital into chaos.
Mr. Schneiderman has outlined an ambitious package of proposals that would end outside income for lawmakers, end per diem compensations given to politicians to pay for accommodations in the capital, drastically lower campaign contribution limits for individuals and lobbyists, control the amount of cash limited liability corporations can donate to candidates and abolish the virtually unregulated party "housekeeping" accounts.
The "End New York Corruption Now Act" would also expand the powers of the attorney general's office to prosecute public corruption, create new criminal categories for undisclosed self-dealing and bribery, and beef up a pension forfeiture proposal to prevent state funds being used even to provide for a convicted official's spouse or children.
In return, Mr. Schneiderman's plan calls for altering the state constitution to extend terms from two years to four, establishing public financing of campaigns reminiscent of New York City's matching funds system, and increasing politicians' salaries to as much as $174,000 a year. Mr. Schneiderman is currently touring the state and meeting with legislators to promote his bill, which he has argued should be passed before the end of the session.
The measures ending outside income and preventing self-dealing and bribery appear to be direct responses to the charges against Mr. Silver and Mr. Skelos, respectively.
Mr. Cuomo declined to criticize Mr. Schneiderman's ideas, but noted that the legislature often takes considerable time to pass bills, given that the Assembly is in the hands of the Democrats while the Republicans hold the reins of the State Senate. However, the legislature has managed to pass some ethics reform measures in several recent budgets, though Mr. Schneiderman has maintained that they did not go far enough.
"The Assembly and Senate often take years to pass a bill, right? It's, we've had a much better track record than has happened in the past. But it's not unusual for a legislative body to discuss these things for many, many months," Mr. Cuomo said. "So I think it's a good idea to put proposals out there. But anyone who has a complicated proposal, to broach it now, and expect you're going to get it passed, is very tough."
Many of Mr. Schneiderman's proposals have passed the Assembly in various forms over the years, only to founder in the State Senate, where they have enjoyed support from the Democratic minority but not the GOP majority.
Mr. Cuomo has had a running semi-civil feud with Mr. Schneiderman, whom some observers have suggested may challenge the governor in the 2018 Democratic primary. Mr. Schneiderman has maintained that he intends to seek another term as attorney general.
At his press conference on Wednesday, Mr. Schneiderman suggested extending the legislative session to pass his bill.
"I have read Genesis. There is no Biblical injunction that the legislature has to shut down shop on the 17th of June," he said. "And I think the people of the state of New York would welcome a few extra days of session."
A source in Mr. Schneiderman's office questioned Mr. Cuomo's motivations for not making a hard push for the 'End New York Corruption Now Act.'
"One might ask why, with only so many days left of session, the Governor hasn't made real ethics reform a priority," the source said.