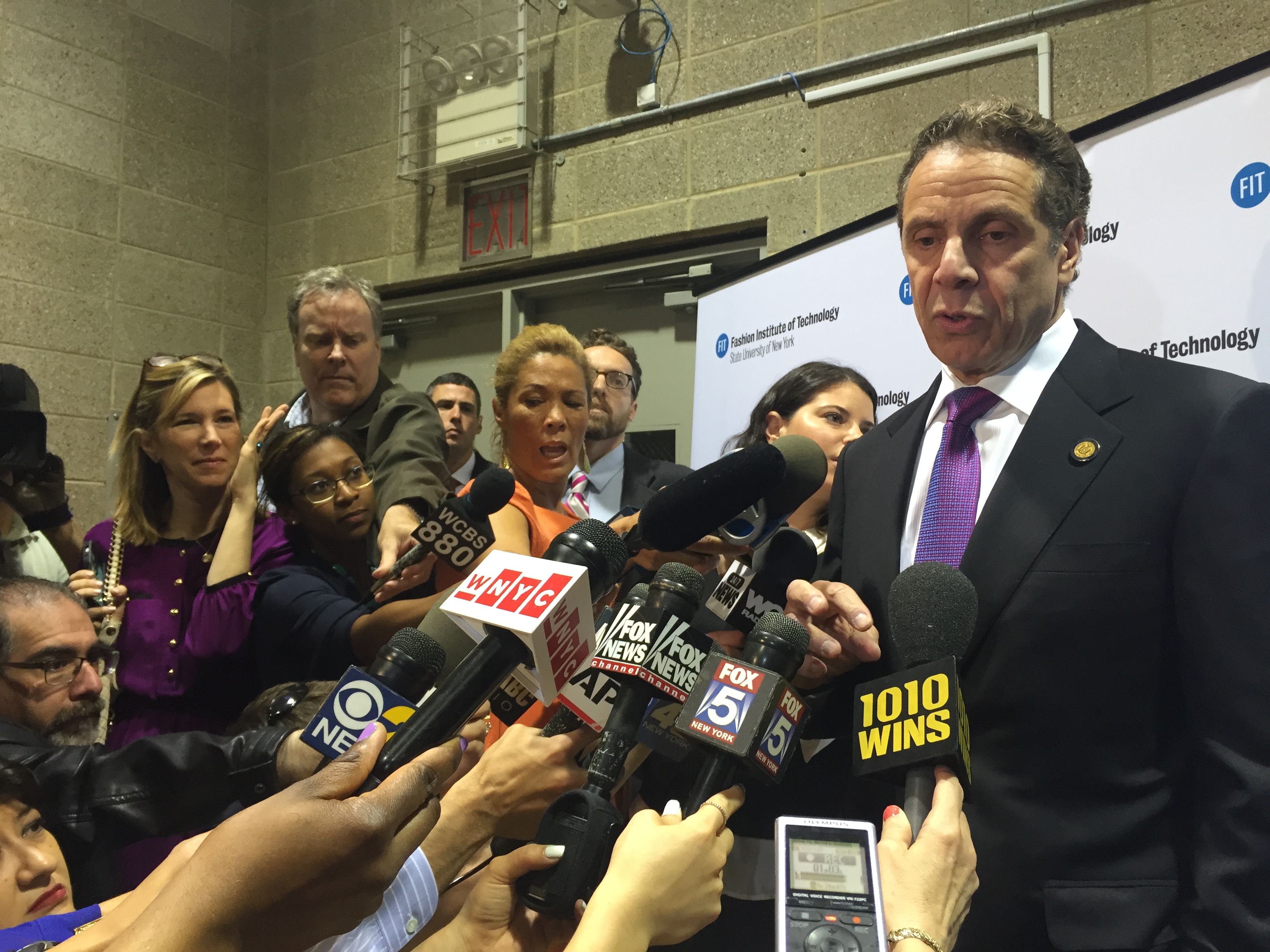 As State Senate Republicans are set to huddle and consider their conference's leadership in the wake of criminal charges against Senator Dean Skelos, Gov. Andrew Cuomo today wouldn't offer up a preference for a successor.
Mr. Skelos, a Long Island Republican, occupied one of the seats that made up Albany's "three men in a room"—at the start of year, along with former Assembly Speaker Sheldon Silver and Mr. Cuomo. Just months after Mr. Silver stepped down as speaker following corruption charges, Mr. Skelos too was hit with charges by U.S. Attorney Preet Bharara. Mr. Cuomo worked closely with both men over the year, including with Mr. Skelos just this year in closed-door negotiations on the state budget. Mr. Silver was replaced by new Speaker Carl Heastie before budget negotiations began in earnest.
"Obviously, the question will be who the Republicans choose as a leader, and that is going to be up to the Senate caucus. I have nothing to do with that," Mr. Cuomo told reporters following an unrelated event in Manhattan. "The away we just went through in the Assembly, where they picked a new Assembly leader, they'll pick a new Senate leader. I see my job as working with whoever they send me, frankly, and I see my job as getting the entire group to actually make the progress."
Mr. Skelos has so far refused to step aside, but a growing call from within his own caucus may change his mind or force his hand. Multiple news organizations have reported that Mr. Skelos could be out as early as today, and GOP leadership is expected to debate the issue in a closed-door meeting. Among the top names to succeed Mr. Skelos in leading the thin Republican majority in the Senate are Syracuse Senator John DeFrancisco and Long Island Senator John Flanagan.
Pressed on any preference among the names swirling in Albany, Mr. Cuomo again said it was not his call.
"I'm not in the legislature," he said.
Mr. Cuomo did not respond to the second part of the reporter's question—how the latest ethics scandal might reflect on him as a fellow Albany politician. But former Council Speaker Christine Quinn, now a special advisor to Mr. Cuomo, said the scandal shouldn't reflect on the governor at all.
"The charges against Dean Skelos have no effect on the governor. The governor has many different times pushed on the issue of ethics reform, made success in that area. I think the governor has said already there's more that we need to do, that the fight on that isn't over," Ms. Quinn said. "So Dean Skelos' problems are Dean Skelos' and his son's problem. They are in no way shape or form relevant to the governor."
But Mr. Cuomo has certainly taken some heat over ethics issues—particularly his decision to disband the corruption-busting, Moreland Commission, a choice that is now being investigated by Mr. Bharara, who has already charged two of the three men in a room.