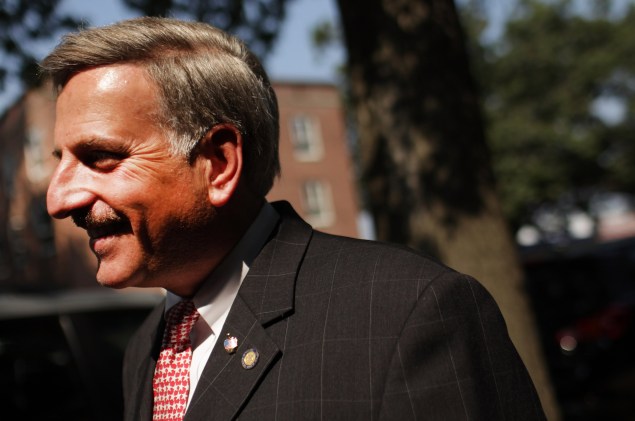 Assemblyman David Weprin announced tonight he will not run for his brother's soon to be vacant City Council seat, ending days of speculation and hand-wringing among some Queens Democratic insiders.
Mr. Weprin told supporters at a fundraiser in Manhattan that he had weighed the merits of serving in the Council and Assembly and decided, in light of his recent promotion to a leadership position in the State Legislature, that he would remain in Albany.
"This year I became part of the leadership in the Assembly. I was appointed by Speaker Carl Heastie as secretary to the Democratic Conference," Mr. Weprin said, adding that he was also appointed to a post "near and dear" to his heart, an Assembly task force on people with disabilities.
"I've decided that I plan on running for re-election to the Assembly," he continued. "I've enjoyed what I've accomplished so far in the Assembly. I think I have a lot more to do. I've developed a lot of seniority in a short time–a lot of people have left."
He added that he thinks he has "a big future ahead in the State Assembly."
Mr. Weprin's brother, Mark, said on Monday that he would resign in the next two weeks to take a position with the Cuomo administration. Sources initially told the Observer that Assemblyman Weprin would not jump back to the Council, where he served for eight years. On Tuesday, however, he told reporters in Albany that he was considering a return to city government.
Though Mr. Weprin is relatively popular among the party faithful, some Democrats grumbled that a Council campaign would be blatantly self-serving. Mr. Weprin was just re-elected to the Assembly last fall and a jump to a new seat would mean a second vacancy–and potential special election–in the area. The base salary of a council member, at $112,500, greatly exceeds the $79,500 salary of a member of the State Legislature.
Mr. Weprin's decision not to run for the eastern Queens seat will mean a more open race. A prolific fundraiser and big name in the district, where his father Saul also served as Assembly speaker, Mr. Weprin was expected to clear the field of potential candidates.
The Queens Democratic Party's endorsement is likely to sway the outcome of the race, even though City Council special elections are technically nonpartisan. A former assemblyman, Barry Grodenchik, is a front-runner for their nod, sources say.
Another contender is Dominic Panakal, the chief of staff to a city councilman in a neighboring district, Rory Lancman. Mr. Panakal managed Mr. Grodenchik's aborted run for Queens borough president in 2013 and is unlikely to challenge Mr. Grodenchik if he runs.
But other candidates may be more willing. Ali Najmi, a local attorney and former staffer to Councilman Weprin, is weighing a run after almost challenging Assemblyman Weprin a year ago. Steven Behar, a former candidate for city and state office, is also considering a bid. Rebecca Lynch, a de Blasio administration staffer and ex-Democratic district leader, and Sally Frank, a Comptroller Scott Stringer staffer, have also been mentioned as potential candidates.
The sleepy election could end up making history if either Mr. Panakal or Mr. Najmi run. Both are of South Asian descent in an increasingly Asian area; a South Asian has never been elected to the City Council before.