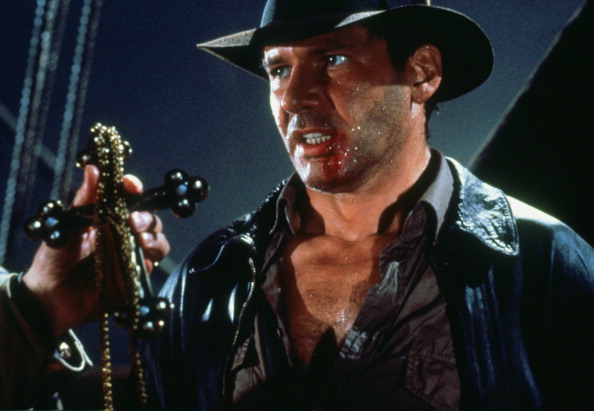 The Indiana Jones films may have produced an army of fans over the past three decades, but they've also inspired several generations of archaeologists. Now, National Geographic is taking a look at the renegade explorer's legacy with a special exhibition at its D.C. museum. Lucasfilm Ltd. and Montreal's X3 Productions have teamed up with the National Geographic Society for "Indiana Jones and the Adventure of Archaeology" open through January 3, 2016.
The show features props, costumes, and memorabilia from the films, photography and video from the National Geographic Society, and real artifacts from the collections of the University of Pennsylvania's Museum of Archaeology and Anthropology (Penn Museum). Fictional relics include the Sankara Stones, and the Cross of Coronado, shown alongside real ancient finds like the world's oldest map (a cuneiform tablet that depicts the city of Nippur), 5,000-year-old Mesopotamian jewelry, and the clay pots that helped scientists decode the Nazca Lines. And while the golden Ark of the Covenant and the Holy Grail on view are just props from the films, they're based on the real objects of lore that continue to allude the world's archaeologists.
Hollywood and real archaeology are shown side-by-side in the interactive exhibition. Recordings by actor Harrison Ford guide visitors from one display to the next, and sketches and set designs give a rare behind-the-scenes look at the franchise. Meanwhile, real archaeological sciences like stratigraphy and technology like Lidar are showcased, along with pre-Columbian drawings by illustrator Annie Hunter and exploratory photos taken by Maya scholar Tatiana Proskouriakoff.
"These films introduced so many people to archaeology," curator and archaeologist Fred Hiebert told National Geographic. "Some of the best archaeologists in the world today say Indiana Jones was what sparked their initial interest. That's a great legacy for George Lucas—and for the relationship between popular media and science."
National Geographic's Jeremy Berlin delved into Indy's inspiration and legacy for the May 14 article, "How Indiana Jones Actually Changed Archaeology." To create the character, he explains, George Lucas looked to actions heroes from 1930s matinee serials, as well as real 20th century archaeologists like Hiram Bingham, Roy Chapman Andrews, and Sir Leonard Woolley.
Mr. Heibert stressed to Mr. Berlin that Indy's world differed in many ways from the challenges faced by real archaeologists today, where raising money, getting permits, testing, and recording findings are some of the biggest parts of the job. But one way the films' reality and his have often collided: "I've worked on five different continents, and every place I've worked—whether it's underwater, in the sands of Turkmenistan, or in the jungles of Honduras—I always find dens of snakes. Always."
Behind all the action, Indiana Jones' message is almost always clear, and he's quick to remind his foes with his famous catchphrase that valuable treasure "belongs in a museum."
"Cultural artifacts need to stay in the place where they come from. Where they belong," said Mr. Hiebert. "I hope this exhibit will put a spotlight on cultural heritage, looting, and loss of heritage—a worldwide phenomenon going on now in Iraq and Syria and Peru and Egypt."