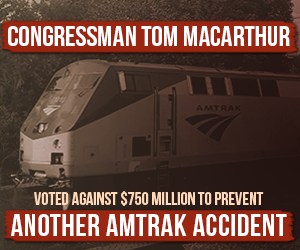 Already preparing for another Democratic challenge in the battleground South Jersey district come 2016, the Democratic Congressional Campaign Committee is doubling-down on their targeting of Republican U.S. Rep. Tom MacArthur (R-3) this week with paid digital ads attacking him on his recent vote against a Democratic-sponsored bill that would have increased funding for automated train control systems in the wake of this month's deadly Amtrak crash.
According to a statement today, the committee is launching a paid digital ad highlighting MacArthur's no vote on the bill, which would have sent an additional $750 million toward equipping Amtrak trains with positive train control (PTC), a safety measure some experts argue could have prevented Train 188's derailment outside of Philadelphia two weeks ago. The buys will target transportation and Amtrak users in CD3, some of which includes suburbs around Philadelphia.
"It defies logic that Congressman MacArthur would vote against additional funding for critical safety equipment that would make passenger rail travel dramatically safer for New Jersey residents," wrote Matt Thornton a spokesperson for the DCCC. "Experts agree, Positive Train Control would have prevented numerous fatal rail accidents across the country, yet even with that information, Congressman MacArthur voted against allocating funding for the installation of this critical safety feature on our trains."
"New Jersey voters, who've been affected by a tragedy so close to home, deserve to know that their Member of Congress actually voted against making Amtrak safer," he added.
It's not the first time the organization has gone after the freshman congressman since his win over Burlington County Freeholder Aimee Belgard in the district last November. In April, the group accused the Republican of contributing to his party's "utter failure in governing effectively." The attacks are an early indication that national Democrats have their sights again set early on CD3, a swing district with a history of supporting both parties in congressional elections.
In their own statement, MacArthur's team hit back.
"It looks like despite failing miserably in their attempts to defame and smear Tom MacArthur last year, the DCCC is prepared to double down this year with more nonsense," said Chris Russell, a MacArthur spokesman. "This latest attack on Amtrak funding, however, is despicable.  First, the vote they cite was a procedural one intended to play politics, and came after Tom already voted to fully fund Amtrak and priorities related to the Northeast Corridor."
"Second, and more importantly, the fact that they are trying to politically profit off of the tragic deaths of people in the Amtrak crash is in bad taste even for the DCCC. Tom, his wife Debbie and their daughter all take that very train line back and forth from Washington. These DCCC people are completely tone deaf.  No wonder they have an historically low number of members in the House."