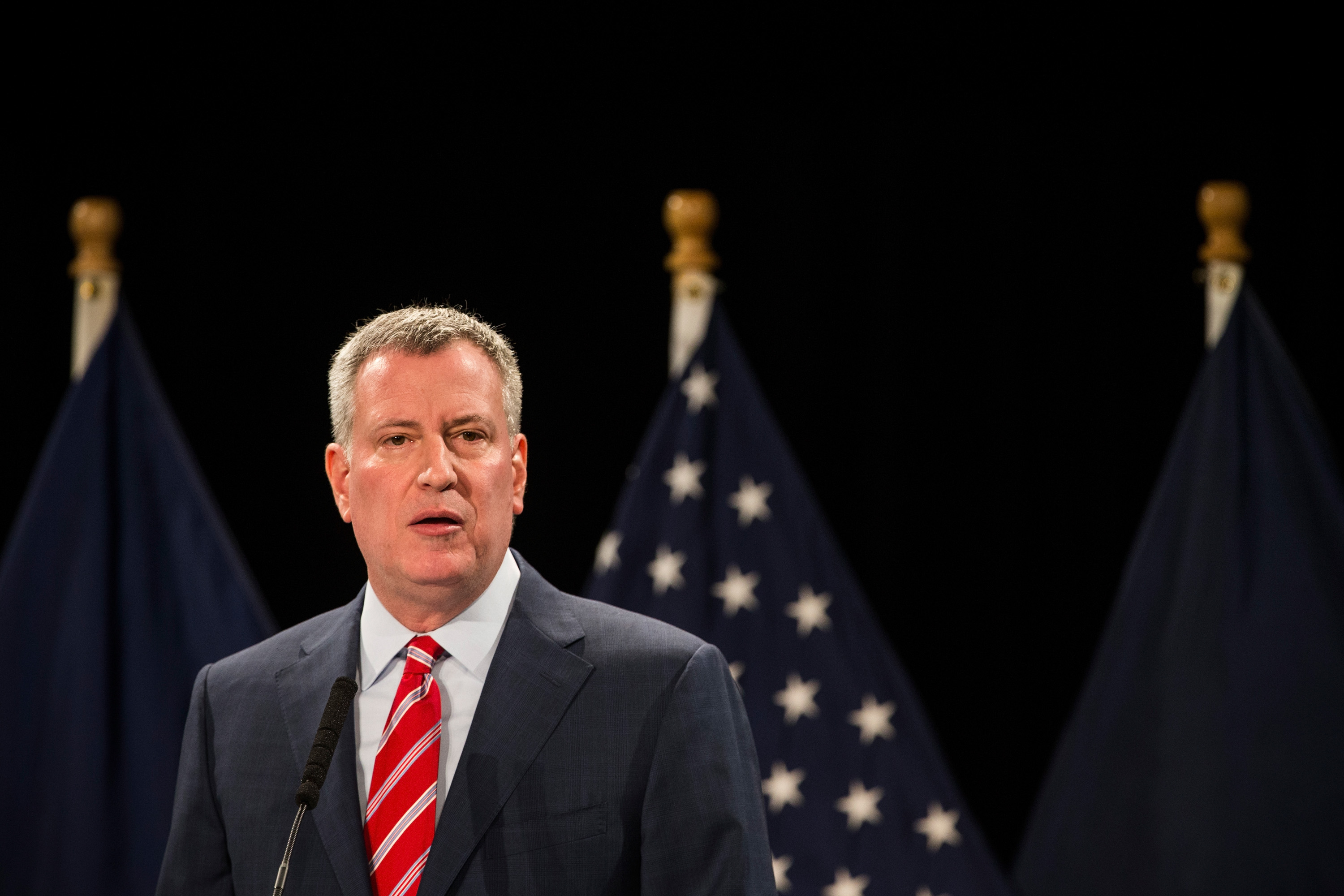 Mayor Bill de Blasio decried a New York Post report on an increase in murders as "fear-mongering" and today urged New Yorkers to look at longer term trends when it comes to major crimes.
"I think the way to look at it is where we're at this year compared to last year and previous years," Mr. de Blasio said today at an unrelated press conference on Staten Island. "We're still at one of the lowest murder rates we've ever had in the history of this city. We have had some sore spots that we have to work on. There's no two ways about it."
Mr. de Blasio, who has pushed back against an effort to hire 1,000 more police officers, said the city was trying to grapple with gang violence and said "a lot of additional tools coming online" in recent weeks would help, including the ShotSpotter system and handheld technology for officers.
His defense of the city's crime rate comes after the Post, not Mr. de Blasio's favorite tabloid, ran the headline: "You're 45% more likely to be murdered in de Blasio's Manhattan." The article noted that sixteen people had been killed in Manhattan this year through Sunday, up from 11 the same period last year. Shooting incidents rose too, the Post noted, from 31 to 50.
"That's sensationalist and that's just fear-mongering," Mr. de Blasio said, going on to note that taken together, major index crimes were down this year compared to last.
Mr. de Blasio went on to argue the Post was doing something his critics have argued of him of doing—knocking the NYPD. "I think anyone who says that is denigrating the efforts of the NYPD and really needs to look at the facts."
This is not the first time the start of summer has brought on a worried conversation about shootings and murders in the city, something Mr. de Blasio himself pointed out—last summer saw a similar trend, but the year ended with the fewest murders on record (though shootings increased).
"We went through some of these ups and downs last year. I mean, I remember very vividly you were all here for every moment of the drama. There were points last year where we were very concerned things were trending in the wrong direction. What happened at the end of last year? We had set an all-time record in terms of overall crime. And obviously in terms of murders, it was the lowest number of murders we have had in decades," he said. "So, one of things I've learned by working so closely with the leadership of the NYPD and obviously with Commissioner Bratton is—they're constantly working to perfect their strategies. But this year, they have a lot of tools they didn't have last year. They have the retraining. They have the new technology. They have ShotSpotter. There's a lot they're putting to play that I think will be felt very soon."
The mayor today blamed much of the violence in recent weeks on a "relatively small set of gangs and crews."
"And more and more police resources are going to address that problem. And you'll see a series of strategic changes coming up to go at that problem very directly," he said.
The mayor said what's happening today is "different reality" from the "bad old days" when "everyday citizens were getting caught in those crossfires."
"It's much more localized to gangs and crews. Now, as painful as that is—and we have to end the loss of life—it also means that our police have a lot more information to work with," he said, promising "takedowns" of gangs.