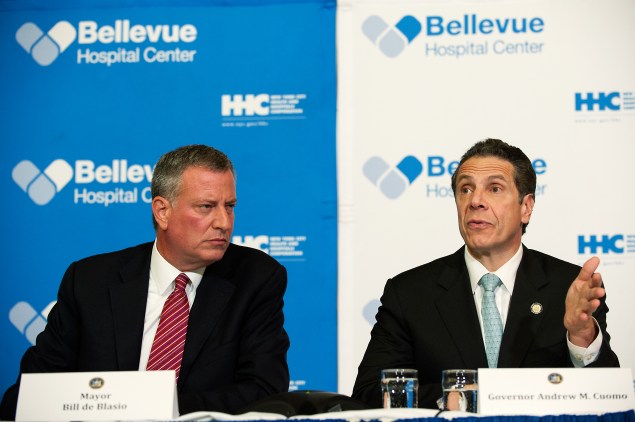 Mayor Bill de Blasio hit Gov. Andrew Cuomo with some of his harshest criticisms to date in an upcoming television interview—and he wants the world to know all about it.
In an interview recorded today with WABC's Diana Williams, Mr. de Blasio accused Mr. Cuomo of creating "distractions" in an ongoing fight over a real estate tax break and said the governor was "not acting like a partner." The interview is set to air Sunday morning, but City Hall provided a transcript to reporters beforehand.
In the emailed transcript, a spokesman included "highlights": all quotes that included direct attacks on Mr. Cuomo, a fellow Democrat.
"I think the bottom line is that he's putting out distractions when we need to get to the core issue," Mr. de Blasio said. "We have a chance to get something done."
Several big ticket items are up for renewal in Albany this June, including mayoral control of city public schools. All rent regulations are set to expire, as is a generous tax break to developers known as 421a.
The relationship between Mr. de Blasio and Mr. Cuomo, long strained despite both Democrats proclaiming friendship, has devolved in recent months. One central tension is their politics: Mr. de Blasio is a proud progressive and Mr. Cuomo is a centrist, uneasy with some liberal policies.
But Mr. Cuomo, who doesn't have a close with relationship with most prominent Democrats in New York, appears to take particular delight in foiling Mr. de Blasio—and City Hall is increasingly bitter. "Look, I think this is not about egos. This is not about personalities. This is about the substance of what we have to do to help our people," the mayor said when asked to describe his relationship with the governor.
A deft backroom strategist, known for encouraging conflicts between constituencies and capitalizing off them, Mr. Cuomo is pitting one of the mayor's traditional allies against him: organized labor. Mr. de Blasio does not want to endorse a reform of 421a, backed by buildings trade unions, that would require prevailing wages on all developments that receive the tax break. The liberal mayor crafted his 421a proposal, which would also mandate affordable housing in every new development that receives the abatement, in consultation with the real estate industry.
"A lot of people think the deal that has been negotiated by the city is too rich for developers and doesn't do enough for workers," Mr. Cuomo told reporters yesterday. "And I want to make sure that workers are protected and the developers get a fair deal. I am not interested in passing a program that is a giveaway to developers."
Mr. Cuomo has not taken a firm position on what he wants to see happen to 421a. De Blasio allies believe Mr. Cuomo is trying to create a sideshow by offering praise for a potential reform to 421a that has little chance of becoming law and is opposed by developers, many of whom support the governor.
"On this issue, I'm surprised he's not acting like a partner," Mr. de Blasio said. "I think the bottom line is that he's putting out distractions when we need to get to the core issue. We have a chance to get something done."
Mr. Cuomo, obviously, does not agree. His office declined to comment on Mr. de Blasio's interview.