ATLANTIC CITY – We're going to go to Paterson. We're going to go to Camden and Jersey City and then we're going to go to Trenton and we're going to win it all!
Yes, former Vermont Governor Howard Dean was here in Atlantic City to set the stage for the New Jersey State Democratic Committee's annual conference, but, no, he didn't actually say those words, a Jersey variation on the oratorical infamy the presidential candidate delivered ten years ago after going belly up in Iowa.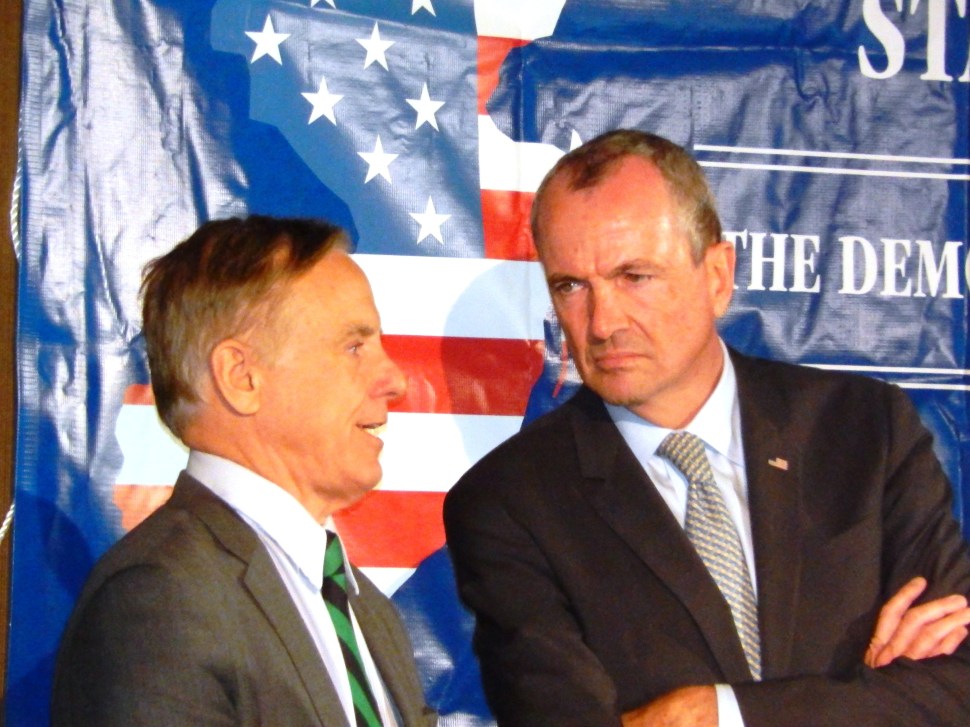 But he did have fun at his own – but more uproariously with this crowd – at the presidential office-seeking Gov. Chris Christie's expense, serving up a remake of his Dean Scream moment and doing his part to flash national-sized flare at the side of gubernatorial hopeful U.S. Ambassador to Germany Phil Murphy.
"I'm going to say this to Chris Christie," Dean cried. "You can't win in Nevada, and you're not going to win in South Carolina, and you're not going to win in New Hampshire, and you're not going to win anywhere else, and you're going to be right back here in the state of New Jersey, and you're going to be out of a job! Yeaaaaahhhh!"
Murphy played host tonight, having just bounded up to the Brigantine Conference Center here in Harrah's from a dinner with
Chairman John Currie, an insiders' only event attended by others in the gubernatorial hunt, Senate President Steve Sweeney (D-3), Assemblyman John Wisniewski (D-19) and multiple party bigshots.
Only Jersey City Mayor Steven Fulop was not present, in attendance at a Speaker Vincent Prieto (D-32) fundraiser, a party insider told PolitickerNJ.
The party members in the room here included Assembly Majority Leader Lou Greenwald (D-6), Assemblyman Benjie Wimberly (D-35), Senate Majority Leader Loretta Weinberg (D-37), Assemblyman Gordon Johnson (D-37), Irvington Mayor Tony Vauss, Plainfield Mayor Adrian Mapp, State Party pooh-bahs Chris James, Jennifer Holdsworth and Lizette Delgado-Polanco, Trenton Councilwoman Marge Caldwell-Wilson, East Ward Democratic leader Joe Parlavecchio, insiders Bill Maer and Mike Beson, Essex diehard Tom Barrett, and many others. It was packed.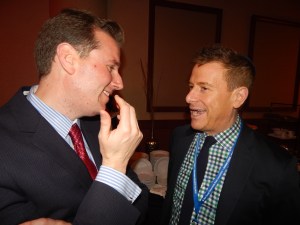 "This is a great party this is a growing party here in the State of New Jersey," said Currie, who gave a nod to Dean's 50-state strategy sounded when the former Vermont Governor served as National Party chairman. "We have to have 50-town strategy that we give up nothing."
Jim Keady, the Democratic LD30 candidate for Assembly, approached the stage and huddled with the glut of power-brokers onstage,
Currie introduced "stalwart Democrat" and "outstanding young man" Murphy, who went to the microphone with a wide and friendly grin. "Mr. Chairman, I don't know where we'd be without you," Murphy proclaimed.
He gave a nod to former Gov. James McGreevey – an ally of Myrphy rival Fulop – acknowledging him as "one of the great New Jersey governors."
With Dean waiting in the wings for the mic, Deanisms sprinkled Murphy's speech. "I was born and brought up in the Democratic wing of the Democratic Party," said the ambassador, dredging another nugget from the 2004 Democratic Primary for president.
Fulop rang the bell of Gov. Chris Christie earlier in the day and now it was Murphy's turn to swing the mallet of outrage.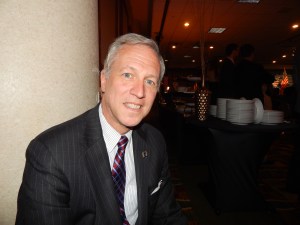 "Leadership in the state begins with the governor and… the state that needs leadership desperately," Murphy said. "This is an urgent leadership crisis. We need leadership that shoots straight. That's adult. That's led by the middle class."
Dean gushed progressive politics when it was his turn to speak. "The Republicans give corporations big tax cuts and get the Koch brothers to give you [big dollars]," he said.
Assemblyman John Wisniewski (D-19) was on hand to back that argument up in the crowd. "We had a vote today condemning the Exxon-Mobile settlement and the Republicans were party line against it," said Wisniewski, decrying GOP legislative lock-stepping even under the auspices of an absentee landlord.
McGreevy found his way to the front of the room on the invitation. "It's better than the crackers and water you get at a Steven Fulop event," he cracked, before unleashing a jaw-droppingly solemn speech about the injustice of minority incarceration in America amid clanking silverware and soft lights.