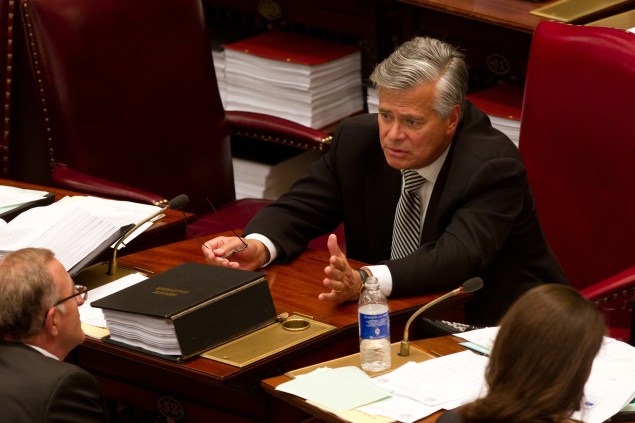 State Senator Dean Skelos, a Long Island Republican, has agreed to resign his post as majority leader—a week after he and his son, Adam Skelos, turned themselves in on federal charges of bribery, extortion and conspiracy.
State Senator John Flanagan, a fellow Long Islander and Skelos ally, will replace Mr. Skelos, according to the Daily News. Mr. Flanagan chairs the Senate Education Committee.
The federal complaint against Mr. Skelos claims that he used his position to pressure a developer, believed to be mega-donor Glenwood Management, into getting his son a no-show consultant job at a company that produced water filtration systems for municipalities, a company which Glenwood holds substantial stock in. Mr. Skelos then allegedly leaned on elected officials in his native Nassau County to grant contracts to the filtration system company.
Mr. Skelos refused to answer questions after his bail hearing last week as to whether he would step down from his powerful perch, which he has held intermittently as head of the Republican conference since former Majority Leader Joseph Bruno resigned in 2008. He has maintained, however, that he will be found innocent.
Reports anticipated an upcoming battle between the upstate and downstate wings of the GOP, as State Senator John DeFrancisco, a conservative Republican from Syracuse, and State Senator John Flanagan—a Long Island moderate linked to Mr. Skelos—both vie for the body's top slot.