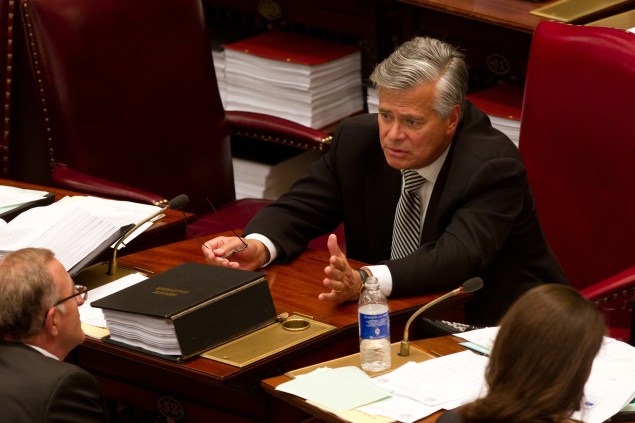 State Senate Majority Leader Dean Skelos will retain his influential post following an arrest on federal corruption charges yesterday, according to published reports.
Senate Republicans, along with Mr. Skelos, met for three hours behind closed doors in Albany last night. Mr. Skelos chose a long-serving senator and fellow Long Islander, Kenneth LaValle, to deliver the news to reporters that he would remain as majority leader.
"The leader has indicated that he would like to remain as leader and he has the support of the conference," Mr. LaValle said, according to the Albany Times Union. "The conference also wants to get back, we were working on things, education, some other things and the conference wants to get back into working starting tomorrow."
Mr. LaValle said there was a "strong consensus" that Mr. Skelos, the majority leader since 2011, should keep his powerful post, even after U.S. Attorney Preet Bharara hit Mr. Skelos with a six-count complaint, alleging that Mr. Skelos sought to direct companies with business before the state to give business to his son, Adam, with the expectation that Mr. Skelos would then treat those companies favorably.
But Mr. Skelos said he was innocent, like another Albany power broker Mr. Bharara indicted a few months ago, Sheldon Silver. Mr. Silver, the former speaker and now just a rank and file assemblyman, was forced to give up the position he had held for 21 years when his conference determined there wasn't enough support for him to continue. Mr. Skelos, who leads a much smaller conference, appeared to have sidestepped the same fate–though Mr. Silver initially claimed he had the full support of Democrats to continue as speaker.
Mr. LaValle said the State Senate could still navigate a jam-packed legislative session, even with a corruption cloud hanging over the body. The Senate, along with the Assembly, will be addressing the renewal of several crucial rent and tax laws, along with mayoral control of New York City public schools.