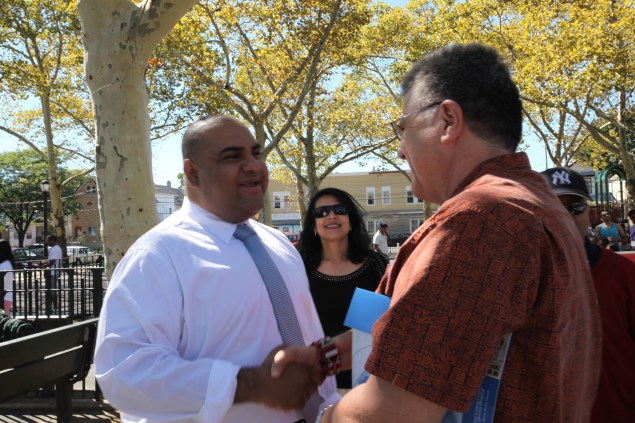 Ali Najmi, a Queens attorney and activist, will run for Councilman Mark Weprin's soon-to-be-vacant seat, he confirmed to the Observer today.
If he wins, Mr. Najmi would be New York City's first elected official of South Asian descent, and only the third Asian lawmaker in the 51-member City Council.
"I grew up here and I feel an obligation to serve this wonderful community that has provided me with so much," Mr. Najmi said in a statement. "I can be a bridge between all the diverse parts of our district. I will be putting together a diverse coalition of community leaders and labor to win"
Mr. Najmi, 30, will enter what could be a crowded race. Barry Grodenchik, a former assemblyman, has already hired a campaign manager and several other Democrats are exploring bids for the eastern Queens seat. Bob Friedrich, a prominent civic leader, is expected to enter the race and Rebecca Lynch, a de Blasio administration staffer, is considering a run.
Mr. Najmi flirted with challenging Mr. Weprin's brother, Assemblyman David Weprin, last year, and this could cost him the support of the Queens Democratic Party and both Weprins, sources say. At the moment, the county organization is leaning towards backing Mr. Grodenchik, a party loyalist and longtime staffer in the Queens borough president's office.
But Mr. Najmi is going to make a pitch for county support in the nonpartisan special election, his backers say. The Queens machine prides itself on anointing candidates of emerging ethnic groups and could look to Mr. Najmi, a former staffer in Councilman Weprin's office and an activist with the South Asian/West Indian advocacy group SEVA.
Mr. Najmi is also a founding member of the Muslim Democratic Club, which seeks to involve Muslims in the political process. If Mr. Najmi is elected, he would be the second Muslim member of the City Council, joining Daneek Miller, a fellow Queens Democrat.
Demographics could be on Mr. Najmi's side, though the picture may be complicated by ethnic rivalries. The leafy outer borough district, according to the New York City Districting Commission, is 14 percent Hispanic, 32 percent white and 37 percent Asian, which includes residents of Chinese, Taiwanese, Korean, Pakistani, Indian and Bangladeshi descent. Mr. Najmi, as a Pakistani Muslim, could face resistance from Bangladeshis and South Asian Christians. (12 percent of the district is also black.)
Sikhs and Hindus may look to their own candidates.  Harpreet Singh Toor, a Sikh activist and former Council contender, and Celia Dosamantes, a Democrat of Hindu and Hispanic descent, may run for the seat, sources say. It's also not clear how many Asians, who are relatively new to the political process, will come out to vote. (The white minority could play an outsized role in the race.)
When Mr. Weprin formally resigns in the next week to take a position with the Cuomo administration, Mayor Bill de Blasio will declare a special election date.