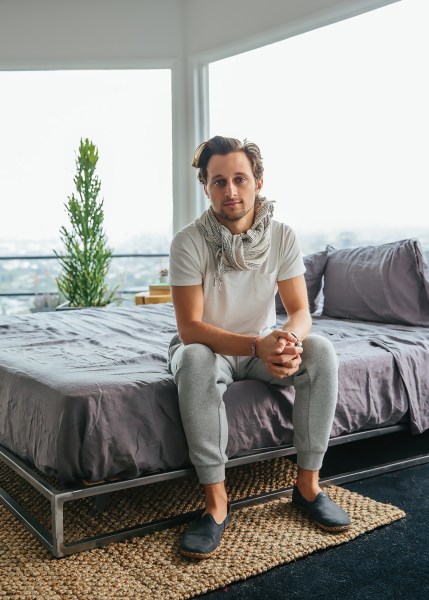 High up in the Hollywood Hills, above the Château Marmont and the smog, sits a ranch-style house with panoramic views of the beach and the sprawling city below. Inside, the open, sun-drenched living room—with a well-appointed wet bar, square-armed couches and a big-screen TV—suggests the home of a bachelor with a bit of money and good taste in vintage modern furniture. Visitors are urged to make themselves comfortable in the bedroom, which is dotted with succulents and strategically placed, handsome editions of titles from an Intro to Psychology syllabus like Alice in Wonderland and The Interpretation of Dreams. A camera is set up to capture the bed, framed by the oversized windows looking out on the city.
A house designed to look like a home, it's actually a showroom for the hot mattress startup Casper, styled to approximate the life that a potential customer would like to imagine himself living. What Casper, and many similar startups, are really selling, after all, is the semblance of a lifestyle. Designer Brad Sherman has found a niche translating glorified e-commerce sites into physical space that evokes the brand's aspirations.
Interior design is used as an effective tool to convey the ethos of a young company—and all the more so if it's a consumer-facing brand, albeit with the requisite online component that renders it a tech company rather than a brick-and-mortar store. And Mr. Sherman has found a niche working with startups, which are typically recent recipients of venture capital funding, flush with cash ready to depict their newly crafted identities.
"We want you to feel the personality of the person living there, even though the personality is just the company's personality," said Mr. Sherman, who designed the L.A. house, which opened as the company's West Coast showroom in late February. "You walk in there and think, 'I would live in this place, and of course I would buy this mattress.'"
Or, at least, that's the goal.
Casper, like everything aimed at the millennial market, is out to prove that no product is too utilitarian to be cool, no industry too boring to be disrupted. Instead of walking into an old-fashioned storefront where a salesman watches as, Goldilocks-like, the customer awkwardly tries mattress after mattress (pillow-top, firm, soft, plush, foam, gel, coil), Casper proudly does away with infinite mattress options displayed under fluorescent lighting in favor of one product, displayed at a cool pad that doesn't feel like a store.
---

'I don't do residences because people's personalities are so involved,' Mr. Sherman says, 'and then I become the middle person between the husband and wife. They talk shit about each other and then write me secret emails.'

---
Just as it makes shrewd marketing sense to position a showroom as an aspirational home, startups increasingly want their workplaces, too, to feel like the kind of place where their ideal customer would live—rather than an office where their employees toil away—especially since, as in the case of Casper's most recent New York office, as well as other clients of Mr. Sherman, those workplaces often double as showrooms themselves. They aren't just selling the brand to consumers; they are selling it to themselves—and their employees.
"Maybe it's offensive to say, but we make companies look cool," Mr. Sherman said on a recent morning. "For startups, it's really important to have a cool space because cool spaces attract the best young talent."
Mr. Sherman's other clients include startups marketed at the consumer, such as Food52, the Chelsea-based food and e-commerce site co-founded by former New York Times food writer Amanda Hesser, which has an exceedingly pleasant office and an enviable kitchen for entertaining and product shoots, and Sakara Life, a food-delivery service with an office that reflects its boho-chic vibe, and which it uses for entertaining as well as business.  
No savvy startup wants to spend its precious VC dollars on office space—yet a homey environment is one of those perks, like equity, that can help compensate for the lack of huge salaries. Plus, it may enhance worker productivity: Why go home if it already feels like you're there? And that's where Mr. Sherman, who prides himself on an ability to work within a limited budget, steps in.
"Lines are being blurred between work and home because companies want to influence and motivate their team members to stay longer," Mr. Sherman explained. "They want them to enjoy the spaces, they want them to feel like home, to have areas for them to take a break and re-energize instead of sitting at their desk all day."
***
In Mr. Sherman's case, his office really is his home.
Spacious by New York standards, his studio apartment near Union Square features details like an antler chandelier in the foyer near the desks where Mr. Sherman and his small team work when not onsite designing offices. A perfectly made bed took up a corner of the apartment (alas, Mr. Sherman bought it before he met the Casper boys, as he called them, and he hasn't needed to replace his mattress since).
One of the pitfalls of running a company out of a one-room home, Mr. Sherman explained, is that everything, including the occasional overnight guest, needs to be neatly hidden before the day begins. During our conversation, his phone continually vibrated with incoming text messages. It was Mr. Sherman's 30th birthday.
Mr. Sherman grew up in Michigan and briefly studied pre-med (his father is a doctor) before getting a master's degree in architecture and sustainable design at Philadelphia University. That led to a job at Terracycle, a New Jersey-based company that up-cycles waste into a range of products from picnic tables to soap dispensers to toilet seats.
Eventually, he moved to New York and got a desk job at General Assembly, back when it was more co-working space than code academy. There he met Food52 founders Amanda Hesser and Merrill Stubbs, who were then working out of the Flatiron space. Ms. Stubbs cut her finger, Mr. Sherman had a Band Aid, and the two started talking. Food52 was preparing to move into its own digs and needed someone to help design it on the cheap.
"I think our total budget for 3,500 square feet ended up being like $20,000, for a kitchen and for all-new desks and chairs and furniture and art work and plants and lighting," Mr. Sherman said. "It ended up being a testament to what you can achieve for very little."
When Food52 moved into a larger office last winter, they turned to Mr. Sherman again.This time, they had a little more money, and the new office looks like the pages of Kinfolk, the hip, Portlandia take on Martha Stewart, come to life. The walls are painted in soft whites, illuminated by even softer lighting. Twee touches like adult-sized wooden cubbies and antique drink carts complete the look. Although Mr. Sherman wouldn't disclose the budget, he boasted that "whatever you think we spent in there, we spent half of that."
***
Like the companies he works for, Mr. Sherman's B. Sherman Workshop is a startup, and the challenges he helps his clients face, such as renting space with room to grow and hiring employees without huge resources, are ones he is navigating himself. He launched his company in 2013 and, shortly after, hired Nina Etnier, an interior designer he knew from college. This year, he hired another full-time employee.
"You have to be much scrappier working for startups. They have a much tighter timeline and much more specific budget than residential," Ms. Etnier said. "The founders are really, really involved and excited and it's not just a chore or a task that they are getting through."
While B. Sherman isn't the only company known for designing startup spaces (Homepolish, which launched in 2012, has an impressive corner of the market and an extensive network of designers), Mr. Sherman has differentiated himself by focusing exclusively on commercial spaces rather than combining that with residential.
"I don't do residences because people's personalities are so involved, and then I become the middle person between husband and wife," Mr. Sherman said. "They talk shit about each other to me and then write me secret emails."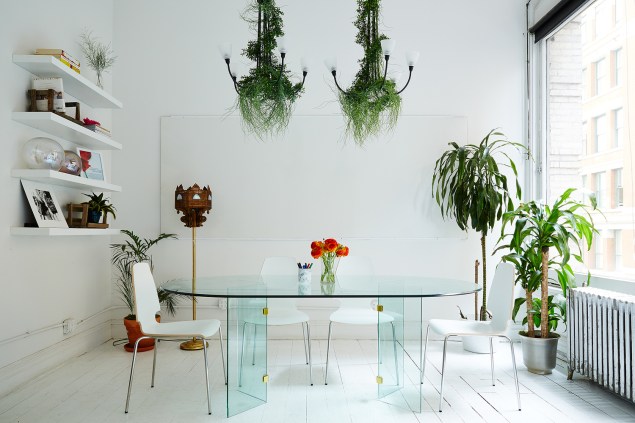 Better to mediate between tech founders, although that is not without challenges as well. Casper, the mattress company, found Mr. Sherman through the professional network of Ben Lerer, whose Hippeau Ventures led Casper's $1.85 million seed round and who now sits on the company's board of directors. According to Luke Sherwin, one of Casper's five co-founders, Mr. Sherman joined them on the initial tour of their first office space. Later, the Casper boys each came up with images of what his ideal office would look like. "Of course, they all contrasted," Mr. Sherwin said. "So Brad took those and iterated upon that and showed us some moods that we all aligned around."
According to Mr. Sherwin, weekend traffic at the Casper showrooms is steady. Some customers, who see ads on the subway, are confused when they have to order the mattress online rather than bringing it home on the spot. Others are drawn by the free yoga classes (L.A.) or drinks (New York).
When working with a startup for the first time, Mr. Sherman sends out surveys to employees to understand the day-to-day needs of the company and the way that the staff interacts with the space. Founders create mood boards on Pinterest and Mr. Sherman and his colleagues pick up small details to translate the preferences into a cohesive design.
"A lot of the time they'll send me their branding package and their colors and I'll be like, 'Listen, I know that it's bright red and yellow in your logo but we cannot do that in here, those colors will vibrate off each other and drive you all nuts,'" Mr. Sherman said. "'So maybe it's a little moment here that has those colors so you can display that branding package and it will make sense.'"
After all, it's all about branding.
At Sakara Life, a food delivery startup whose Soho office Mr. Sherman designed, the vibe is like the Manic Pixie Dream Girl to Casper's hipster bro aesthetic.
"Brad imagined everything for us. We wanted something earthy and goddess-y," Sakara co-founder Danielle DuBoise told us when we met her in her airy office. "He took our hippie, yet pretty and put-together vibe and transformed it into an office."
The result feels like GOOP meets Coachella. A row of desks ran along one wall, reflected in the bifurcated bronze mirror that covers the opposing one. A loft-like storage space, which has been renamed the "love nest," is separated from the rest of the office by billowy white curtains trimmed with colorful pom-poms ("Urban Outfitters," Ms. DuBoise confided). There's a terrarium, jars with fresh-cut fronds, and fake moss clings to the chandeliers in the conference room with windows that overlook Lafayette Street.
"We are a tech company, but this is a physical manifestation of everything we're building," Ms. DuBoise said.
And the image is everything. Like Casper's L.A. house, Sakara hosts yoga classes and healthy brunches. Casper invites friends and customers to the Bond Street showroom that was the company's New York office until they outgrew it (the company, which has now raised $15 million in venture capital funding since it launched in 2013, is currently working out of a temporary space while shopping around for something more permanent for Mr. Sherman to design). Food52 partners with food companies to serve snacks and craft cocktails to its fans.
The live events, naturally, are all set up to look good on Instagram. The ultimate goal, of course, is more than just connecting with customers and creating a community. In the age of social media, it's an effective publicity tool. Design a cool enough signature space, host a get-together and let the hashtagging begin.
Another skill that many of Mr. Sherman's customers point to his ability to design a place that will be able to accommodate the needs of a growing company. And that will come in handy as he takes the next step for his own company—Mr. Sherman is currently looking for a larger office space, one where his employees won't have to work in the same place he sleeps.
"I don't bring clients here, because it's obviously my apartment. It's very much me," Mr. Sherman said, pointing at his living room/bedroom/office. "I want our next space to be more of a collective effort. I also think there are a lot of things going on in here, so I want to simplify it. But whatever it is, it's going to feel like a home."