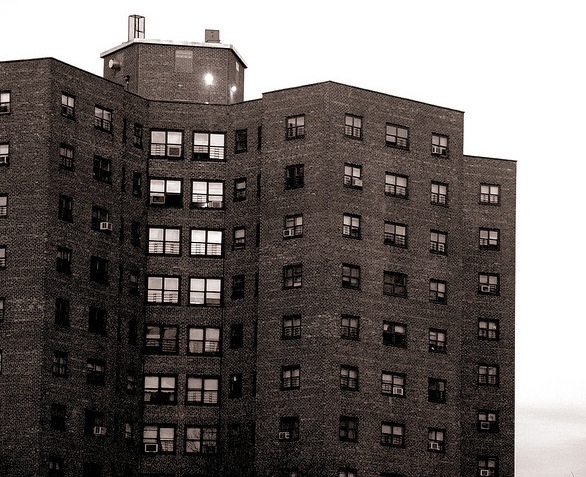 Developing land owned by the New York City Housing Authority has the potential to generate much-needed revenue for the public housing agency while simultaneously creating more affordable housing, but those benefits drop off abruptly in less affluent neighborhoods, according to a report released today by NYU's Furman Center.
The report, "Building New or Preserving the Old," which used financial modeling to determine what ground lease payment and/or affordability requirements NYCHA could achieve by leasing land for development in neighborhoods with different market rents, found that the effectiveness of land-lease arrangements would vary widely by to neighborhood.
Land lease, a Bloomberg-era proposal that would have tapped developers to create mixed-income private housing on "underutilized" NYCHA land, was rejected by the de Blasio administration in lieu of a similar plan to sell a 50 percent stake in nearly 900 NYCHA apartments spread among six project-based Section 8 developments.
The sale of the units to the newly-formed Triborough Preservation Partners, a public-private partnership between NYCHA and private developers L+M Development Partners Inc. and BFC Partners, allowed the agency to access federal funding streams that enable developers who make upgrades to collect the difference between Section 8 rents and market rate ones from the federal government. The deal provided much-needed repair funds to a perpetually cash-strapped agency, though many have expressed discomfort with the fact that the units could potentially go market rate after 30 years.
However, land lease programs, which would have used similar means to achieve a similar goal—selling development rights on NYCHA parcels that are currently being used as parking lots, community centers or undeveloped green space in exchange for ground lease payments and affordable housing—also have great potential, the NYU study found.
For example, in strong markets like Downtown Brooklyn, where market rents exceed $60 psf, a high-rise building with 302 units that were 20 percent affordable could generate lease payments of $2.24 million annually, or at 30 percent affordable would generate $1.48 million. Should the agency chose to forgo lease payments entirely, 47.5 percent of the units could be affordable.
In a very strong market like core Manhattan, where rents exceed $80 psf, the annual ground lease payment for a 20 percent affordable building would go up to $4.21 million, though in a moderate neighborhood like Astoria, where rents hover around $44 psf, that lease payment drops to just $117,000. And "even with no lease payment, that development could only support making 26 percent of its units affordable to low-income households," the report finds.
Land lease in neighborhoods with rents less lofty than $44 psf would presumably not be worth doing. Which is not so surprising—land-lease was never intended to be in employed across a broad spectrum of neighborhoods, in places like Stapleton or Brownsville—though it does suggest that perhaps Bill de Blasio was too hasty in dismissing the program altogether.
"NYCHA's underdeveloped land is a valuable resource that could be used to help meet either or both of these needs in neighborhoods with high enough rents," wrote Furman Center policy director Jessica Yager. "Deciding how best to use NYCHA's land involves many considerations beyond just the economics. However, this analysis shows that, in some parts of the city, there is capacity to use this resource to help meet both NYCHA's needs and the city's housing needs."