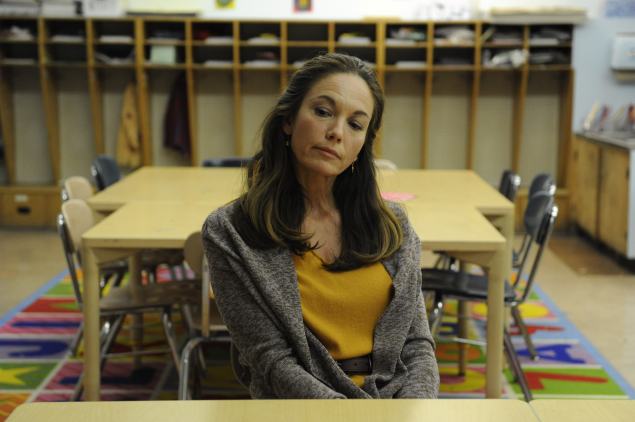 As a slavishly devoted member of the unofficial Diane Lane fan club, I am always elated to discover, with each new performance on stage and film, a wealth of sensitivity and surprise seldom encountered in contemporary actors with so much beauty and unerring truthfulness. But as perfect as she is, she's only as good as her material. What a letdown, then, to see her gifts wasted in a dreary little small-town crime caper called Every Secret Thing. It's described as a smart, suspenseful psychological thriller, but there's nothing smart about it, and as an alleged thriller, when the mysteries are explained in a twist finale, it could use a psychologist of its own. The only suspense is waiting to see if Diane Lane's reputation will survive.
---

EVERY SECRET THING ★★
(2/4 stars)

Written by: Nicole Holofcener
Directed by: Amy Berg
Starring: Diane Lane, Elizabeth Banks and Dakota Fanning
Running time: 93 min.

---
In a town in upstate New York, Alice and Ronnie, two 11-year-old girls with personality defects, kidnap and murder the granddaughter of the community's first black judge. Alice protests her innocence, blaming everything on her angry, unbalanced friend Ronnie, but they are both sentenced to seven years in jail. When they are finally released, Alice (Danielle Macdonald) has grown into a sullen, dangerously overweight loser who wanders the streets munching candy and sipping sugary sodas from fast-food chains while lying to her slim, attractive schoolteacher mother Helen  (Diane Lane) that she's looking for a job. Ronnie, her partner in crime (now Dakota Fanning), works in a bagel shop and wears so much makeup she looks like a raccoon. The former friends no longer speak to each other. One assumes they have learned from their punishment in juvenile detention and are now eager to get on with their lives in a positive way.
But soon, another biracial baby disappears, old police files are dragged out of mothballs, and the two girls are immediately suspected again. This time, it's Ronnie who claims innocence. Oddly, Alice's mother, disgusted by her daughter's obesity, sides with Ronnie, whom she prefers as her child of choice. Both deeply insecure and hardened by the childhood they lost, the girls are quite loopy, but it's Alice who bore a biracial baby in prison and is now convinced the kidnapped 3-year-old child in the second case is the baby she gave up for adoption. It turns out that her own mother had more to do with the second kidnapping than suspected. 
The film takes on so many issues—the misery of being a fat girl when the media passes you off as a jolly object of fun, the tension inherent in interracial affairs, the unexplained duplicity of Alice's mother who resorts to deception and betrayal, even going so far as planting evidence to guarantee Alice will end up behind bars, vs. the indifference of Ronnie's parents, who never show any emotion at all. These give a complicated story an elliptical style that is not always viewer friendly. Bouncing back and forth between the two kidnappings, with girls of different ages playing the suspects, only confuses things and mixes up the time frames in fractures from which the movie never recovers.
Writer Nicole Holofcener (Enough Said) and director Amy Berg (Deliver Us From Evil), making her feature-film debut as a narrative filmmaker, are hardly novices, but they seem to be at odds about what kind of movie Every Secret Thing should be—sacrificing real psychological probing for morbid shadows of creepy ambiance that lead to nothing more than a twist ending that solves nothing. The director moves scenes forward before they're ready. The screenplay shuffles between Alice as a girl, Alice in prison and Alice trying to adjust to society, claiming her innocence but obviously damaged. Tertiary characters make brief appearances to fill in the gaps, only adding to the bewilderment, and there are too many of them. The detective who cracks the second case (Elizabeth Banks) blames herself for not investigating the first crime more thoroughly. The trailer-trash mother rants, her black boyfriend launches his own racist attacks against the lady detective's partner because he's a black cop. Everyone is hiding something, but the secrets don't make much sense, especially when Alice's mother turns out to be more pathologically warped than Alice is. It's not the kind of film that holds up under much scrutiny. The cast works hard to stir up some credulity, but with the exception of Ms. Lane, they've all been encouraged to mumble incoherently.
Diane Lane's unique charisma and unimpeachable enchantments are very special indeed. It's perplexing to see them misused in a movie as weak and unfocused as Every Secret Thing