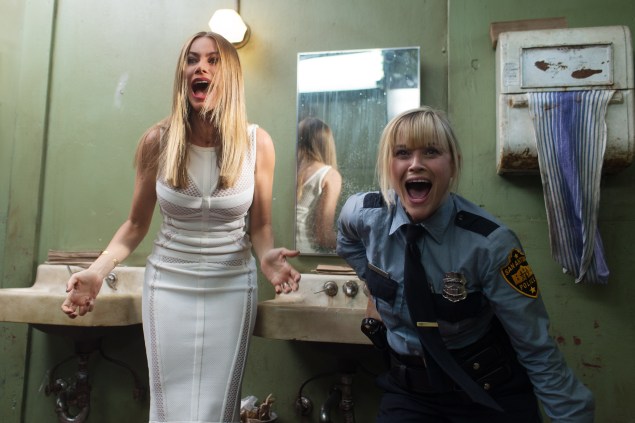 If there is one millimeter of genuine cleverness or take-notice freshness in a dog called Hot Pursuit, don't wake me. Except for the pleasure of watching Reese Witherspoon and Sofía Vergara, the two ill-fatedly mismatched ladies above the title who brave their way through drivel while concealing their embarrassment, there is nothing worth repeating. It's 87 minutes, which doesn't seem as long as it sounds, especially if you spend the time napping.
---

The Pretty One ★
(1/4 stars)

Written by: David Feeney and John Quaintance
Directed by: Anne Fletcher
Starring: Sofía Vergara, Reese Witherspoon and Jodi Brockton
Running time: 87 min.

---
Exploding with half-baked clichés from beginning to end, this movie is a miscalculated horror for Reese Witherspoon, coming down from her powerful Oscar-nominated performance in Wild, and Sofía Vergara, who brightens up the popular TV series Modern Family with her weekly malapropisms and is obviously anxious to expand her comic talents (and ample measurements) to the big screen. I am tempted to say it's another sorry example of what women have to do to keep an acting career going today, when all the juicy roles go to men. Unfortunately they have only themselves to blame. They are both listed in the credits as executive producers.
Ms. Witherspoon plays a Texas cop called Cooper who works by the rulebook without any real on-the-job experience. She gets her big chance for a merit badge when a violent drug lord with more than 100 murders to his credit knocks off another drug smuggler on his way to testify against him. Ms. Vergara plays the man's sexy widow and Cooper is recruited to take her into protective custody and escort her to Dallas to face the grand jury before the drug cartel grinds her into taco meat.
It is hate at first sight, but when the two girls find out the cartel employs crooked cops, they have no choice but to escape as fugitives pursued by assailants on both sides of the law. It's a set-up that gives Ms. Vergara a comic excuse to hobble through the Texas desert in stiletto heels dragging heavy luggage filled with $4 million in contraband (she hides the drugs in her shoe collection, which looks stolen from Imelda Marcos' closet), while Ms. Witherspoon huffs and puffs and fakes a lot of energy, dressed like a boy, which inspires a number of odious lesbian jokes. The gags are slow, but the yawns come fast.
They blow a man's finger off. They hijack a tour bus filled with senior citizens who think they're reliving what they've seen on their favorite sitcoms. This is logical, since Hot Pursuit was written by two sitcom writers—David Feeney of New Girl and John Quaintance of Ben and Kate, which it resembles in every way possible. When Ms. Witherspoon sees Ms. Vergara in her orange prison uniform for the first time, she remarks, "You look like a sexy traffic cone." These are the jokes. The direction is credited to somebody named Anne Fletcher, but no evidence of it survives.