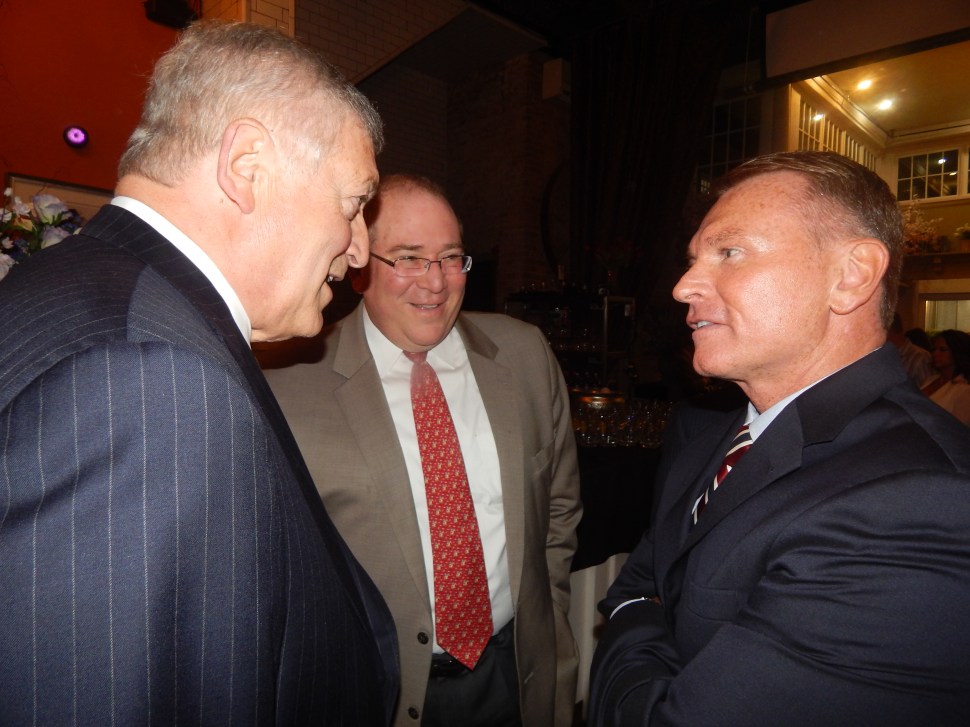 CALDWELL – Chances are the next governor of New Jersey won't be named Chris Durkin. But the clerk of Essex County in varying degrees contains those prized qualities the assumed Democratic gubernatorial candidates will try on a grander scale to emulate,  embody or in vain crave to possess.
"I like him," said veteran Trenton insider Adam Kaufman of Kaufman Zita, up from Mercer County with former Assemblyman Skip Cimino to honor Durkin at his campaign year cocktail reception at Caldwell Flowerland, like all Durkin doings a comfort zone for those who go way back with his family. An Essex brand name beloved and respected by the people who work for him, and by the county's chief alpha male employer – Essex County Executive Joe DiVincenzo – the young and friendly Durkin also has electrical political instincts and a Pascrell-like ability to work a crowded room.
The son of the late Ray Durkin, former chairman of the Democratic State Committee and former chairman of the Essex County Democratic Party, Durkin learned early the finer points of diplomacy, as he seemingly perpetually deftly navigates that chilly clime of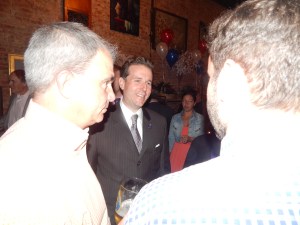 Essex located between DiVincenzo and state Senator (and former Governor) Dick Codey (Durkin's cousin). Having cut his teeth in the Newark West Ward school of Durkin/Cryan/Giblin, Durkin also received considerable input from his father's friend and political confidant, Newark North Ward leader Steve Adubato, who attended tonight's cocktail reception along with his wife Fran and North Ward Center Co-founder Adrianne Davis, and a cross section of people not there because of a contract or wink and nod but because of experiences shared with Durkin's parents and now with him.
"There's a definite bond," said the self-effacing clerk. "I'm fortunate to have this privilege to serve the people of Essex. I'm just looking to reach more people in the county. I'm hoping to generate more revenue for the county but also to let people know that government is accessible and we're here to serve the taxpayers."
Over the course of two hours, a parade of Essex luminaries crowded the bar in the high-ceilinged room. Guests included Essex County Democratic Chairman Leroy Jones,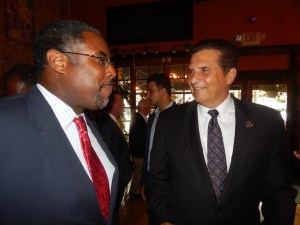 DiVincenzo, state Senator M. Teresa Ruiz (D-29), Sheriff Armando Fontoura, East Orange Mayor Lester Taylor, Assemblywoman Eliana Pintor Marin, East Ward Democratic leader Joe Parlavecchio, Essex Freeholders Pat Sebold, Brendan Gill and Leonard Luciano, Bloomfield Clerk Louise Palagano, Fairview insurance executive Ryan Graham and veteran Democratic Party operative Tom Barrett.
Standing at the front of the packed room, DiVincenzo stared at politics. "In 2016, under the leadership of our chairman, we're going to decide the future," said the powerful county executive." He was unmistakably referencing 2017 – that gubernatorial election year already coursing through the bloodstream of insiders such as the ones who imbibed and interacted here, and of the fledgling contenders themselves, who cut checks for Durkin and/or sent emissaries in lieu of attending tonight.
"Oh, and we actually have an election this year," the executive acknowledged.
Taylor commanded attention in the room. The mayor's not on the ballot this year but he has five candidates for the East Orange council whom he wants to win. The man who built the party in power, County Chairman Jones no longer has belly-down local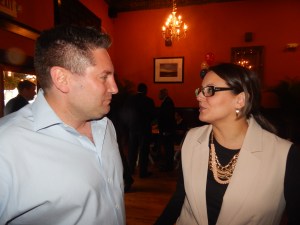 operations responsibilities – door-pounding work that now falls to Taylor.
"We're working very hard," said the mayor, giving a nod to the June 2nd Democratic Primary, where the opposition is only running a local slate, eschewing a firefight with a county brand like Durkin and the assembly incumbents.
This was the first time since his father died that Durkin had his annual fundraiser.
"I hear it all the time," the clerk told PolitickerNJ. "People tell me, 'Your father did this for me.' I think what's unique about my parents is that with them it was just unconditional service – the sense of wanting to give and get nothing back. A lot of people project the sense of 'What can you do for me?' From my parents it was just, 'I want to serve. I want to be here.
"I remember my father all the time would say to people with power, 'What can i do for you?'" Durkin said. "I think it took people aback. Powerful people are used to hearing, 'I need this, or 'I need that.' With my father, it usually wasn't him asking powerful people for something. It was, 'If you need anything from me, let me know.'"
The sense was people showed up tonight not because anyone had to ask. It was Durkin, so they went inside among old friends, generous, inter-generational and comfortable.