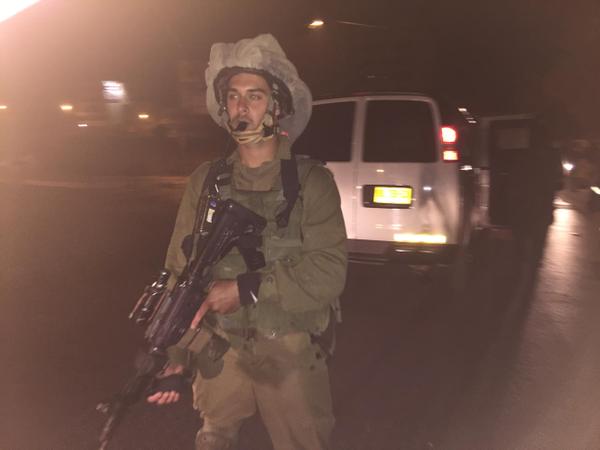 JERUSALEM, Israel—Had I not see it with my own eyes I would not have believed it.
I had heard from friends about the monthly excursions into the heart of Nablus late in the night—about midnight—that allow Jews to pray in one of the holiest places on earth, Joseph's tomb. I had heard that bringing Jewish worshippers into Nablus—one of the most dangerous places on earth for a Jew—requires a massive military operation involving hundreds of soldiers.
But there is no substitute for experiencing it.
Upon my arrival in Israel yesterday, a friend gave me advance warning that it would be one of the evenings that the Jews will be allowed to pray at Joseph's tomb. Should I wish to participate, I would have to be at a rendezvous point in Samaria in the West Bank at 10pm.
Some background.
I have visited Jerusalem hundreds of times and lived here as a student. Thousands upon thousands of Arabs have walked past me in the Old City of Jerusalem on the way to the Al Aqsa mosque on the Temple Mount or to other places of Muslim worship. Never once did I see even one of them needing security to go and pray. Never once did I see a single one of them fear for their lives as they walked through a Jewish neighborhood.
---

We snaked our way through the Palestinian villages on the way to Nablus in the dead of night. We had to pass several Israeli military checkpoints. And suddenly, there it was, the entrance to Nablus.

---
But here I was, arriving at the Psagot Winery and switching cars into a heavily armored, bullet-proof van that would take me into a convoy of similarly armed vehicles, surrounded by hundreds of soldiers, all so we could pray at Joseph's tomb in Nablus, where many Jews have been murdered.
We snaked our way through the Palestinian villages on the way to Nablus in the dead of night. We had to pass several Israeli military checkpoints. And suddenly, there it was, the entrance to Nablus that I had seen many times with its red sign identifying it as Palestinian Zone A, forbidden to Israelis and posing a mortal threat to any Jew who entered. Yes, the sign actually says basically that. If you're Jewish and go into Nablus, you're going to die.
We drive into Nablus and are there not more than a minute when large thuds rock the car on my passenger side where I'm sitting. A hail of rocks hits our car. I have a momentary shudder and I'm taken back approximately 20 years when the windows of a rental car I was driving near the Damascus Gate in Jerusalem were shattered by Palestinian stone-throwers. But this vehicle is heavily armored. We continue.
Now, with an armed escort of hundreds of Israeli soldiers alert and with their fingers literally on the trigger, we enter deep into the Palestinian town. There were fortress vehicles in front of us, seemingly able to withstand any attack. There were soldiers with their jeeps at every intersection. This was an all-out military campaign.
And for what purpose?
So that Jews could pray at Joseph's tomb. We needed to sneak in the dead of night so we could practice our religion without being murdered. We needed a small army to ensure that we weren't blown up in prayer. We needed hundreds of highly trained military personnel armed to the teeth to safeguard against being shot and killed. Because we were Jewish. And we wanted to pray.
God Almighty. How much hatred surrounded us?
In our van are some senior IDF officers. They escort me in. The room with Joseph's tomb is absolutely full. I make my way to the tomb. I pray with all my heart, thankful to be alive, thankful to be at such a holy place, thankful that Jews have chosen to build an army so that for the first time in 2000 years they are no longer sitting ducks.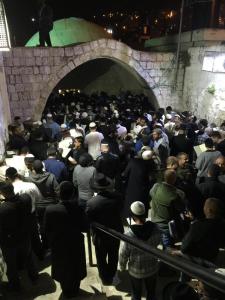 Joseph was a viceroy of Egypt. He led a princely life. There is no dignity in passivity, I tell myself, no nobility in living a life of fear. After two thousand years, after having built the miracle of Israel and, with God's grace and Jewish courage, one of the finest military machines in the entire world, did Jews really still have to fear the simple act of prayer?
I am introduced to the most senior commander present who turns out to be the general in charge of all of Israel's Central Command. I take a picture with him and thank him for keeping us all alive.
I'm now walking out marveling at the spectacle unfolding all around me. My wife Debbie is with me, along with my daughter who lives in Israel and served in the IDF.
In front of us is a group of soldiers in heavy riot gear. I approach them to shake their hands. One of them tells me he is a non-Jewish Druze soldier whose first cousin was killed trying to protect a group of Rabbis murdered in a Jerusalem synagogue terror attack last year. I remember the story well and I hug him, thanking him for protecting me and telling him he's my brother. We exchange contact information and promise to be in touch.
We walk past an endless number of soldiers holding machine guns. We enter our van. Three heavily armored vehicles slide in front of us and our convoy departs. We drive through the still of night, past shops with Arabic writing that I do not understand and past the Palestine Bank with its block English lettering. Firecrackers go off and for a moment it sounds like gunfire. But then there is dead silence as the convoy quietly leaves one of the most dangerous places on earth for Jews to pray.
We snuck in and we snuck out.
Shmuley Boteach is founder of The World Values Network and is the international best-selling author of 30 books, including The Fed-up Man of Faith: Challenging God in the Face of Tragedy and Suffering. Follow him on Twitter @RabbiShmuley.