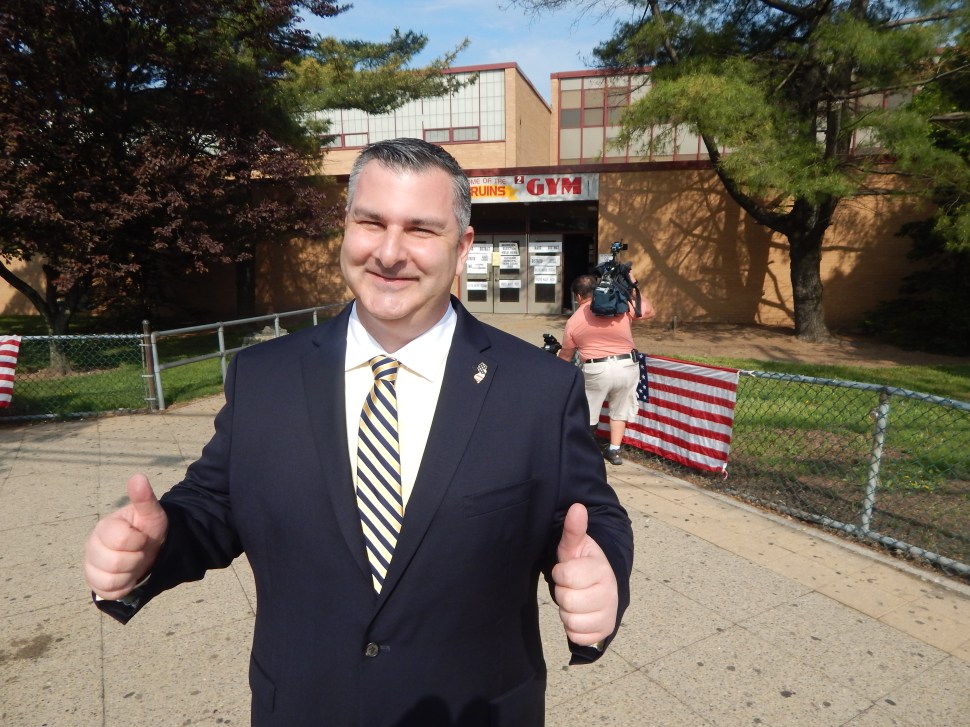 NORTH BERGEN — Striding confidently into the local high school with a posse of campaign operatives and strategists in tow, Lawerence "Larry" Wainstein cast his vote in North Bergen's mayoral election here this morning.
Wainstein, a local businessman and founder of North Bergen Concerned Citizens, an advocacy group he's used to agitate against the establishment in this Hudson County borough over the last few years, is challenging incumbent mayor Nick Sacco in this year's race. Wainstein and his slate of commissioner candidates — including Juan Almanzar, Alcides Siri, Veronica Castrillon, and Eduardo Cespedes — are running under Column B on today's ballot.
"We feel very strong, very confident. We have some volunteers that are going to be working throughout the day. It's time for a change," Wainstein told PolitickerNJ before heading in to the voting booth to cast his vote. "It's time for Sacco to go and it's time to have a government that's honest, that's truly going to work for all the people of North Bergen. We're prepared to reduce property taxes, have a better quality of life, and just have an honest and transparent government for all the people of North Bergen."
Sacco his set to vote at his residence at 10 a.m.; both candidates with hit the streets throughout the day to drum up support before polls close at 8 p.m.
Asked if he expects any surprises, Wainstein said things look good, so far.
"Just the usual inconveniences. But as of yet, everything is going smoothly," he said.