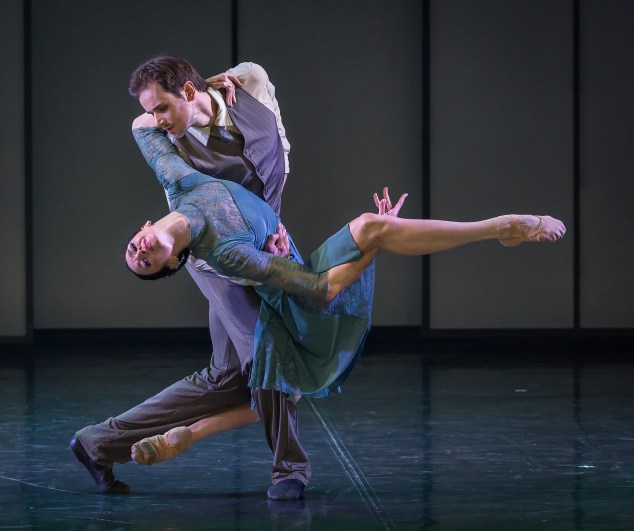 There are bad ballets, and then there is Boris Eifman. In Saint Petersburg, where he established his company in 1977, as well as in many other places, he is extravagantly admired. He was admired in New York, too, until the savagery of most of the critics (myself included) brought the audience to its senses, except for the loyal Russian-American crowd that throngs the sidewalk outside the City Center whenever he appears. (Sociologists, take note: they were smoking less this year than in the past, when West Fifty-Fifth Street was a pulmonary disaster zone.)
The Eifman travesties have been absent from us for several years, but they've recently checked in (and quickly out—only four performances) with something called Up & Down that until a few weeks ago was known as Tender is the Night. It was performed as such in Russia and elsewhere, but I assume a copyright issue intervened, or else the ghost of F. Scott Fitzgerald spooked those in charge. The program not only doesn't credit the novel, but all references to the Divers and Rosemary Hoyt have been expunged, replaced by "Psychiatrist," "Patient" and "Movie Star." If you've read the book, you won't be fooled, just horrified.
The extreme, extravagant Eifman vocabulary is in full force—the violent lifts, the silent-movie histrionics, the thrashings and grotesqueries. All Eifman ballets proceed in the same way, with the same effects, although Up & Down spares us the usual flashing red lights and smoke swirling across the stage.  For an agonizing stretch I was afraid we wouldn't have the hitherto obligatory semi-naked male, but in Act Two, during a beach scene, Dick (sorry, "Psychiatrist") is stripped down to his tight underpants. Whew!
---

All Eifman ballets tell
the same story: Genius destroyed by Them.


---
A good deal of this psychodrama takes place in a clinic, where Psychiatrist lovingly tends the assorted residents, who seem more like eccentric circus performers than mentally ill inmates. But there are also 1920s-like scenes—five or six or them!—at which a gang of merrymakers do unconvincing pastiche of the popular dance of the day. (Gershwin songs are one musical element of what I hesitate to call the "score." We're also treated to Schubert, Alban Berg, Chopin, Johann Strauss II and Verklärte Nacht—not that it matters; Boris Eifman and music inhabit two different worlds.) The dancers give their all, and they have a lot to give: these are dedicated believers in the Eifman aesthetic and cosmos, and they have amazing energy, pliancy and stamina. But by the end I was less worried about Psychiatrist's mental condition as he is inexorably destroyed by the Evil Power of Money, than about his back, given the dozens of times he's had to fling women over his shoulders in frightening contortions.
Two questions. One: From what does the Eifman phenomenon spring? My guess is from a combination of Soviet expressionism (a corrupt understanding of the martyred director Meyerhold) and the influence of Maurice Béjart, whom the Russians of the '70s and '80s admired—remember, Russia entirely missed Modernism. And two: Which is Eifman's worst ballet, a question aficionados love to toss around. Hard to answer, since the field is so wide, but I'll go with his disgusting "tribute" to Balanchine, which Peter Martins disastrously commissioned for City Ballet. It hardly matters because all Eifman ballets tell the same story: Genius destroyed by Them. In this case, Dick/Psychiatrist ends up a tormented patient in his own clinic, Eifman's "improvement" on Fitzgerald's quietly tragic ending.
We can easily guess which Genius all Eifman's persecuted geniuses stand in for.
Last week, ABT brought back Lar Lubovitch's Othello, which will do nicely as an example of a merely bad ballet. Once again there's an impoverished dance vocabulary, once again a literary masterwork is traduced. The problem here is that Shakespeare's characters are gutted of inner life. We all know Othello's dreadful story, and Lubovitch offers no surprises. But the sublimity of the play lies in its language—specifically, in Othello's heightened speech—and that can't be suggested by dance (and isn't suggested by Elliot B. Goldenthal's noisy, derivative score). This Othello is part tableau, part vamping; all surface, all empty.
However, the cast I saw was superlative, and so I came away pacified. Marcelo Gomes—in my estimation, America's foremost classical dancer—was everything he always is: a towering presence who fills every moment with his understanding of character and his nobility of purpose and execution. I've never encountered a vulgar or shallow moment in his work. His Othello is perhaps more sensitive than robustly military, but that's a question of how you read Shakespeare's intention.
James Whiteside is hardly a subtle Iago (the choreography is all too patently wickedness incarnate) but he's an effective one as he acts out his anger, envy, and subtle attraction to his leader. Stella Abrera was a strong Emilia, Julie Kent (in her farewell season) a movingly passive Desdemona, and in a breakthrough performance, young Joseph Gorak was superb as Cassio, his classical polish an example to all the young guys at both ABT and City Ballet. Finally, erupting out of her usual mildness, Misty Copeland let it rip as Bianca, "a woman of Cyprus," in a long, otherwise bland gypsy-ish group dance down at the docks, filling up time while giving the principals a break.
Do we ever need to see the Lubovitch Othello again? No, but only because we will get to see these estimable dancers in vehicles more worthy of their talents.